Fantastic!
By
Catherine A.

(portland, OR) - February 16, 2010 (
See all reviews by this customer
)
I didn't know what to expect due to recent reviews, but I loved the product! It was the perfect size and the engraving turned out amazing! My boyfriend loved it and shows it off to everyone. It wasn't too big or small, just right actually. The only problem is that the knife and scissors aren't sharp AT ALL so be prepared to sharpen them, other than that it was better than I expected! I'm very happy and would buy from them again.

my boyfriend's eyes...
By
Sharaya L.

(Dillsburg, PA) - February 1, 2010 (
See all reviews by this customer
)
i got this gift for my boyfriend with his name and the day we started dating on it. his eyes lit up the moment he saw it. the gadgets were just as good as i expected them to be, and the engraving was more. i would definitely recommend this item as a gift for someone special. :)

Great Gift
By
Judy G.

(West Memphis, AR) - December 28, 2009 (
See all reviews by this customer
)
This turned out better than expected. The engraving was great.

Cool and handy
By
ROMEL N.

(HOUSTON, TX) - December 21, 2009 (
See all reviews by this customer
)
Not sure why others are complaining that it's "small". The whole point is to pack in all the functions without bulking your pocket. The engraving looks great. The web pictures really do represent the actual items.

Looked great, boys loved them!
By
Ashley P.

(Sacramento, CA) - October 15, 2009 (
See all reviews by this customer
)
good weight,nice engraving

Personsalized Knife
By
Lacey H.

(Webster, FL) - October 8, 2009 (
See all reviews by this customer
)
I am a returning customer, I love you guys! The process of ordering is easy, I like getting so see the preview BEFORE I actually order it, and very fast shipping!

Perfect size for front pocket
By
Jennifer B.

(Holden, WV) - August 17, 2014 (
See all reviews by this customer
)
Super cute, perfect for a front pocket, engraved beautifully as always. I bought 4 as Christmas gifts, they were here before my card was charged. I only have "1" fault, they call some of the tools a number of names because it can be used for different things, there are NOT actually "13" parts on the knife, although they could not possibly get another item in. Still I am sure my family will LOVE them, they are also a keepsake with their name & date to pass on.

Great gift for grandpa, a tad smaller than I expected
By
Shopper

(Humble, TX) - December 11, 2013
This will be a Christmas gift from my son to his grandpa. I love it!

Practical
By
Shopper

(Lansing, MI) - December 10, 2013
This was decent quality. It felt fragile when trying to loosen the attachments but overall I was very happy with the product.

Is as it seems
By
Carol L.

(Hope Mills, NC) - November 17, 2013 (
See all reviews by this customer
)
This turned out well and is what it describes. Well worth the money!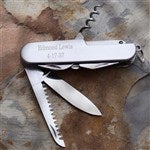 Brings a smile
By
Shopper

(Charleston, IL) - October 24, 2013
This was a neat gift for my husband on our anniversary. Whenever he is having bad day he can pull this out of his pocket and bring on a smile!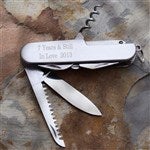 really nice but small
By
Shopper

(altamonte springs, FL) - July 23, 2013
I guess it my fault that I didn't check the size before I purchased the item but when I saw it, I was shocked beyond belief that it was so small. It was literally the size of my index finger. but the quality was nice. the tools were very tough to open though.

Nice gift, hard to open
By
Shopper

(Roslyn Heights, NY) - June 22, 2013
Got it for dad for Fathers Day. He likes it a lot but says it's a little difficult to open and pull out each part of it.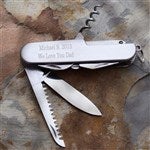 Definitely worked!
By
Shopper

(Winnsboro, LA) - June 19, 2013
Great Father's Day gift! He keeps 2 knives on him at all times so this one is small enough to fit in his pocket and the inscription made it so he can show it off also.

Nice quality for the price
By
Shopper

(Manteno, IL) - April 8, 2013
Purchased as groomsmen gifts. Good value.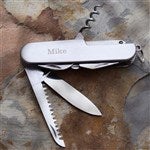 Groomsmen Gifts
By
Shopper

(Fort Kent, ME) - March 12, 2013
I ordered 3 of these pocket knives with the name and role in the wedding of my three Groomsmen. They are high quality knives- stiff on the initial opening which is what you want.
The only complaint I have, is that the knives can scratched where the engraving was placed. Obviously, the knives will become scratched and worn eventually- unfortunately I didn't expect them to come pre- scratched.

But over all- I would and have recommended them.

Good Buy
By
Mercedes A.

(Prospect Park, PA) - February 25, 2013 (
See all reviews by this customer
)
Got it on sale as a late valentine's gift to my boyfriend. Got his name on it. He liked it!
Looks just like it does in the photo and works well. However, like with any knife, you have to break it in to make it easy to open.

Great Gift
By
Shopper

(MIAMI, FL) - December 18, 2012
For the men who have everything a little gadget like that is always welcome :)

Good looking
By
Shopper

(Rego Park, NY) - December 9, 2012
Nice looking. Just a bit smaller than I expected. The names are located towards the end of the knife , rather than the center as shown in preview picture.

Great little pocket knife for my new Boy Scout-to-be
By
Shopper

(Westampton, NJ) - December 8, 2012
Picked this up as a stocking stuffer for my Webelos Scout. Figure he's ready for his own pocket knife since he'll be bridging over in 2 months. The blades are a little tight to open at first, but I the piece is a good size and weight for a young person. The engraving is a good touch - the main reason I went with this verses something from the scout store. Overall I'm happy with the purchase and would recommend to my other scout parents.

Personalized pocket knife
By
Shopper

(Elkhorn, WI) - November 21, 2012
Some of the tools are a little hard to open, but otherwise it's a good buy.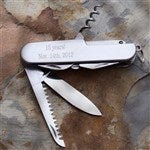 Happy with knife
By
barbara H.

(Reading, PA) - August 24, 2012 (
See all reviews by this customer
)
product was here quickly and just as ordered. Price was excellent. I am very happy with it. Wish the name and date were a little more noticable but you can't have everything.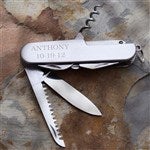 Great Value for the price
By
Robert B.

(Broomall, PA) - August 21, 2012 (
See all reviews by this customer
)
If you are looking for engraging, this knife is an excellent value choice.
There are tons of internet options for swiss-army style knives, many of which offer engraving. However, the engraving costs a lot. You generally pay per character. This knife allows for plenty of charcters on two seperate lines. If you were to order that many characters on a knife from another website, it would cost a small forture.
Don't get my wrong: the quality is not quite on par with Victorinox...the only significant difference is how difficult it is to open up the various tools. I plan on trying WD-40.
I bought these as gifts for groomsmen for my wedding. It was a great decision!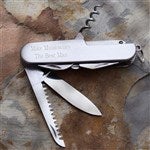 Anniversary
By
Shopper

(American Falls, ID) - August 20, 2012
It was a great gift for my boyfriend and he loved it! We wished the inscription would have been a little deeper though, it is kind of hard to see.

Good Go-To Gift
By
Shopper

(Warrensburg, MO) - June 20, 2012
Got this for a 40th bday gift and he loved the engraving. It looks nice and he can use it for just about any little thing.

Gift for Dad
By
Shopper

(Sharon, MA) - December 27, 2011
Nice and cute but a little small

Gave as a gift
By
Shopper

(Gasport, NY) - December 20, 2011
I have bought this product as a gift for my boyfriend for Christmas. It hasn't been used yet but I was surprised (in a good way) to feel that it had some weight to it, so I'm hoping it will be a good product that endures use and time.

Great "man gifts"
By
Randall F.

(Woodinville, WA) - November 22, 2011 (
See all reviews by this customer
)
I got four of these, each with a different name and Scripture reference. Each of the guys I gave them to really enjoyed them, and I was happy with the craftsmanship. They aren't super heavy-duty or anything, but I think they're higher quality than the price indicates.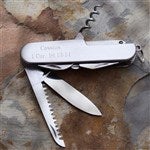 Very Nice
By
Kevin B.

(Rancho Cucamonga, CA) - June 1, 2011 (
See all reviews by this customer
)
We purchased this knife for 2 of our groomsmen and the quality and engraving were really nice! The only complaint I have is that it was smaller than I would have liked it to be. But otherwise a quality product!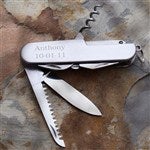 great gift
By
Shopper

(faribault, MN) - April 26, 2011
Great gift, fast delivery. Only downfall, my engraving of letters were quirked. But overall a great, classy handy gift. My boyfriend enjoyed it. Would recommend this site to family and friends.

Nice
By
Shopper

(Katy, TX) - April 17, 2011
I bought this as a gift for my husband and I think is a really good product, my husband loved it. Is very light in weight but sturdy enough to be used as originaly intended. The personalization is really good and it gives that really personal touch that I love. I am very happy with the product, the only reason I don't give it 5 stars is that sometimes it gets tangled in his pocket with the corckscrew. But it is a really good value, just as I expected.

Nice knife
By
Steven K.

(Sayre, PA) - March 22, 2011 (
See all reviews by this customer
)
Overall its nice. A little smaller than I hoped. Engraving got messed up, but contacted customer service, and got it straightened up in no time. Looks great. Will deff buy from personilizationmall.com again.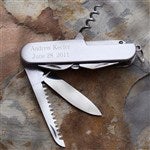 Nice gift for anyone
By
Shopper

(Louisville, KY) - February 21, 2011
The knife was a gift to my husband - nice quality and good price. Plus the personalization makes it a real keepsake.

Pocket Knife
By
Shopper

(Prior Lake, MN) - February 11, 2011
I am happy with my purchase of the pocket knife. The engraving is done well and there are many functions. I am disappointed by the size. I don't remember seeing anywhere how big it would be, at least not noticibly. It is quite a bit smaller than I imagined it for the cost.

Very Nice Pocket Knife
By
April M. R.

(Whittier, CA) - December 13, 2010 (
See all reviews by this customer
)
I ordered this pocket knife for my dad - the engraving looks really nice and the quality of the knife is good. It's a little tough to open, but maybe once it gets some use and is broken in, it'll be easier to use.

Great gift
By
Megan F.

(Gheens, LA) - October 5, 2010 (
See all reviews by this customer
)
Love the personalization

Both Gifts are Perfect
By
Kylie K.

(POYNTELLE, PA) - August 3, 2010 (
See all reviews by this customer
)
Both gifts a re perfect.
The Bracelet I recieved and the Pocket Knife.

I would definately buy from you again when I get the urge
to Personalize something.
Great job and very quick on delivery too.

Very nice gift
By
Linda B.

(Pompano Beach, FL) - July 16, 2010 (
See all reviews by this customer
)
I would have given this knife a 5 star rating if it weren't for the shipping cost. Expensive for a small item. However, the knife itself is a very nice gift which is why I bought it. It looks like a good knife and the engraving made it very personal.

Fabulous Father's day gift
By
Roxana M.

(Decatur, AL) - June 26, 2010 (
See all reviews by this customer
)
I expected the pocket knife to be a bit bigger, but it is very beautiful. My dad loved it, and he found it quite useful. This is the second time I am very satisfied with a product from the Personalization Mall website :)

Nice Father's Day Gift
By
Sanja B.

(Washington, DC) - June 21, 2010 (
See all reviews by this customer
)
A bit small, but still a good multi-purpose gift. The personalization makes it special in its own way and the size is good for the knife to fit in any pocket.