Wonderful Gift Idea
By
Debbie G.

(Alexandria, OH 43001, OH) - April 19, 2014 (
See all reviews by this customer
)
I loved being able to put my daughter's favorite quote on a photo of our home's yard and backdoor. This is going to be a perfect 21st birthday gift that she will be able to keep forever.

Awesome Graduation Gift
By
Shopper

(Lake Mills, IA) - April 18, 2014
I created a personalized picture with a quote on it for my best friends for graduation from college and LOVED how it turned out!!

love it
By
Shopper

(Columbia, MD) - February 14, 2014
Love it , love it.. Great product wass able to put my sentiments with the picture collage I made . Very special gift for my husband. HE LOVES IT. Great quality and price .I will order again

One Happy Grandma!
By
Brenda R.

(Miami , FL) - January 31, 2014 (
See all reviews by this customer
)
I order this for my grandma for Christmas and she was very happy with the frame, she was so happy she cried, the gift was the talk of the 24th dinner, she showed everyone what her grandchildren had given her. Thank you so much personalization mall!, for new costumers this gift is great for anyone that means a lot to you, who you want to give something unique and meaningful to!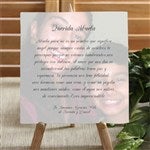 Personalized canvas
By
Shopper

(Sheridan, AR) - January 6, 2014
Personalized canvas for my sons birthday and it was everything I could hope for. Very nicely done.

My sister cried
By
Deidrah M.

(Cerritos, CA) - December 30, 2013 (
See all reviews by this customer
)
I sent this to my sister for Christmas and she cried. This was a perfect gift for her and it made her Christmas. If you want a gift that will capture their heart and always be a reminder of what they mean to you . . . this is the one.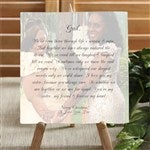 Love the personalized canvas
By
Regina P.

(South Barrington, IL) - December 17, 2013 (
See all reviews by this customer
)
I ordered 4 of these to give to my daughter and her friends for Christmas. They turned out so nice! The quality is great and it is a gift that the represents the friendship the girls have with the sentiment on it. They will always treasure it!


Great gift
By
Shopper

(Seminole, FL) - December 16, 2013
I was so happy when I received my canvas, it looked exactly how it showed in the preview and my mom was thrilled to receive it. Great prices for quality work.

The Perfect Gift!
By
Curt F.

(Ypsilanti, MI) - October 18, 2013 (
See all reviews by this customer
)
I was unsure what to get my sister on her 30th birthday. I wanted to get her something she could keep forever and something that was from the heart. I found the perfect small canvas print, created my own poem that only her & I would understand. It turned out so perfect. I LOVE THIS SITE! They are always my go to for any special occasion! The gift ships so fast, and one of the best qualities is what you see online is exactly what you get when it arrives!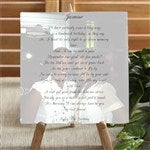 Personalized Canvas
By
Shopper

(Rosharon, TX) - July 15, 2013
I would like to commend Personalization Mall on their exquisite work and the phenomenal customer service provided for the duration of my order. I am really impressed and will highly recommend Personalization Mall.Com to all of my friends and family. I have also placed several orders other than the canvas and have the same satisfaction with the products received. Keep up the great work guys!

Great Friend Picture
By
Shopper

(Rochester, IL) - May 28, 2013
This unique canvas picture was perfect for my friend's birthday. She really enjoyed it and it can now be displayed differently than other picture frames she has.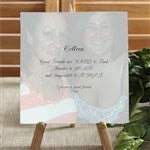 Daughter's 21st Birthday
By
Shopper

(ELGIN, SC) - April 26, 2013
I wanted something special for my daughter's 21st birthday and I got it with this Personalized Canvas Art. Was very easy to order and I received it 7 days from the date ordered. I got exactly what the product description said.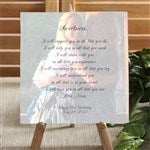 Canvas Art
By
Zachary M.

(Apopka, FL) - January 11, 2013 (
See all reviews by this customer
)
I absolutely LOVE my most recent purchase. It seriously made me tear up, and I am the one that ordered it. I can't say anything bad about it. It's my facorite thing in my house right now. I love your website! I'll definitely keep purchasing from your website!! This is actually Zach's wife. Haha I put his name because it was actually from him, but I picked it out.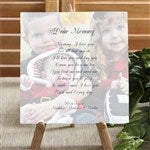 Love the amount of writing space available.
By
Shopper

(West Jordan, UT) - January 2, 2013
Beautiful results - I do recommend a very colorful photo to be used as the hues are significantly muted to allow the print to appear clear. Construction is very sturdy and canvas is quite thick, nice high quality item.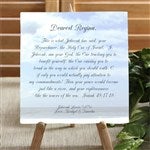 For our wedding anniversary
By
Shopper

(Coventry, RI) - December 31, 2012
I bought this for my husband for our 2nd wedding anniversary. The picture was beautiful and was EXACTLY like the "preview".

Great gift for a Mom
By
Annette J.

(Cortlandt Manor, NY) - December 30, 2012 (
See all reviews by this customer
)
Gave this to my daughter-in-law and made up my own poem.
It was beautiful and a real hit.

Great small gift
By
Amy V.

(Brodheadsville, PA) - December 28, 2012 (
See all reviews by this customer
)
I bought 2 of these, one for each grandmother from my children. They came out very cute. They are small, so they are perfect for any location.mi bought the easel as well to hold them. Looks very nice!

Super Cute
By
Shopper

(Los Angeles, CA) - December 27, 2012
I bought this for my sister for her 30th birthday. I love that you can make it your own and do not have to pick a quote. I think that was her favorite part about it. I got to make it personal for us. Great gift for anyone you love.

Loved it!
By
Julie D.

(Ronkonkoma, NY) - December 25, 2012 (
See all reviews by this customer
)
I haven't ordered my version of the canvas yet, but the three people who received it as gifts absolutely loved it! It was somthing so different and it could really be personalized to say just the perfect feeling.

Thanks again,
Julie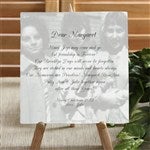 Wow! Quality and Price!
By
Terri M.

(Chico , CA) - December 23, 2012 (
See all reviews by this customer
)
Have you ever received a card you want to look at regularly? Do you know that photo that evocates amazing memories ........ here's a way to look at it daily for a reasonable price!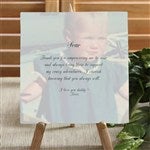 plaque
By
Linda M.

(Midland, GA) - December 23, 2012 (
See all reviews by this customer
)
I loved this. I was able to get many of them and personalize my own poem to each person. The ones that received them all cried when they called to thank me. Totally recommend this personal wonderful gift


WOW!
By
Shopper

(Loch Sheldrake, NY) - December 21, 2012
Okay, so I ordered this Saturday, did the basic shipping and received it on Friday! To me, this was extremely fast, especially around christmas time! Second, it was perfect! Though it was a little small, it's still the perfect size, especially for the price! The gift box was a little rip-off but it's okay because everything else was perfect! Personally, I recommend making it a picture collage and order a stand rather than a box!
Thank you! Will order from again!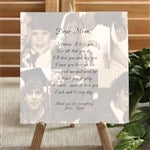 I loved everything about it!
By
Samira S.

(North Bergen, NJ) - December 19, 2012 (
See all reviews by this customer
)
The way the website described it was the same thing that I got in the mail. Absolutely lovely! and im more than sure that he will love it.
Excellent for Christmas!!

Beautiful and Satisfying
By
Shopper

(San Ramon, CA) - December 19, 2012
I love this. It came out just like I wanted. The way they make the picture slightly transparently is simply marvelous, because both the picture and words stand out to you. I'm already excited to give this as a gift. The shipping was faster than I expected, considering I paid for the longest shipping. The product was satisfactory and beautiful.

It was better than in the picture
By
Cilla G.

(Norridgewock, ME) - December 19, 2012 (
See all reviews by this customer
)
I was so impressed when I opened the package. It is amazing and such a beautiful gift to give someone. It is pretty when you see it on line but when you get it in person it is beautiful. I got this my husband for a Xmas present and I can't wait for him to open it. I have told everyone about it.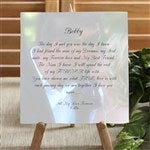 Love It
By
Shopper

(Richton, MS) - December 17, 2012
This item was purchased as a gift. I am very pleased with the quality and price of the product. It is small, but I knew this when I ordered (the size is plainly stated in the description). The product is exactly as stated and pictured. The arrival time was faster than expected. Great product and great purchasing experience, as always with Personalization Mall

Awesome Christmas gift!!!
By
Shopper

(st. pete beach, FL) - December 17, 2012
This was a great gift ! It was shipped quickly and it was AWESOME!! Great value also!

Canvas art
By
Shopper

(Lockport, NY) - December 16, 2012
Great give idea. I love it and fast with shipping

Beautiful
By
Tina H.

(Shreveport, LA) - December 13, 2012 (
See all reviews by this customer
)
I have used yall several times....always very pleased...also several of my co-workers have oredered from yall after seeing mine...im even waiting on another...yall do great work...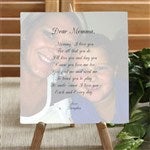 Perfect for the person who has it all!
By
Shopper

(Canton, GA) - December 12, 2012
I ordered this for my mom to put on her desk at work. Uploaded a picture of the kids, and used the standard "grandma" poem and it turned out wonderful! It really is great for someone who really has everything. It's creative and thoughtful and something that will last forever! She will love it! Very fast processing and shipping time too. Will definitely order this product for more gifts in the future!

Lovely Remembrance
By
Kathy J.

(Wichita, KS) - December 10, 2012 (
See all reviews by this customer
)
I purchased this as a 35th wedding anniversary gift for my husband. I used one of our favorite wedding photos. It is beautiful and looks exactly as I pictured it. The image is high quality and faithfully reproduced the photo. Can't wait to give it to him! I highly recommend this item as a lovely remembrance of a wonderful event!

Christmas Gift For Mom
By
Amanda C.

(Flint, MI) - December 9, 2012 (
See all reviews by this customer
)
I was more than ecstatic about how this picture turned out. It came out great, even though the picture I used was grey scale, paper, & almost 20 yrs old that was scanned onto the computer. The script was as it looked in my preview and came out fantasic. Also, delivery was very fast with no problems. I will definitely be ordering from this site again. (In the preview picture in this review the picture doesn't look very dark, but in person it's the perfect shade to not blend in with the font.)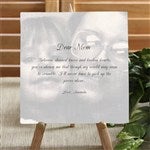 Great Quality! Fast Arrival
By
BRIDGET G.

(SUMMERVILLE, SC) - November 25, 2012 (
See all reviews by this customer
)
I wanted to order something special for my sister for Christmas. I ordered the personal sentiments personalized canvas art. uploading the photo was simple and placing the order took less than 10mins. I felt very confident that everything was going to be perfect...and it was. Within one week of placing my order, my product was delivered. I couldnt believe the fast turn around, but that is exactly what the personalization mall had advertised!!! Thank you! Thank you! Thank you!

Stacy
By Shopper (Carpentersville, IL) - November 20, 2012
Great

Beautiful gift
By
Francine D.

(Buffalo, NY) - November 20, 2012 (
See all reviews by this customer
)
This item came in record time, no waiting 4-6 wks. for personalization. It is absolutely beautiful and wonderful for a gift

Great Mothers Day Gift
By
Jeremy S.

(Waterloo, IA) - October 9, 2012 (
See all reviews by this customer
)
I was struggling to find something my wife would like for Mothers day, then i came across this. She cried when she received it, great idea, great presentation, looks awesome on the stand, my kids love it just as much as my wife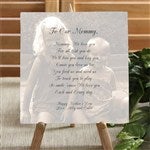 Amazing!
By
Ryan T.

(Weeki Wachee, FL) - August 31, 2012 (
See all reviews by this customer
)
I can't believe how great this turned out.. it was so simple to upload my photo and create my own personalized message. It looks amazing.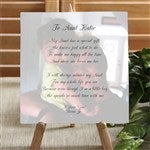 Do not have words to describe it.
By
Carmen A.

(Joppatowne, MD) - August 10, 2012 (
See all reviews by this customer
)
I am extremely happy with it.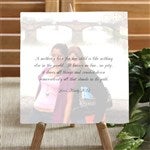 Beautiful
By
Lisa M.

(Grandview, MO) - May 21, 2012 (
See all reviews by this customer
)
This was a Mothers Day gift for my daughter. It came out beautiful and made her cry.....the instructions for cropping the photo made it easy to get it perfect. Being able to preview it was great.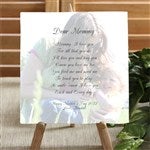 Beautiful gift!!!
By
Christina J.

(Conway, SC) - May 20, 2012 (
See all reviews by this customer
)
I bought this along with the easel shown for my daughter's 30th birthday. She loved it! I wrote my own sentiments on it for her. I wanted to give her something special for that day. The quality is excellent and I recommend this as a touching special gift for anyone!!!