Gift
By
Shopper

(Hattiesburg, MS) - February 13, 2011
This is a gift my fiance. They shipped quickly and were a great price. They are soft and fit well. The personalization was easy and it looks good. Great buy.

Sexy!
By
Tamara B.

(Concordia, MO) - December 23, 2010 (
See all reviews by this customer
)
I ordered this for my husband for Christmas. He LOVES silky things and wears boxers around the house. I was so happy, because I could have embroidered anything I wanted to on them. My nickname for him is "Kitten". He acts like a tiger, but deep inside he is just a kitten. I can't wait for him to get them. I think they are sexy and cute all at the same time! I think I will order him the red with black writing for our first Valentine's in Feb. Nice idea!

Cool Silky Boxers
By
Sophie H.

(Eden Prairie, MN) - February 12, 2010 (
See all reviews by this customer
)
I ordered a pair of these nice silky boxers for my boyfriend and he really liked them. The embroidery looks just like it does in the picture. He did say that the white backing behind the embroidery was a little scratchy, but toherwise they are very comfortable and we would recommend them to anyone who is looking to give their sweetheart a special little something.

Embroidered silk Boxers
By
Raylene T.

(Schenectady, NY) - October 12, 2009 (
See all reviews by this customer
)
They looked very nice. Brought this as a gift. The person was very pleased!

So-So
By
Shopper

(Springfield, MO) - February 15, 2013
The silk isn't very soft. The embroidery is also in a strange place. I didn't much care for them, but luckily my fiance' loved them. So, really, the boxers are just a matter of taste.

Not the best material quality
By
Erin G.

(Cumberland, RI) - August 28, 2011 (
See all reviews by this customer
)
Fabric is soft, but not as soft as expected. Almost feels synthetic, despite the tag reading 100% silk. Maybe it's because I was expecting something more satiny? It's still nice, and the embroidery came out great. White interfacing on back of embroidery isn't too rough, and it will probably soften with washing. Plus he has hairy legs, so I doubt he'll notice :)

just ok
By
Lorette K.

(Canada) - February 18, 2011 (
See all reviews by this customer
)
they have a design in the satin, that takes away from the sexiness of the satin. The embroidery was excellent.

Okay
By
Kelly J.

(Lockhart , AL) - February 13, 2011 (
See all reviews by this customer
)
The embroidery on the boxers is great. However the boxers were advertised as silk and the photo depected a smoothy silky boxer. In reality these boxers have a checked design on them, that prevent the boxer from being smooth and sleek. I am disappointed in the item itself, however the actual embroidery is good quality

Not pleased
By
Shopper

(Chester, VA) - October 26, 2013
It got here really fast and I was very pleased with that. Wasn't pleased once I opened it. Runs small, and when I called to see want I can do to return them or get a different pair. They said I couldn't return them (which I understand, they are personalized) but the only thing they would do for me is give me a 30% discount if I reordered them. I feel like they could have done something more.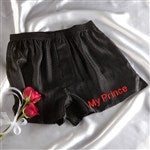 Not silk
By
Shopper

(red oak, TX) - June 28, 2013
Not silk. They are scratchy.. Very upset for paying $40 on a pair of boxers I could have bought from a store for cheap and sewed myself or had them done for a small price

Disappointed
By
Shopper

(Keller, TX) - February 22, 2013
For the price I was expecting much more. The silk was rough (not super soft)and the boxers had a small waist and very blousy legs so that they looked ridiculous on. Very disappointed that these cost $40.

silk boxers
By
Shopper

(Longview, TX) - February 15, 2013
The silk was not the quality material I was expecting.

Size was off
By
Shopper

(Waltham, MA) - February 26, 2011
I got these for my bf in L and he is a 6'2'' and wears 36 jeans. The underwear was so big that we could both fit in them. Together. Literally. I was not impressed with the quality of the silk. The cut is odd (maybe it's the size though) they're really long and kind of pouchy. They say personalization text will be "added an artistic touch"-forget it. I was hoping it will at least be in italic, but it is written in the plainest letters ever. Looks like I printed in on my inkjet.

low quality
By
Lauren L.

(Waynesville, NC) - April 2, 2010 (
See all reviews by this customer
)
These boxers are super cute and really fit the occasion, but i was disappointed with the quality of the boxers. there were a lot of strings hanging and it just seemed like the boxers were cheap and cheaply made.

Not soft and silky
By
MJ Kate B.

(Parrish, FL) - February 19, 2010 (
See all reviews by this customer
)
For those of you who've touched silky, soft material, this will be disappointing. It is a rough type of silk. I was looking so forward to this gift for my Honey, and it was not what I expected. Also, they run small. The large would have been preferred for a toned, 165 lb man.

Boxers!
By
Amena J.

(Tyler, TX) - February 16, 2010 (
See all reviews by this customer
)
These boxers were okay. I expected better material quality. The size of the letters was smaller than expected. Overall, I didn't feel it was worth the money. They ship fast though!

Perfect feel, perfect lettering, but way, way too small
By
Korie C.

(Austin, TX) - January 26, 2010 (
See all reviews by this customer
)
I bought these for my husband in a size XL, but when they got to the house, and he tried them on, the boxers fit more like a medium. The sizing needs to be adjusted, so if you buy these, buy the next size up.

crappy material
By
Shopper

(Pasadena, TX) - December 21, 2013
This picture shows boxers that are deceptfully shiny. This item is cheap looking and feeling in person. I'm mad I wasted my money.

Not Satisfied at all
By
Shopper

(Black River Falls, WI) - April 25, 2011
Well the idea is great but the actual product wasn't. My husband says the boxer is not comfortable at all and the "so called silk" does not feel very good either. I always hit the nail on the head when i give him gifts but i really messed this one up. i don't recomend this for anyone! its not worth the 45 dollars i paid.

Not what I expected
By
Gina R.

(Burke, VA) - November 19, 2010 (
See all reviews by this customer
)
This is not at all what I expected; I got these boxers for My boyfriend for our 6 month anniversary. they don't even look or feel silk. I was expecting what i saw in the picture & was excited when it came in the mail, but when I opened the package to look at it, it was definitly NOT what I expected. Good thing I got him something else also because I am not satisfied with this.

Disgusted
By
Sarah G.

(Northfield, NJ) - March 13, 2010 (
See all reviews by this customer
)
This picture looks great, sadly it is not what I recieved when these came in the mail. The material was cheap feeling and tacky.
I was disappointed to say the least.