Coffee mugs
By
Timothy W.

(Rochester, NY) - December 14, 2011 (
See all reviews by this customer
)
Terrific product @ a Great price. Excellent quality. Very quick shipping. Totally pleased.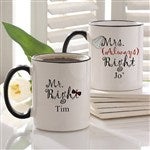 Everyone loved it!
By
Crystal P.

(Downey, CA) - December 5, 2011 (
See all reviews by this customer
)
I gave it to my best friend as one of her shower gifts. Everyone loved it!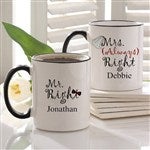 Perfect
By
Pamela W.

(Joppa, MD) - September 15, 2011 (
See all reviews by this customer
)
The couple loved their gift. The groom never had his own inscribed cup before. He loved it.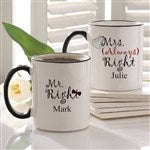 Great Gift!
By
Deborah L.

(Turnersville, NJ) - August 29, 2011 (
See all reviews by this customer
)
I've purchased these mugs three times as engagement gifts. They are funny, practical and made special by the personalization. Delivery is always quick with Personalization Mall.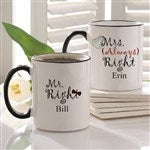 Cute
By
Shopper

(SANTA CLARA, CA) - August 26, 2011
This was gift for my cousin and her husband. My cousin loved the mugs. I ordered Saturday night and received Wednesday, with the 2 day delivery. Got it right on time. Excellent service.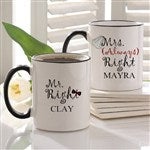 met my expectations
By
Pat D.

(Monee, IL) - July 17, 2011 (
See all reviews by this customer
)
Delivery is timely, and product is excellent quality. Since I ordered this less than 2 weeks ago, I have placed 3 more orders. So far everything has been as I anticipated. I still have one more order to be delivered and should get it soon. So happy I found your website.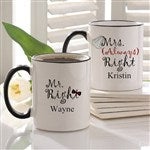 Just Right
By
Joyce S.

(Greenup, KY) - July 8, 2011 (
See all reviews by this customer
)
Arrived on time. Great quality.They loved it. Everyone got a big kick out of it. Will order again.

Coffee Mugs
By
Ann N.

(Bloomfield, NM) - May 11, 2011 (
See all reviews by this customer
)
We are very pleased with the coffee mugs. They arrived in one piece, not broken into millions of pieces. That in its self made a big hit with us. They are really beautiful and we love them. We think our grandson and his new bride will enjoy them as much as we will enjoy sending them to them.
The service was unbelievable. Quite wonderful as a matter of fact. I have bookmarked your site and if the occasion arises that I need something yours is the first site I will look at. Thank you for the wonderful service you provided.

Annie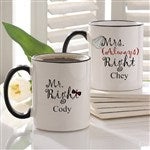 Great Engagement Gift
By
Shopper

(saint louis, MO) - March 21, 2011
These are so cute - a great engagement or shower gift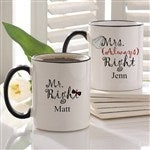 Adorable!
By
Ashli N.

(Union Beach, NJ) - March 13, 2011 (
See all reviews by this customer
)
Got these as a Bridal shower gift and the Bride loved them! They are such a cute creative gift! Love them!!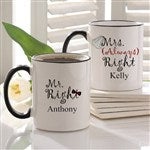 very satisfied customer
By
Shopper

(El Paso, TX) - March 31, 2014
I love the simple ordinging process and the product quality. Just fabulous is all I have to say!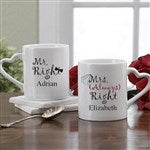 Be aware of cup size
By
michael D.

(chatham, NJ) - January 7, 2014 (
See all reviews by this customer
)
I ordered these for my daughter in December 2013. One came broken, so I reordered another set (it was a Christmas gift for my daughter and her fiancé). The second set arrived in good condition, but the cups were smaller then the mugs that I had originally ordered, even though I thought I was ordering the same cup. Apparently, the original cup I ordered was replaced and is no longer available. The second set also had cute heart shaped handles (nice). But if you use a Keurig coffee maker and select the largest mug-sized cup of coffee (we always do), the fill volume is right to the top of the cup. No room for milk, and no way you can move the cup to your mouth without spilling some.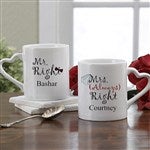 Customer Service off the chart
By
Maureen D.

(Melrose, MA) - November 18, 2013 (
See all reviews by this customer
)
A bridesmaid at my age! Needed the perfect gift and Personalization had plenty to choose from including these mugs.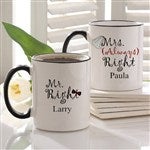 Great mugs!
By
Linda M.

(Fenton, MI) - October 27, 2013 (
See all reviews by this customer
)
Mugs were wedding shower gift. She loved them! Everybody loved them! Hit of the party.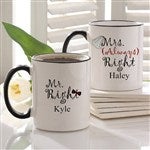 Perfect favors for the bride & groom at the rehearsal dinner!!!
By
Sherri G.

(Columbia, SC) - September 28, 2013 (
See all reviews by this customer
)
Love the cups! They are everything described and will be a bit hit for the bride & groom at our rehearsal dinner. Excellent job in designing them and sending them right away! Will definitely shop with you again!!!!!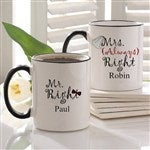 Great gift!
By
viviana G.

(miami, FL) - September 1, 2013 (
See all reviews by this customer
)
They looked great, just like the preview when I ordered them. My friends were extremely pleased with the gift!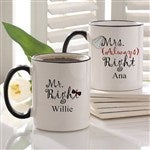 Great gift idea
By
Judy E.

(Tomah, WI) - August 12, 2013 (
See all reviews by this customer
)
I purchased the Mr. Right mugs for a wedding shower gift. I placed the order on a Thursday and received it on the following Monday!! The mugs were a fun gift. Personalization Mall made the purchase fast and easy.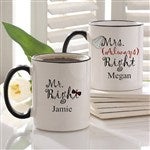 Very good experience
By
Shiela S.

(Marysville , WA) - July 2, 2013 (
See all reviews by this customer
)
This is the best purchased I have ever made !!I recommend personalization mall.com to everybody I am planning to order more !! Delivery is really fast and products are all very nice !!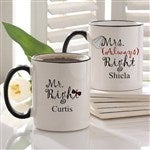 mr. and mrs. right
By
Shopper

(Aurora, IL) - June 15, 2013
These are just the cutest coffee mugs I have ever seen. I can hardly wait to give them as a gift to the new bride and groom. Fantastic service, cups were personalized and delivered to me in just a few days!
Thank you so much!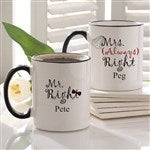 Ideal wishing well gift
By
Kathleen R.

(Brooklyn, NY) - June 2, 2013 (
See all reviews by this customer
)
I am going to a bridal shower for my cousin and this mug set will be the "wishing well" gift. It is simply perfect for something like that. They are adorable and well made and the personalization makes it the ideal gift.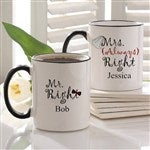 2nd time buy this as wedding gifts
By
Shopper

(Saint Charles, MO) - May 14, 2013
This is the second time that I buy this as wedding gift. First couple receives them love them and recommend this set so much. I know this second couple will love them too!! Personally I love them too!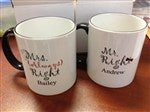 Wedding Gift Mugs
By
Shopper

(Potomac, MD) - May 8, 2013
I've ordered these before, was very pleased with the purchase and the transaction, and the mugs delighted the couple for whom there were purchased.
Will order these again.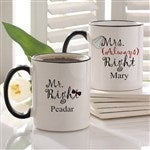 Just as advertised!
By
Shopper

(lowell, MA) - May 6, 2013
Great Product. Hopefully doesnt wash off when the bride and groom use them!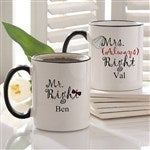 Just the right sentiment!
By
Adriane & Keith F.

(NEW CITY, NY) - April 20, 2013 (
See all reviews by this customer
)
I did not actually see the mugs in person, but the reaction from the recipients was worth the five stars. They just loved the mugs and thought they were great.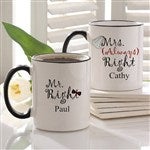 Just like the picture!
By
Shopper

(Bakersfield , CA) - April 2, 2013
I am very happy with the set of mugs! I think they will make a great gift along with the picture frame I ordered! It is exactly as shown on the website! Happy !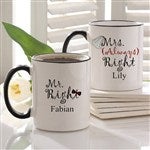 Great Little Extra Shower Gift
By
Patricia D.

(Sayville, NY) - March 24, 2013 (
See all reviews by this customer
)
Adorable, I am sure the Bride will get a kick out of these.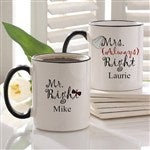 So cute!
By
Shopper

(Benton, AR) - February 8, 2013
These mugs turned out great! I gave them as a gift at a wedding shower, and everyone loved them! Great way to include the groom in bridal shower gifts as well!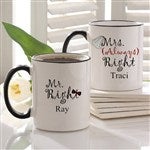 Very happy
By
Julie F.

(Brooklyn, NY) - January 27, 2013 (
See all reviews by this customer
)
Very cute mugs , I just wish the personalization font was available in script, it would have made the names on the mug look nicer.

such a cute idea!
By
Shopper

(Irvine, CA) - November 30, 2012
I looove them! Cute gift for a couple who is easy going. Good quality good size I want some for myself when I get married!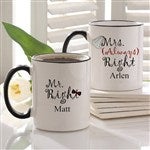 So cute
By
Shopper

(Glendale, AZ) - November 27, 2012
Personalization was awesome. My mugs were lost in the mail and my friends wedding was in less than a week. Personalization had new ones sent to me in 2 days. These are a great gift. My friends loved them.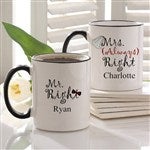 Mr. & Mrs. Right
By
Shopper

(Carnegie , PA) - September 25, 2012
The personalized mug set far exceeded my expectations. They were perfect. My daughter and her future husband loved them. They arrived 1 day sooner than expected. I will definatley oreder from you company again and recommend it to others.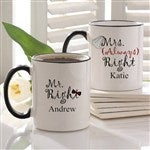 cute wedding gift
By
Shopper

(Annandale, VA) - September 6, 2012
i thought this was a really cute (and funny) wedding gift with a personal touch. The mugs look great. The only thing that I hated about these was that you can't choose the font- both are preset and it just looks bad,in my mind, with the two different fonts. It would look nicer and like a higher-quality product if the fonts were consistent or at least complimentary instead of the hodgepodge it's set to. It looks like you just found a random mug set and had the personalization done afterwards with a random font that didn't match. Still, a nice gift and good quality.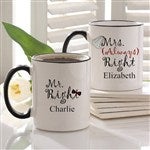 Wedding Gift
By
Linda M.

(Canada) - August 3, 2012 (
See all reviews by this customer
)
The mugs are lovely and arrived in perfect condition and reasonable time!
Thank you, I am very pleased!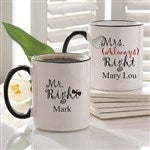 Love this mug set.
By
Shopper

(Potomac, MD) - August 2, 2012
It was a gift for celebrating the engagement of a widow and widower. It was very well received.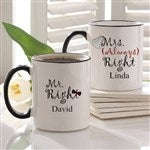 Perfect!
By
Sandra R.

(Oregon, OH) - August 1, 2012 (
See all reviews by this customer
)
These mugs are such good quality and the personalization is just perfect.Brought alot of smiles as a recent bridal shower gift!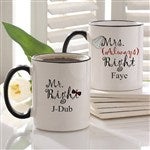 Cute and fast!
By
Suzanne S.

(Savannah, GA) - July 27, 2012 (
See all reviews by this customer
)
I ordered these for my daughter's bridal shower (couples). It is identical to the picture and came very fast and boxed well. I would definitely recommend this site to friends and order from here again. Get these, you will not be sorry.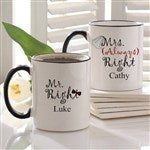 Good engagement gift
By
Shopper

(flemington, NJ) - July 21, 2012
This is a cute engagement party gift idea. The bride I bought for works shift work so there is def some coffee/tea drinking going on in their home. Other than that, its just a quirky little gift that they can really use.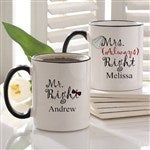 Love Them!!
By
Shopper

(Mount Airy, NC) - July 10, 2012
I purchased this to go with a Keurig I bought for my nephew and his bride. The mug set was a big hit at the shower and the bride loved them! I was very pleased with the product quality. They arrived quickly and were in excellent condition. I was very pleased and will definitely order from personalizationmall again!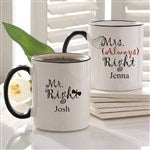 Wonderful Customer Service
By
Shopper

(coral springs, FL) - July 10, 2012
I ordered these mugs for a bridal shower gift. They arrived promptly, and looked great, with the exception of the color of the mugs not matching exactly. One was white, while the other was a bone color. I contacted the company, sent them a picture (as they requested) and they re-did the order without any hassle whatsoever. Great customer service! I've ordered many items from this company, and have always been completely satisfied with their products...and now I can also attest to the fact that their customer service is outstanding as well. Beautiful, unique gifts for every occasion.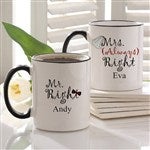 Thrilled Bride to Be
By
Shopper

(The Villages, FL) - May 5, 2012
I gave these mugs to a co worker when she announced her engagement. Every bride to be loves to be recognized and being personalized made it even more special. Everyone in the office loved them and she was thrilled.