Touched her heart
By
Digna P.

(Yonkers, NY) - August 29, 2011 (
See all reviews by this customer
)
Thanks for having such touching items that could speak for themselves. Great gift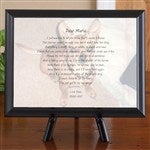 trixie memorial
By
susan B.

(pt st lucie, FL) - May 27, 2011 (
See all reviews by this customer
)
It came out beautiful and we actually cried again when we received it. We miss our dog so much and this is a beautiful way to remember her!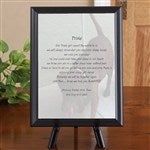 LOVE IT!!!
By
JANINE F.

(DUMONT, NJ) - April 18, 2011 (
See all reviews by this customer
)
I bought this for friend who lost her dog. It is a very nice rememberance.
Very easy to order, recived it very quickly.
Would recommend it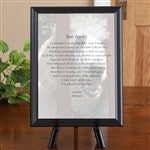 Very emotional tribute
By
Sandra H.

(Monroeville, PA) - April 8, 2011 (
See all reviews by this customer
)
When the memorial photo/poem plaque was opened, my heart was overwhelmed. The poem was sooooo appropriate and rang so true....and seeing my beloved dog's photo in the background just made it a perfect tribute to her. Thank you for offering such a wonderful item. I'll recommend your company to others.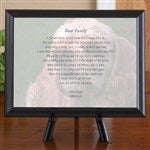 Emotional Gift
By
Shopper

(Sterling, IL) - March 30, 2011
We bought this for my boyfriend's mom after her cat of twelve years was put down due to cancer. We felt it would be nice to get her something personal to remember her by. I was very happy with the outcome. It was the perfect size, and very pretty. It made her cry, which in turn made us cry. It makes a great gift to those who have lost a beloved pet.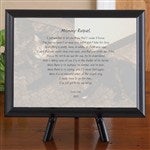 Nice
By
Shopper

(Houston, TX) - February 27, 2011
Very nice piece of art. I was happy with all the details and shipping.

Dog Memorial
By
JILL M.

(PRIOR LAKE, MN) - January 27, 2011 (
See all reviews by this customer
)
I sent this to my brother and sister in law after they lost a pet of 11 years and they LOVED it. It turned out great and I loved the feature that tells you if your picture is going to work or not.

Beautiful remembrace of my beloved pet!
By
Diana T.

(Wichita, KS) - December 26, 2010 (
See all reviews by this customer
)
I chose this plaque with the picture in sepia and it looks beautiful. The poem is so lovely that it brings tears to my eyes almost every time I read it and see my precious Hoody in the background. I recommend this product 100%.

AMAZING!!!!
By
Susan M.

(Wahiawa, HI) - September 16, 2010 (
See all reviews by this customer
)
My mom and sister lost their beloved golden retriever recently. I found this and thought it was really nice so I found a poem that I liked and the perfect picture. I only ordered one since I wasn't sure how it would turn out... Well my sister and mom both love it so much they take turns having it!!! They said it is absolutely gorgeous so we are ordering another!! Highly recommended.

Wonderful memorial
By
Saundra R.

(Apollo, PA) - September 14, 2010 (
See all reviews by this customer
)
My friend had to put her dog to rest due to cancer. This allowed me to write my own poem and the picture of Sammy came through beautifully. Ended up being more cherished than I expected. The overall quality was more than I could have asked for. VERY pleased with the final product.

Happy customer
By
Tammy P.

(Gladstone, MO) - July 6, 2010 (
See all reviews by this customer
)
I was very pleased with my purchase. I will be telling friends about your website. Thank you for doing such good work, & very fast service.

Wonderful
By
Bonnie T.

(Chase City, VA) - June 1, 2010 (
See all reviews by this customer
)
Best product and excellent service

Outstanding choice
By
Jennifer M.

(Thousand Oaks, CA) - May 19, 2010 (
See all reviews by this customer
)
Very classy expression of sympathy. A gift someone would be proud to display for years. I'm proud to give this to a friend in their time of sorrow. It's a gift that shows how much you care. Could not ask for anything to be different.

WONDERFUL well done gift
By
Peggy B.

(Villa Hills, KY) - May 9, 2010 (
See all reviews by this customer
)
I cannot express how pleased I was with this plaque that I bought for friends who lost their beloved pet. It was so touching, so beautiful, so well done and I was thrilled and honored to be able to present it to them as a keepsake of their beloved pet. I will not hesitate to buy this again in the future for others who lose a pet.

Pet Memorial Photo & Poem Plaque
By
TAMI T.

(ASHBURN, GA) - May 3, 2010 (
See all reviews by this customer
)
We are so very pleased with this rememberance plaque. We lost our beloved lab, Lady, to cancer in March. I saw this plaque and decided to order. It is beautiful and everyone cried the first time they read it. It seems to be a quality item and I display it on a easel. I do like the idea that it can be hung on the wall also. I highly recommend this item.

Great Memorial!!!
By
Amy S.

(Knoxville, TN) - March 24, 2010 (
See all reviews by this customer
)
I made this plaque for a very special bird that we lost at the zoo. I was a little worried about the quality of the picture but it looks great. The finished product was so beautiful and the poem is wonderful and so fitting to our bird. I really love the plaque and it memorializes my friend so well.

Such a nice tribute!
By
Shannon M.

(Carbondale, PA) - January 25, 2010 (
See all reviews by this customer
)
This turned out SO well! It was such a lovely tribute to my husband's beloved pet, and a great way for him to always cherish the memory! Another great product from personalization mall!

tear jerker
By
Shopper

(Tucson, AZ) - January 4, 2012
We surprised my husband with this gift for christmas. We paid a bit extra for the gift box it came in, it was beautiful! My husband had no idea what this gift could be... needless to say he was breathless!!! My daughter had written a poem about our beloved "Angel"after her passing. So to see his dog and his daughters poem on this plaque, he was overwhelmed with emotion. Tears came to everyone's eyes. He said it was the best gift he could have ever received. The plaque was of great quality and much nicer than the website could ever show. I'm sooo glad that personalizationmall.com offers such a variety of items at great prices!!!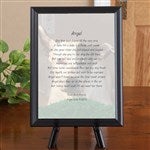 Gorgeous
By
Ruth A.

(Townsend, DE) - December 29, 2011 (
See all reviews by this customer
)
This product was addressed to mommy and daddy from Santa on Christmas morning.
It made my husband cry. It was very nicely crafted. I would highly recommend this to anyone who has just lost someone very dear to them. I gave a four star rating because of the hook on the back. There are no hooks, just hole openings.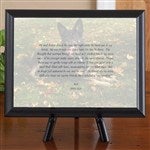 Very sweet
By
Shopper

(Winston Salem, NC) - July 2, 2011
I love this... the picture is clear and the poem is so sweet. Just a little disappointed that the frame was a little scratched around the edges... but nothing a few swipes of a black magic marker couldn't fix.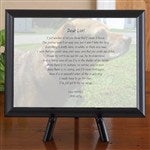 The best memorial for a pet
By
Shopper

(Rohnert Park, CA) - May 22, 2011
This was a great concept - better than a rock for the garden - to memorialize our dog. I started with the provided poem and revised it to fit our dog's personality. Using our own photo is a wonderful touch.

The product arrived quickly and we have it on the wall to see every day. The nail slots on the back are well made. The wood it was made on seems a bit light weight, though.

I really recommend this - the hardest part was choosing just one photo! Sure wish we could've had a collage.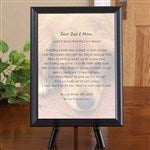 Picture Could be Darker
By
Christina M.

(Gahanna, OH) - September 27, 2010 (
See all reviews by this customer
)
This is a very neat item. I bought it in memory of my cat, Tigger. It is very nicely done; the only thing I would change is that the picture in the background is pretty light and washed out. It could be a little darker and you would still be able to see the words in the poem without a problem. Otherwise, this was a wonderful purchase!

To light...
By
Tricia S.

(Lynwood, IL) - October 11, 2010 (
See all reviews by this customer
)
It's a beautiful poem, but the picture is so light that you can hardly see it. I think the poicture should be darker/brighter so you can see it clearly. I don't think it was the $50 I paid for it. After shipping, tax, the easel, and the frame, it was more than I expected.

Jingles Plaque
By
Michelle S.

(Staunton, VA) - February 28, 2012 (
See all reviews by this customer
)
I love this plaque! A nice closure for our family on our young beloved pet!!!