Nice
By
Samantha M.

(Slidell, LA) - September 28, 2010 (
See all reviews by this customer
)
I love this! I only wish there would have been different cartoon faces with short and long hair. But, other than that.... Nice! Thank you!

Bought this for my mom, who is a VERY proud Nana
By
Nicole T.

(McKinney, TX) - September 6, 2010 (
See all reviews by this customer
)
My mom loves these types of gifts. She just cried with joy when she opened this. I'm so glad I came across it. I do wish we could personalize the kids a little better, but for the money....there is no way to beat it!!!!! awesome deal. Specially cause I had 20 names to put on there.

Very nice!
By
Kelly R.

(Blackwood, NJ) - December 23, 2009 (
See all reviews by this customer
)
Mug came out very cute!

Great sweatshirt
By
Mandi S.

(Keller, TX) - December 19, 2009 (
See all reviews by this customer
)
The sweatshirt was a little big but luckily the great grandma thought it was perfect anyways. It is the only thing we could find that was able to put so many great granchildren on a sweatshirt.

precious!
By
Renee P.

(Lake Charles, LA) - December 17, 2009 (
See all reviews by this customer
)
This item is adorable - my only complaint is that I couldn't fit 27 names on it!

Great art work but...
By
A. T.

(Daytona Beach, FL) - December 9, 2009 (
See all reviews by this customer
)
The art work was great but the number of reasons on both shirts were incorrect. I bought 2 shirts, one for my mother and one for my father. I included a spot for the grandparents and in the "number of reasons" section they added the grandparents in the number. I was very pleased with the look of the shirt but the number was one more grandchild than needed. It is an item I would purchase again but I would need to speak to a rep to clarify the number.

Runs Big!
By
Allen R.

(Collierville, TN) - December 8, 2009 (
See all reviews by this customer
)
This is a great product but it runs really big. These are men sizes. So if you are ordering for a woman, go down a size or two.

good buy
By
Brady H.

(Genoa, OH) - October 9, 2009 (
See all reviews by this customer
)
Excellent quality! My order shipped out and was received within a few days of purchase. Be careful though, the sizes do run large, or generous as it is stated. My kids' grandmas LOVED the shirts!

Cute night shirt
By
Karlyn E.

(Ogden, IA) - October 2, 2009 (
See all reviews by this customer
)
I bought a nightshirt for my grandmother with all her great-grandchildren's name on it. My grandma liked it a lot and I thought it was cute and unique. The only thing that I would like differently is if there were more choices of heads to choose from so they look different on the night shirt.

it's ok
By
Shopper

(NIAGARA FALLS , NY) - March 18, 2014
I thought the personalization would've been on both sides of the cup but it's only on 1 side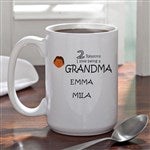 product features that you do not like
By
Karen N.

(Parma, OH) - November 22, 2013 (
See all reviews by this customer
)
I liked the sweatshirt and the placement of the characters on it. I did not like the "little boy" characters, they looked like "monkeys" with big ears rather than little boys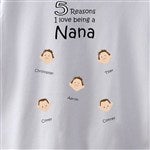 Product was purchased as a gift.
By
Shopper

(Moncks Corner, SC) - August 2, 2012
The quality of the sweatshirt is great. However, the sizes are misleading. I ordered a medium and the shoulder width was way to big.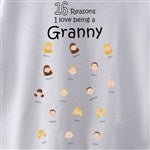 color off
By
Shopper

(Mount Airy, MD) - October 28, 2011
Love the bag and pictures. Disappointed in the face color of pictures. Colors come out a little darker that you would think. Wish the colors came out like picture/sample shows. Actually darker in color.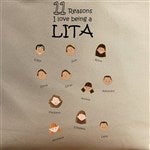 Great quality but sizing is WAY off!
By
Sally M.

(Charlottesville, VA) - January 28, 2010 (
See all reviews by this customer
)
Great quality and cute pictures. BUT....the sizing is way off. I ordered a small for my mom [her 80th b-day]. When it came, I assumed a mistake had been made - it was HUGE! But, the label said "S." I wear a size 14, and - it fit me.

Be cautious of sizing!
By
Shawn W.

(Athens, OH) - December 11, 2009 (
See all reviews by this customer
)
This shirt is huge! I ordered the uncle sweatshirt in Large and this one in Medium... there is no difference between the two! And on top of that, the large seems more like an XL. I emailed the company and their reply was that their product description states "generously sized" so they cannot exchange it. Generously sized might be appropriate for the uncle sweatshirt, but this one, being a medium sized more like an XL... that's a bit more than "generous."

Other than the sizing disappointment, the design and printing are great. Of course, time will show how well the print hold up, but for now I am pleased with the quality.



Make sure to order 2 sizes bigger
By
Jawnnette C.

(Pittsburgh, PA) - October 8, 2009 (
See all reviews by this customer
)
I loved what the shirt looked like. Unfortunately the sizes are very off. My dad is going to have to loose weight to fit in the size that I ordered him. He would love to be able to wear it but I couldn't return a personalized item. So I probably will think twice about ordering a personalized shirt again.

SIze
By
Shopper

(Yorba Linda, CA) - February 26, 2013
Love the sweat shirt but the sizes are huge....a medium is like an extra large.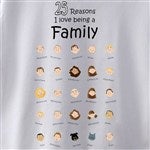 Not impressed.
By
Shopper

(Scottsdale, AZ) - April 30, 2013
I bought this mug for my grandmother as a Mother's Day gift. I put ten grandchildrens names on it. All the names are still on a little part of the mug, leaving over 3/4 mug plain white. It looks like something is missing. There would be an option to add more to the mug since it is so bare.

Don't believing the sizing
By
Shopper

(Falls Church, VA) - December 14, 2012
The printing on the sweatshirt is great but don't believe the sizing. I ordered a large and it looks like a XXL.

big bag, small pictures
By
april H.

(kennewick, WA) - December 12, 2009 (
See all reviews by this customer
)
nice quality bag, but the personalization is a joke. i could have done it myself with an inkjet printer... i did a bag- 19 reasons... thinking the pictures of the kids would be spread across the big bag, but instead they are super small, scrunched onto a paper size area right in the middle of the bag, leaving the bag looking rather ridiculous... i will now havea to doctor it up with some ribbon, or something... not happy...