inexpensive but blurry
By
Jennifer J.

(Washington, IL) - November 27, 2009 (
See all reviews by this customer
)
I chose this site over one I've previously used because the ornaments were each $4 cheaper. However, the picture quality is MUCH poorer. Use only close-up pictures that haven't previosly been cropped.

Okay... should have used a different picture
By
Carrie H.

(Claremont, SD) - November 3, 2009 (
See all reviews by this customer
)
I have always been very impressed with the fast delivery, especially on personalized items. I wasn't very happy with this ornament, just for the fact that I should have used a different picture. I wish I would have been able to zoom in on us in the picture. It was kind of blurry since we were so far away. Tip for those wanting this - use a close up picture and you should be happy with it.

Grainy
By
Shopper

(franklinville, NY) - January 3, 2013
I purchased this ornament for my brother and sister in law for a Christmas gift. I used one of their photos that their photographer took during the wedding, I am really disappointed of the quality that it came out. It is grainy and for the price I figured it would be much better quality.

Dark and poor quality production
By
Shopper

(Niles, MI) - December 28, 2012
The image turned out very dark. Font was small, Not pleased with the production quality of the ornaments. Probably will not reorder from here.

photo ornament
By
Shopper

(Williamsburg, VA) - December 24, 2011
A little disappointed that the writing at the bottom went through the face. Even after my own cropping. It did not display that the writing would cut through my dad's face after reviewing the order before confirming. Ohh well. Still a precious gift!

Daytime photos work best
By
tanisha G.

(new york, NY) - December 17, 2011 (
See all reviews by this customer
)
I used a photo of my son when he was handed to me in the hospital at birth. The lighting was good but the ornament came out darker than the pic. Not sure where the problem came in. The photo is brighter than the ornament. I ordered some other photos which were pics made outdoors on sunny days and they came out perfectly.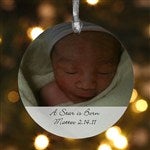 So-So
By
Robin F.

(Weston, FL) - December 23, 2010 (
See all reviews by this customer
)
The photo did not come out as well as hoped, also the ornament looked a bit cheap.

A bit disappointed
By
Jodi S.

(Sun Valley, ID) - December 18, 2010 (
See all reviews by this customer
)
I carefully reviewed my ornament before purchase. The "writing" appeared to be fine so when the ornament arrived and the writing blocked part of my nephew's face, I was disappointed. The quality of the ornament is excellent and I will do this again but perhaps choosing a better photo.

Personalized ornament
By
Tara W.

(Stockton, CA) - December 29, 2009 (
See all reviews by this customer
)
I ordered 3 of these at Christmas time. The picture quality for the picture I choose said it was the best, but the print quality didn't turn out like I expected. I was really disappointed....

Low Picture Quality
By
Tierney S.

(Indianapolis, IN) - December 6, 2009 (
See all reviews by this customer
)
The preview online of the personalized ornament with picture had vivid color and was very clear - unfortunately, the actual ornament was nothing like that. It looked faded and fuzzy, and the photo itself was barely even visible.

Blurry Outcome
By
Tonya U.

(Chicago, IL) - November 16, 2009 (
See all reviews by this customer
)
When i uploaded my image onto the website it was ranked as "good." This is the same rank my image received last year. When I received my ornament last year it looked great. However, this year when I received my ornament it was really blurry and the black and white did not look good.

Too Dark
By
Joyce B.

(Medford, NJ) - December 14, 2012 (
See all reviews by this customer
)
Very unhappy with the ornaments , customer service sort of said tough luck.
They do not give you the opportunity to properly edit the photo. It looks better in the photo and the writing on it is soooo small-
very grainy and dark so very sad as i usuallylove PM for gift giving.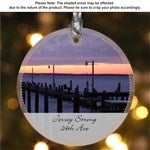 Poor Quality
By
Shopper

(Lincoln, NE) - December 20, 2011
I recently received my personalized ornaments and was very disappointed with the quality of the photo. It was very blurry. My proof didn't look blurry at all. I would have thought I would have been alerted to use a different photo instead of printing such poor quality:(

Beware of Black & White
By
Shopper

(Reseda, CA) - December 13, 2011
You'd think from the black & white picture shown that it would be a great option. NOT TRUE if you have a bunch of people in the picture. It looks horrible. Its very pixilated and not sharp at all. Plus if you don't like it, customer service does not help you at all. Since it's personalized (which everything is) you can't return it. I've been a customer for years and was just not happy with this at all.

Dissappointed
By
Katherine S.

(Cincinnati, OH) - January 8, 2011 (
See all reviews by this customer
)
I was very disappointed with this ornament. I submitted a photo and words and when I got it back it was VERY off centered. It looked so bad the wording was running off the right side of the ornament. So I called and asked them to re-make it and the second one the sent was only a fraction better. Its still off centered and this time it was darker and pixelated. I wouldn't order one again. Waste of money.

Poor photo quality
By
Chris B.

(Franklinton, NC) - November 16, 2009 (
See all reviews by this customer
)
I submitted a quality photo - 5 MB - THE PHOTO ON THE ORNAMENT IS A JOKE - WASHED OUT - FUZZY. Clearly, there is not quality control.