Pleased with Product
By
Shopper

(Methuen, MA) - January 21, 2014
I really loved my product, however some of my pictures came out darker on the final product than what appeared on the preview. I thought they came out great but would like to of had the ability to edit the picture on the product a little easier than it was. I would purchase this again and plan to in the future. Thank you!

frustrated
By
Barbara B.

(Lynn Haven, FL) - January 18, 2014 (
See all reviews by this customer
)
It took 4 tries to get this ornament right....it was too dark and then made lighter and still too dark...on fourth try finally looks good...if you are going to ask the customer to preview before ordering, it should come out like the preview....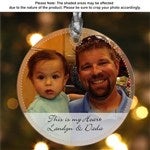 Great price!
By
Shopper

(del rio, TX) - January 14, 2014
Really liked the ornament! Great price

Photo sentiments
By
Loretta F.

(Staten Island, NY) - January 13, 2014 (
See all reviews by this customer
)
Satisfied with this ornament, but the lighted shade below makes the photo in that spot a little off.

loved it but,,,,,
By
Shopper

(Stony Brook, NY) - January 6, 2014
the ornament was lovely but the text area detracts from the photo itself. be careful how your photo is cropped,

Very Nice Quality
By
Shopper

(brighton, MI) - December 29, 2013
I was really surprised at the quality of this ornament. The photo quality was good and the ceramic material was quite nice. The ornament made a very classy gift.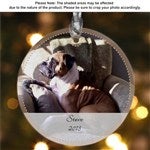 Quality so much better than expected!
By
Dave C.

(Pompano Beach, FL) - December 29, 2013 (
See all reviews by this customer
)
The perfect, unique, high quality gift for any occasion ... I was expecting something like laminated cardboard (which would have been fine), but instead got what looks and feels to be Porcelain. I do wish the Font was a bit larger, but that won't stop me from buying another,... very happy.

Love these ornaments
By
Shopper

(Shreveport, LA) - December 28, 2013
I've ordered 4-5 even 6 every year for 4 years, and LOVE them! The quality is great... Saturated pictures (pictures with darker or vibrant color) tend to show-up and turn out better than washed-out pictures. Overall exceptional product!!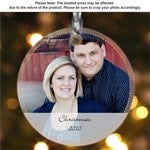 Christmas ornaments
By
Regina A.

(Okemos, MI) - December 28, 2013 (
See all reviews by this customer
)
I now have a picture of my beloved dog on the Christmas tree! She is 12 so I don't know how long she has but she will now be thought about every time I put her ornament on the tree. Thanks!

Great gift
By
Shopper

(San Diego, CA) - December 26, 2013
If photos showed a little brighter on the ormament, I'd give this a 5-star rating. Looks cute, though. Great gift.

Gorgeous photo ornament
By
Shopper

(crestview, FL) - December 25, 2013
I was extremely impressed with this ornament. It looks great.

Ornament
By
Shopper

(Arlington, TX) - December 24, 2013
Good but a little dark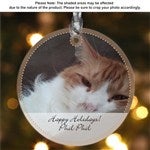 Common sense
By
Shopper

(Southlake, TX) - December 23, 2013
I love all of the ornaments I ordered....9 of them. However, on 3 of the ornaments I wanted it to say, NYC 2010. I accidentally wrote NYC 2110. I understand that I had the opportunity to review the order and I did, but I didn't catch the error. I would have hoped that when the person entered 2110 they would have realized that it was probably an error and corrected it or send an email to verify. That aside, the quality of the ornaments is good.

Great wedding gift idea
By
Lauren O.

(Columbia, SC) - December 16, 2013 (
See all reviews by this customer
)
I make one of these for every wedding I go to and give it to the happy couple during the next Holiday.
The process is very easy and they always turn out good.
I will be back, for sure!

Very nice ornament, but...
By
CAROLINE R.

(MAYSVILLE, KY) - December 16, 2013 (
See all reviews by this customer
)
This ornament is very nice. It is of great quality and looks very professional. The ornament itself is 5 star, but I took away one for a little disappointment in the website's editing options. When trying to get the photo right for the ornament, it only lets you crop larger or smaller. The simple feature of moving the image up or down is not offered. I also wish there were different font sizes from which to choose. My ornament didn't have much copy, and I would have liked the letters to be a bit bigger. Even so, it's a great gift.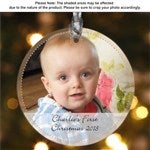 Close to perfect!
By
Shopper

(Bremerton, WA) - November 10, 2013
My ornaments are absolutely beautiful! They will be treasured keepsakes. I wish, however, that the printing was a little larger and that I had a choice of fonts. The lettering is a bit hard to read. Overall, this is a great product at a great price.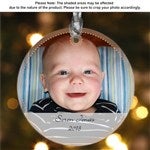 Great!
By
Shopper

(Moundville, AL) - January 11, 2013
These are very pretty. I went ahead and ordered 6 of these for Christmas next year. They all turned out beautifully and the grandparents will love them!

excellent quality
By
Shopper

(South Lebanon, OH) - January 10, 2013
Ornament was sturdy material, only issue I had was it cut some of the picture off that when viewed online didnt appear to be that way

very nice ornament
By
Shopper

(San Clemente, CA) - January 2, 2013
Pic Came a Little discolored but nice otherwise

Clarity on a few pictures
By
Shopper

(Syracuse, NY) - January 2, 2013
I had ordered numerous personalized photo ornaments and the majority were very nice. On two of them the clarity was not as sharp. (they were the same photo) but for the most part I am very please with your products as you can see from my many purchases. Thank you.


Good buy
By
Shopper

(San Jose, CA) - December 31, 2012
Good for the (sale) price. Ribbon seemed very cheap, but could (and will be) easily changed out for something nicer. Didn't realize it was porcelain-- happily surprised. Very beautiful. Good buy for annual Christmas ornament, or as a gift.

makes a nice gift
By
gina V.

(whitehouse station, NJ) - December 29, 2012 (
See all reviews by this customer
)
Ordered this as a little extra gift to a newly engaged couple, and it came out very nice. It comes in a cute little black velvet pouch with a drawstring top. I gave it 4 stars because it is slightly difficult to get the picture situated to where it does not cut off someone's head. Overall, a nice ornament.

picture ornament
By
Tom W.

(Merritt Island, FL) - December 29, 2012 (
See all reviews by this customer
)
Good item. Faithful reproduction. Could have been cropped better.

J&K
By
Sheryl P.

(Bandon, OR) - December 26, 2012 (
See all reviews by this customer
)
I have ordered many of these ornaments and have been very satisfied

Great Gift
By
Shopper

(Cary, NC) - December 26, 2012
These turned out great, I used wedding photos and gave them to our family for Christmas, everyone loved them. The only downfall is that the ornament is round so you have to have a photo where everyone is close together, otherwise people get cut off.

Ornaments
By
Shopper

(Tannersville, PA) - December 24, 2012
The ornaments are great and have personal meaning to us and the family.
The only critique I have is that they could be made of a different material or have some way of labeling the back of the ornament.

Adorable
By
Shopper

(Palmyra, PA) - December 24, 2012
My Mother in law will love this special momento. It is super cute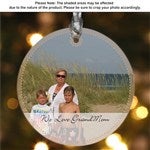 Great Product!
By
Ann S.

(Gray, ME) - December 21, 2012 (
See all reviews by this customer
)
This is a great product. High quality, just what I ordered, very efficient in production and shipping. This is the second year that I've ordered ornaments fro Personalization Mall and both times, the ornaments arrived exactly like I ordered them and delivered to me surprisingly fast for something that has been personalized.

The only thing slightly negative comment I have is that I wish they had more selection on photo ornaments from year to year as I would like to give the same people different types of ornaments.

GREAT gift
By
Mary A W.

(Braintree, MA) - December 15, 2012 (
See all reviews by this customer
)
I love this product - done a couple of different ones - only catch is your photo has to be pretty tight in the shot - honestly it's a great sentimental gift. I did one for daughters coach of the team, he loved it - great way to remember a mileston.

Fast delivery, expected higher quality
By
Nina M.

(Lombard, IL) - December 12, 2012 (
See all reviews by this customer
)
The ornament arrived quickly. The quality of the photo is not as great as I had expected and have recieved in the past and we had used a professional quality photo.

Exactly as pictured
By
Shopper

(Hartsdale, NY) - December 12, 2012
I was very pleased.

Great Product
By
Shopper

(Saint Paul, MN) - December 11, 2012
I order these ornaments every year & I love them! The preview looks exactly like the product you recieve!

Christmas Ornament 2012
By
Shopper

(Fortville, IN) - December 10, 2012
It turned out really good and received it very quickly.
thanks

Not perfect, but awesome still
By
Jesicca E.

(Boscawen, NH) - December 10, 2012 (
See all reviews by this customer
)
I am a photographer, so I am very picky about my prints. This ornament is awesome, but the print was a little grainy. When I uploaded the image it say it was above and beyond the resolution they needed, so I don't think it was my image file. That said, if you're not overly picky, this would still be perfect.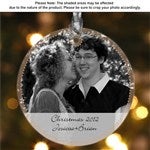 Nice ornament, hard to center picture.
By
Shopper

(Saegertown, PA) - December 10, 2012
It was difficult to find a picture that would work with the ornament. The one I wanted wouldn't fit correctly and I had to settle for another picture. Also, it was much smaller than I thought, although that is my fault for not looking closing at the size discription on the sight.

Lovely photo ornament
By
Valerie M.

(Cheltenham, PA) - December 9, 2012 (
See all reviews by this customer
)
I think this is a lovely ceramic photo ornament. It is of high quality and comes in a cute little black bag. It as hard to get the picture I wanted on it to fit just right because of the dimension limitations, but all in all I am pleased with this purchase.

Great idea
By
Shopper

(Oviedo, FL) - December 9, 2012
Like the idea of a photo being "permanent" on an ornament and not a photo insert and like being able to crop it myself. Photo came out a bit dark; I suggest starting with a light image. Also use a photo that not cropped close or you'll never be able to make it fit.

Nice gift!
By
Shopper

(smyrna, GA) - December 9, 2012
It's a really good quality for the money. My only suggestion would be purchasing another ribbon. It's a wonderful, sentimental gift for anyone!

Loved it but a little smaller than I thought
By
Shopper

(Brentwood, TN) - December 7, 2012
This ornament turned out beautifully, but I have to say it was smaller than I expected. If it were bigger, it would have been perfect.

Happy customer
By
Shopper

(Saint Peters, MO) - December 6, 2012
Our wedding picture looks great on this ornament. Nice keepsake for 2012.
Ornament arrived quickly. Very pleased with the quality and service. Of course, I'll be back..