A Fitting Memorial
By
Sharon W.

(Norwalk, CT) - May 12, 2011 (
See all reviews by this customer
)
This item is just beautiful, I would say if you want a wonderful memorial for your pet you won't be disappointed.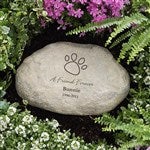 nice remembrance
By
Rachele F.

(Claremore, OK) - April 15, 2011 (
See all reviews by this customer
)
I really like this "stone," it is a nice physical memory of my beloved cat. However, the purchaser should know that it is not a real stone, it appears to be poured concrete that is painted. It is concave on the bottom. I still would purchase it, but was just surprised when it arrived.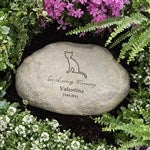 Excellent
By
Shopper

(Indio, CA) - March 28, 2011
Better than expected and very fast service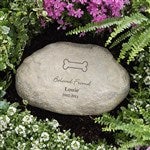 Memorial Pet Stone
By
Gisela H.

(McAllen, TX) - March 26, 2011 (
See all reviews by this customer
)
Product was as I expected when ordered. Just the right size for a garden area in the backyard. Quality is good for resin and heavy enough for outdoor use.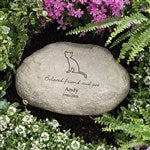 Exactly what I ordered and wanted
By
Phyllis B.

(Hillsborough, NJ) - March 26, 2011 (
See all reviews by this customer
)
The product was easy to order and was received well packaged in a reasonable amount of time for a personalized item. It appeared exactly as shown when ordered. I look forward to placing it outside when the weather warms a bit.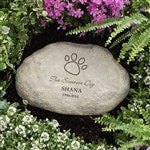 Engraved nicely/Look of real stone
By
Shopper

(williamsville, NY) - March 25, 2011
I bought two of these and was pleased with how they looked, how they were shipped and how fast they came. I liked the image, how they were engraved, and the size was just right. I would have preferred a real stone, but it resembles a real rock, and is probably more durable over time.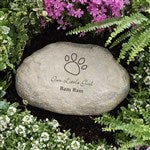 Pet Stone... Great buy!
By
Shopper

(Blythewood, SC) - March 22, 2011
Love the product! It arrived fast. The stone looks real, it is bigger and lighter than expected (wonderful!), and the writing on it is beautiful too. I wish I could give it 5 stars... however, the printing is light gray and not black as it shows. The print will look black when wet though. Overall I was very happy, now my beloved pet has a special memorial.
Thank you Personalizationmall.
Blythewood, SC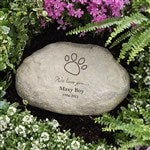 Wonderful
By
Shopper

(Nokesville, VA) - March 21, 2011
My dog of just over 12 years, had to be put down. I wasn't able to bring her home and bury her cause I would still leave her one day and was to expensive to have her cremated and get her ashes and take them home. So I had her cremated and left her there so I had nothing of her for me to hold onto. So, I bought this Memorial Stone so I could look at it and think of her. It wasn't what I expected but was way more than I could have asked for. It's flat so it doesn't take up much space. I keep mine in my room and I recommend it to anyone who needs it for something to help with the grieving.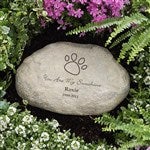 Memorial was perfect
By
Kathryn P.

(Bradenton, FL) - March 15, 2011 (
See all reviews by this customer
)
We recently had to have our beautiful border collie, Sadie, put to sleep due to cancer. This is a perfect stone for our garden where we placed her ashes. It blends in with the surroundings, and is a perfect tribute to our sweet dog.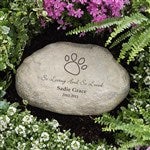 Shomer
By
Carole F.

(Redwood City, CA) - January 21, 2011 (
See all reviews by this customer
)
Rock was nicer then I thought it would be. Looks great under the peach tree we planted in memory of Shomer on what would have been her 14th birthday.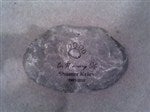 Peanut
By
Ann C.

(Scranton, PA) - August 22, 2014 (
See all reviews by this customer
)
This Memorial Pet Stone is beautifully done with easy to read lettering. It is heavy enough to remain in place despite weather and showed no fading in sun or rain. It brings me a measure of comfort every day to see it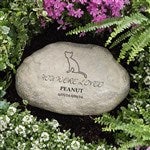 pet memorial
By
Laurie B.

(Flower Mound, TX) - July 28, 2014 (
See all reviews by this customer
)
I bought one of these last year, when my 23 year old cat died. Then, my 21 year old cat died 2 weeks ago. I came back to you for the stone. The stone is in my backyard and it gets wet and Sun and it has lasted through everything. I loved it so much and just wanted to say thank you for helping us remember our sweet animals.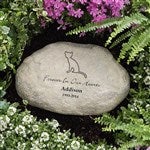 I really love it!
By
Shopper

(Snyder, NY) - July 26, 2014
I was very happy with the memorial stone. Its a nice reminder of the dog I loved so much. It looks really nice in my garden. I was surprised that it layed flat because in the picture it looked like it stood up. At first i was disappointed but then i realized I liked it better that way.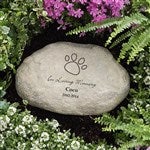 Memorial Stone for Ginger
By
MYRON D.

(LAKE FOREST, CA) - July 14, 2014 (
See all reviews by this customer
)
I am a repeat customer of Personalzationmall.com (several times over) and have the highest regard and respect for the items offered with personalized words. I MOST HIGHLY recommend this company and web site to any an all who might be looking for something to honor or memorialize a family member, friend or a pet.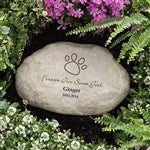 Very nice
By
Shopper

(Jonesborough, TN) - June 28, 2014
This pet stone is lighter weight than I expected but it is very nice. Looks exactly like the picture. The weight is fine. I just don't know if I would refer to it as a "stone". No problem with it staying in place though. I'm very happy with it!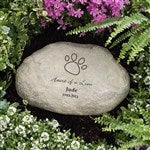 Wonderful Item
By
Angela T.

(Natick, MA) - June 28, 2014 (
See all reviews by this customer
)
We've ordered two of these stones for hamsters who passed. It's a nice memorial in our garden and we are very pleased with the quality.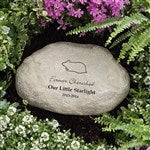 pleasently surprused
By
Shopper

(fairhaven, MA) - June 23, 2014
I didnt expect the stone to be as big or as nice but the stone was beautiful and the size and weight are great excellent item !!!!!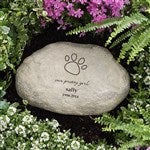 Perfect memorial stone for pet
By
Katie R.

(FRISCO, TX) - June 16, 2014 (
See all reviews by this customer
)
This turned out wonderful. Just like the preview and it arrived on time. Very happy with the quality and how it looks in the yard.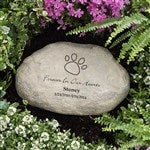 Beautiful
By
Dixie O.

(Louisville, KY) - June 10, 2014 (
See all reviews by this customer
)
Lost our dog of 18 years not long ago - this will be a beautiful piece to treasure her memory and place in our garden! Good quality - special gift for my husband! Have also ordered one similar for grandparents with different design on it - they loved it!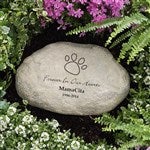 Looks great!
By
Shopper

(Massapequa, NY) - June 9, 2014
I was really happy with the memorial. I thought it would be a bit heavier, like a rock. But it still looked great regardless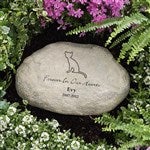 Beautiful Stones
By
Julie B.

(Clinton, IN) - May 24, 2014 (
See all reviews by this customer
)
I bought these to replace two other stones purchased elsewhere that did not hold up through the years. These are wonderful stones that look great year to year.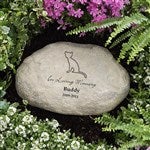 Memorial Pet Stone
By
Shopper

(Sacramento, CA) - May 19, 2014
Beautifully done to memorialize our Matilda (Tilly). Thank you, it is going next to the flowers we are planting in her honor.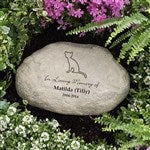 Wonderful Memorial
By
Joelle B.

(Livonia, MI) - May 18, 2014 (
See all reviews by this customer
)
We purchased this pet stone for our pet guinea pig. It made a wonderful grave marker for our Snoopy. I would recommended this product!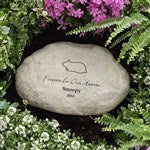 Dog Stepping Stone
By
Jim A.

(New Philadelphia, OH) - May 15, 2014 (
See all reviews by this customer
)
I love the stone, it's big enough but not to big. Fast shipping and quality work. The stone is perfect. One thing they might want to add with all the people dying of cancer, is to be able to add special ribbons. Most people have specialty gardens in honor of someone or for beating cancer. On Angel's stone I would have loved to be able to put a pink ribbon on it as Angels Mom beat breast cancer and has a breast cancer garden.
I've bookmarked this site.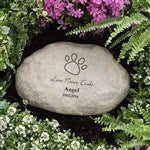 Loss of pet
By
Kimberly S.

(The Woodlands, TX) - May 7, 2014 (
See all reviews by this customer
)
We received this when our fur baby passed away and it is now our go to gift for other friends and family who lose a beloved pet. Very nice. Highly recommend.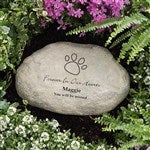 Beautiful in garden!
By
Angela S.

(Raeford, NC) - May 7, 2014 (
See all reviews by this customer
)
This stone exceeded my expectations! I love it and it's beautiful in my flower garden as a remembrance of my german shepherd dog. Thank u!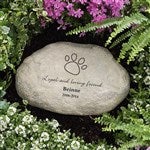 Not solid
By
Shopper

(bedford, PA) - April 14, 2014
The pet stone we received is not as well built as 1 we have for another pet. Although it's not solid I do believe it won't blow away. The print is a little small, but I gave it 4 stars because the print is nice and like I said it shouldn't blow away.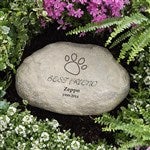 Great item
By
Shopper

(Spring Valley, NY) - March 28, 2014
Was so impressed, much better then expected !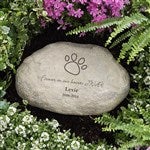 Better than expected.
By
Debra G.

(lockport, NY) - March 21, 2014 (
See all reviews by this customer
)
Turned out better than excepted. My Husband loved it. Love that you can create your own message.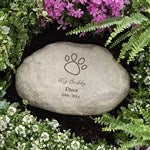 Great memory gift
By
Shopper

(UNION GROVE, NC) - March 14, 2014
My friend loved this gift! Good quality as always!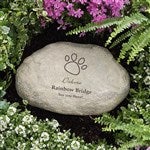 Midnights memorial stone
By
Shopper

(Puryear, TN) - March 8, 2014
I was happy with the purchase of my memorial pet stone. It was much heavier than I expected and that was a nice surprise.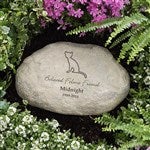 Very Pleased!
By
Cindy K.

(Centerpoint, IN) - February 28, 2014 (
See all reviews by this customer
)
We just received this memorial stone today. It is perfect. What a great way to memorialize our beloved dog, Molly. We could not believe how fast this product arrived. It was professionally packaged and seems very durable.
It was nice that we could personalize the the stone to commemorate how we felt about our sweet Molly. We will miss her.
Great product. Very Pleased.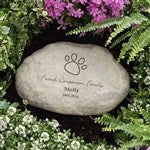 Wonderful product
By
Monica V.

(Egg Harbor, NJ) - February 13, 2014 (
See all reviews by this customer
)
Unfortunately, this is my 2nd time ordering a memorial stone from Personalization Mall. :( However, the stone is very good quality. The first one I bought 3 years ago and has withstood some severe weather and looks as nice as it did when I first opened it. Very pleased.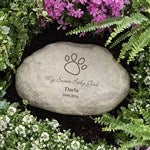 love it
By
alison S.

(ronkonkoma, NY) - February 4, 2014 (
See all reviews by this customer
)
I bought this for my precious cat Rascal who died in December. She was 18 1/2 years old! This is a beautiful stone to place on her grave to remember her. Good quality and the engraving is awesome. You can put anything you want on this! I will always miss her! Very happy with this purchase.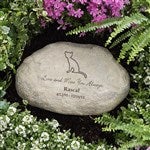 Great product!!
By
Amanda G.

(Saint Charles, MO) - February 1, 2014 (
See all reviews by this customer
)
I bought the memory stone for my brother and his wife after they lost there beloved dog. The delivery time was quicker than planned which was an added bonus. The steps were easy to follow to get exactly what i wanted. I will be recommending this gift to a friend.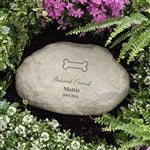 Perfect!
By
Patricia K.

(Cleveland, GA) - January 28, 2014 (
See all reviews by this customer
)
I wanted something to mark my cat's grave and this one was perfect! It was reasonably priced, is substantial enough to stay in place, and looks great. It was a smart purchase that will honor my beloved friend's resting place.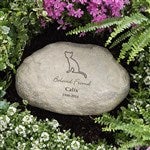 Just What I Wanted
By
Juliann W.

(Westfiled, IN) - January 24, 2014 (
See all reviews by this customer
)
This is exactly what I wanted as a memorial for my dog. Good quality and not near as expensive as other pet memorials.

Memorial Pet Stone for Princess
By
Paula B.

(Gladwin, MI) - January 2, 2014 (
See all reviews by this customer
)
We received our memorial stone for our dog Princess. We were very happy how the memorial stone for our dog turned out. It was much nicer then the description of the stone. We look forward to displaying in our garden and having it as a reminder of our precious Princess.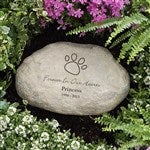 Good product
By
Shopper

(Amityville, NY) - December 22, 2013
It is a sad moment when we order one of these but it is a good way to honor our pets. The stone is beautiful and the engraving looks good. Awesome quality!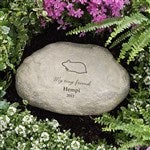 My mistake
By
TRINA N.

(Cincinnati, OH) - December 18, 2013 (
See all reviews by this customer
)
I thought this stone had a nice weight and a nice look to it. My only problem was that I gave the wrong year our dog was born so not sure I will put it in our garden or not. I should have double checked with one of my kids before I ordered it!