Adorable
By
samantha D.

(Canada) - April 27, 2012 (
See all reviews by this customer
)
This is the perfect Mother's Day gift for my sister. She will love it!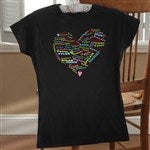 Wow, thats all.
By
Janell C.

(Orlando, FL) - April 9, 2012 (
See all reviews by this customer
)
It is awesome. The design, fonts used, colors, amazing.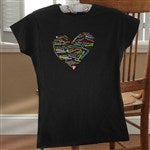 Not truly a fitted Tee
By
Shopper

(Zionsville, PA) - December 6, 2012
The shirt is darling but do NOT expect it to be a Ladies Fitted Tee once you hit the larger sizes. I ordered an extra large and it is as square and wide as a standard t-shirt. I called the company and the woman just argued with me. Don't expect any customer service! I ordered this as a gift for the kids grandma but because it isn't the fitted ladies cut it will be too large. Another waste of money for me from this company.


Okay quality fast shipping
By
Shopper

(YUKON, OK) - December 12, 2012
The print isn't very bold. Some of it is spotty.

Satisfied
By
Heather S.

(Denton, TX) - April 20, 2013 (
See all reviews by this customer
)
I purchased the t - shirt for myself and my mother. I cannot speak for her, but mine is very fitted. I was surprised at how fitted it was. I still love the shirt, but the decal is already wearing, although I have washed as stated and only worn once.

change in shirt quality
By
Shopper

(Wakefield, MA) - February 12, 2013
shirt quality has change to a much thinner material. It is no longer a fitted cut. Company contacted and money refunded. Design was cute.

Great gift idea, my Mom loved it
By
Shopper

(Belleville, MI) - May 21, 2012
Thought the coloring on the names of the hearts was already light/faded and not sure over time if the black shirt will keep it's color.

Satisfied with my purchase
By
Shopper

(Dillsburg, PA) - May 19, 2012
I was happy with my purchase. The only things I would say are the heart is smaller then I thought it was going to be. It would be nice if it took up a larger area of the shirt. The only other thing is try not to use very long words, for example I used the pharse "unconditional love", which fit into the allowed number of letters, but then it was a bit hard to read as the letters appeared more condensed.

Nice tshirt with an interesting design
By
Shopper

(Worcester, MA) - May 21, 2012
I got this tshirt as a gift for mothers day. It looked exactly as the website shows it except that the website says "fitted" and this tshirt is not very fitted. I have a medium tshirt which is normally my size, but this tshirt is just like a regular tshirt..not fitted at all. Love the design though:)

Even for a fitted Tee, this runs small!!
By
Shopper

(Seymour, IN) - August 2, 2013
I have LOVED every item I have ever ordered from Personalization Mall. This is the first with which I have been disappointed. It was a gift for my mom with all the grandchildren's name and super cute style. The only problem is the fit. I ordered up a size due to it being a fitted Tee but it is really fitted!! Sadly it won't be worn much!

disappointed in quality of the t-shirt
By
carla C.

(lodi, NJ) - May 17, 2013 (
See all reviews by this customer
)
Although I loved the design and the recipient of the gift was thrilled with the uniqueness and personalization of the t-shirt, I was disappointed in the quality of the shirt....It was very flimsy, no weight to it, ran very small and not what I expected based on the other things I have ordered from the company. Won't order a t-shirt again.

Love it
By
Shopper

(Anderson, IN) - April 30, 2013
The 1st hoodie I ordered was defective but the Customer Service team was quick to remedy the situation & replace the item immediately. I love this!

A CUTE WAY FOR MOM/GRANDMA TO BOAST!
By
Shopper

(Rochester, NY) - April 30, 2013
The t-shirt is of very good quality. The colors in the heart are vibrant, not pale or dingy!

Great Gift for Mom
By
David M.

(West Berlin, NJ) - May 3, 2013 (
See all reviews by this customer
)
This shirt is awesome. It will always remind mom that she is loved by the most important people in her life.

Sweatshirt
By
Shopper

(Vassar, MI) - February 19, 2013
This is the cutest sweatshirt! I loved this! There are a lot of names that can be added which is nice for grandmas. I ordered 2. They are also priced very reasonable for what it is!

Heart of Love "Fitted" Tee
By
Lynne C.

(Staley, NC) - November 1, 2012 (
See all reviews by this customer
)
I purchased this for my sister's birthday, with the names of her five grandchildren on it. She absolutely LOVED it! The sizing is a little large but other than that I was very pleased with the shirt and the delivery time.

a gift to a dear friend
By
curtis B.

(kalamazoo, MI) - December 15, 2012 (
See all reviews by this customer
)
She was awestruck by the gift and knows we are allways close to her heart!!!

Most Thoughtful Gift
By
Shopper

(MAYWOOD, IL) - December 28, 2012
I've given this T-Shirt as a gift twice and both recipients responded with tears of joy. Thanks Personalzationmall.com!! You make shopping easy. And your quick turnaround and dependable shipping saves me time and worry. In addition everything I've ever ordered from you arrives with top quality visual presentation. The shiny ribbon drawstring bag that the T-Shirt was shipped in was an unexspected surprise. It made the gift that much more special. In fact, the recipient of this T-Shirt posted it on fb and all comments made were positive and all wanted to know more about the source. I had no hesitation in letting all know about Personalzationmall.com because simply stated ... YOU ROCK :)

Great!
By
Laurey S.

(THe Colony, TX) - July 22, 2013 (
See all reviews by this customer
)
So cute, and very fast delivery! Love it

Heart Tee
By
Shopper

(Belle, WV) - September 16, 2013
Love to express my love for my family and this certainly fits the bill! It is of great quality and the names show up well.

Heart of Love
By
Kristi F.

(Kennesaw, GA) - September 16, 2013 (
See all reviews by this customer
)
I am extremely pleased with the Heart of Love shirt. I ordered it for my sister with the names of her grandchildren on it. The colors were brilliant and the quality of the shirt is worthy of praise. I'm happy and I know my sister will be happy!

She Loves It!
By
Frances G.

(Atoka, TN) - July 16, 2013 (
See all reviews by this customer
)
I bought this for my step daughter for her 14th birthday and she absolutely loves it.

Best Mother's Day present EVER!!
By
Shopper

(Falcon, CO) - May 19, 2013
I purchased this tee for my mother. I was able to include all the names of her children and our dad too. Everyone who sees mom's tee wants one for themselves. Expect many orders because of this best ever present mom could ever have!!! She says, "How did you know? All of you are my heart. Thanks so much." That of course delighted me and my siblings.

Great!
By
Shopper

(Yulee, FL) - June 11, 2013
The shirt was just as described & it looks awesome!

Love this shirt!
By
Pamela C.

(Terre Haute, IN) - June 17, 2013 (
See all reviews by this customer
)
This shirt has generated so many comments and requests to know where I got it. I would recommend buying one size larger than you normally wear due to the fabric being 100% cotton and not preshrunk. Mine did shrink a bit in the dryer.

Birthday Gift
By
Shopper

(Washington, DC) - October 22, 2012
I brought this for my cousin and she Loved it.

Perfect for Mother's Day
By
Laura Z.

(Lebanon, NJ) - June 2, 2013 (
See all reviews by this customer
)
Runs a little big and long, but otherwise really cute. It only holds up to 8 names so if you have more than 8 children/grandchildren/students/names it won't work.

Gift for Mother-in-Law
By
shelby W.

(manlius, NY) - April 23, 2012 (
See all reviews by this customer
)
I bought this for a Mother's day gift for my mother-in-law. I haven't given it to her yet but I'm sure she'll love it. I put her husband's name and her 2 sons names on it. The colors on this shirt are very bright and the many different fonts adds a cool touch. 5 stars!

LOVE LOVE LOVE IT!
By Shopper (Imperial, MO) - May 1, 2012
I bought one for each of my daughters for Mother's Day and I can't wait to give them their shirts. There are room for 8 names, but each daughter has only one child, so I put the each name on different ways, first name in cap, nickname, first and middle, birtdate, etc. As always very speedy service!

Great product
By
Shopper

(Cincinnati, OH) - May 17, 2013
Got two of these for my mother and mother-in-law for Mother's Day this year. I loved the final product and especially love that I could preview it first. Shipping was quick and they both loved the shirts. The only negative would be that the sizes seem to run a bit small.

Very happy
By
JANET H.

(TRUMBULL, CT) - May 3, 2013 (
See all reviews by this customer
)
Much nicer than I expected--personalization was very well done.

Cute idea but could be better
By
Shopper

(Ventura, CA) - May 4, 2013
Cute idea. Heart looks nice. White fabric is pretty thin. I looked at the size chart and ordered a medium. I also measured the shirt when I received it and it seems accurate (38" W x 26" L). I can tell you that the width starts to taper pretty quickly, it gets down to about 34-35" so the t-shirt is fitted and hugs the body.

very happy
By
Shopper

(kalamazoo, MI) - May 16, 2013
I was very happy with this product. I was worried about the quality of the sweatshirt but it seems to be very thick and nice. I was only hoping the print could have been a little more brilliant in color. Some seem to be "dimmer" than they seem on-line. But overall very cute! super fast shipping!!!

My mom loved it!
By
Kimberly W.

(Cypress, TX) - September 15, 2012 (
See all reviews by this customer
)
The idea of this shirt is really fun. I had all of the children and grandchildren names put on it for my mom and she loved it. I will say the sizes on the t-shirt (not the fitted style t-shirt) must be in men's sizes because it is pretty big. So ladies order one size smaller in the regular t-shirt style.

Heart of love t- shirt
By
Ericka H.

(Jonesboro, IL) - September 16, 2012 (
See all reviews by this customer
)
Product is good quality & fits well. It arrived in 2 days! Thanks for great service & cute products.

the names are very clear to read
By
Shopper

(stoughton, MA) - October 7, 2012
i bought this top for my mom and had her kids and grandkids and my dads name on it,so when she is in florida apart from us kids,and is wearing it,we are all loving her and we are in her heart. it is a cute top.i dont know how it runs,because i havent given it to her,but the names are legible from a distance you dont have to stand on top of the the person to read the names.the heart is a decent size it is by no means tiny.its really is a cute idea for a top and a grat present for any lady in the family that loves to brag about her kids,but forgot her pictures!

Pleasant Surprise
By
Shopper

(Patterson, CA) - September 9, 2012
I was searching for T shirts for our yearly Girlfriends Getaway. Found this shirt. Put our names,along with Girlfriend's Getaway,the month,year and destination! Shirt came out wonderful. Nice thick material! Cannot wait to give them out as gifts!

Love it!
By
Shopper

(Brentwood, CA) - May 9, 2012
I love this shirt. When it arrived in the mail, I thought I should have ordered myself one! The graphics came out great. The size is perfect. It is such a unique and creative design. I showed my coworkers and bosses at work and they all wanted to order shirts like this for their wives for mothers day with their kids' names on them. Great product.

Good quality, fits true to size
By
Shopper

(Warner Robins, GA) - May 15, 2012
I was very pleased with the shirt. It is good quality and has a really nice fit.

Unusual and interesting gift idea
By
Shopper

(Elmwood Park, , IL) - August 4, 2012
The best thing about this gift is the t-shirt itself. The sleeves are what made me buy this to have personalized. I like the femininity. Had the sleeve been the usual, I would not have purchased at all. When I received it I was absolutely pleased. If I had wanted the white Tee I probably would have wanted a border around the image. This item is a keeper and should be featured around
Valentine's day but offered year-round.