Loved It!!!!!
By
Lisa D.

(Grand Island, NY) - December 6, 2012 (
See all reviews by this customer
)
Bought this gift for a friend after reading many favorable reviews and was very pleased when I received it. It was just what I was expecting.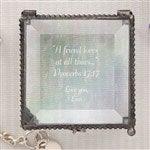 What a beautiful trinket box
By
Jennifer J.

(Charleston, WV) - December 6, 2012 (
See all reviews by this customer
)
Ordered this as a Christmas gift for my MIL from my husband, it is beautiful! Love the engraving, exactly what I was looking for!

jewellery box
By
Nicole L.

(west mifflin, PA) - December 1, 2012 (
See all reviews by this customer
)
this was the perfect gift for my son to give to his godmother on his baptism. I liked that we could get it engraved. She loved it too.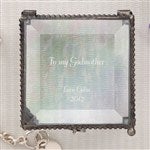 very nice
By
Patricia F.

(Madera, CA) - November 21, 2012 (
See all reviews by this customer
)
I found all items i bought to be beautiful personal gifts. I love shopping with your store. Thank you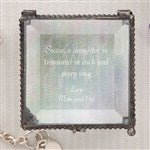 Wonderful
By
SANDRA F.

(HOUSTON, TX) - November 19, 2012 (
See all reviews by this customer
)
I love these little boxes. This is the 2nd time I have ordered them. I am going to make it a tradition for my Granddaughters Sweet 16. I have given 1 of them hers and she loved it, I will be giving our twins theirs in Jan,2013. A treasure forever from Grandma and Grandpa..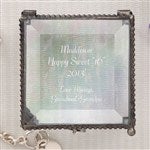 beautiful
By
Shopper

(Fayetteville, WV) - November 14, 2012
This box turned out better than I even imagined! I recieved it in a short amount of time and it looks absolutely perfect!!

Excellent!
By
Shopper

(Buffalo, NY) - November 5, 2012
It's really a nice decorative box. My wife liked her b'day present a lot!

Loved this gift
By
Angela K.

(Milford, OH) - November 1, 2012 (
See all reviews by this customer
)
Bought for my Aunt who actually cried when she saw it. This is the second one of these boxes I've purchased.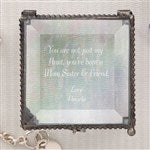 great personalized gift
By
Shopper

(Monroe, WA) - October 22, 2012
A great personalized gift to treasure forever.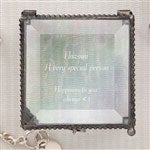 Just beautiful
By
Shopper

(Wilmington, CA) - October 22, 2012
Loved it!!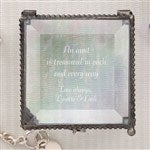 Very pleased!
By
Shopper

(Honaker, VA) - October 21, 2012
A perfect gift for a little girl who is blessed to have all she needs. I was thrilled it turned out so beautifully.

mom's happy, then everybody's happy
By
Shopper

(Wichta, KS) - September 28, 2012
Bought this for my mom's birthday gift. She is an antique dealer, so very picky about stuff she has out on display. I didn't have time to go antique shopping so went with this because of the personalization adding a nice touch. She's very happy with it.

Absolutely Beautiful
By
Hannah O.

(Omaha, NE) - September 20, 2012 (
See all reviews by this customer
)
I bought these for my bridesmaids and I cant wait to give them their gifts. This is a beautiful and unique gift, and not overly priced or overly cheap. The materials are great, the etching is light but easy to read, and the delivery was super quick. I ordered 6 total and didnt have an issue with any of them.

vintage engraved box
By
Shopper

(Monroeville, PA) - September 18, 2012
Very nice.

Never disappoinred
By
Shopper

(Augusta, MT) - August 31, 2012
Great gift item! I have ordered numerous items from your website, every item has been more than what I have expected. Thank you!

Engraving
By
Angela R.

(El Cajon , CA) - August 31, 2012 (
See all reviews by this customer
)
I really like the jewelry box, my think was when I first saw it that you could not read the engraving. I think you should have some type of pigment that you can write on clear glass and still be able to see it. Is very hard to read. You can not read it like you can in this picture.

Angela R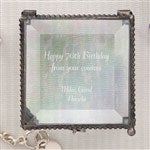 Looks Impressive!
By
Shopper

(Silver Spring, MD) - August 24, 2012
This item looked very impressive, I wasn't sure how it was gonna look physically because the price is not expensive at all! The glass looks great, it opens and closes nicely too.
THe only thing is the personalization was a bit light and hard to read and the heart shape in the center does not look very smooth but because it's a minor detail, it's all good :)

Quality custom gift as usual
By
Tim S.

(Carrollton, TX) - August 14, 2012 (
See all reviews by this customer
)
This is about the 15th or so item I have order over the last few years and each and every item is high quality, as good or better than shown on the web site and best of all customize for each recipient. Always a surprise and special touch to show you know them and care when you give a one of a kind gift just for them.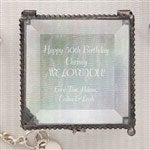 Great product
By
Shopper

(Denver, CO) - August 4, 2012
I liked the quality and the way it turned out. I recommend it for special gifts.

Very pretty!
By
Pa H.

(Milwaukee, WI) - August 2, 2012 (
See all reviews by this customer
)
I like it a lot when I bought it for my friend's birthday. The design and details on this box looks unique and very beautiful. I know she's not a jewelry person, but she will start putting new jewels in this little box. When she received it, she liked it. I would like something like this for myself too haha maybe I'll hint my boyfriend to get me one too :)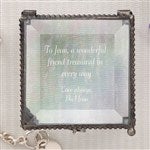 This is the most amazing treasure, I am very proud to give it as a gift.
By
Patricia A.

(Sarasota, FL) - August 2, 2012 (
See all reviews by this customer
)
I have placed numerous orders to date, I have not been disappointed. The workmanship is un matched. Thanks for making gift giving such a pleasure.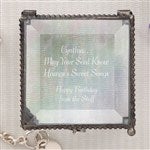 Very Elegant
By
D H.

(El Paso, TX) - August 1, 2012 (
See all reviews by this customer
)
This box is beautiful and elegant. I'm so glad I purchased it for my daughter.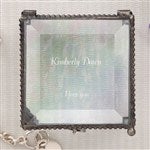 Beautiful
By
Shari T.

(New York, NY) - August 1, 2012 (
See all reviews by this customer
)
I bought this as a gift to my mother in law from my children and it is simply beautiful. Well made and is great quality. I will definitely order again and recommend this to anyone looking to purchase a special gift.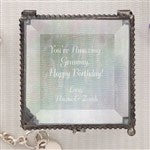 Thanks for all of the great gifts.
My friend is retiring on July 31 and I wanted something special to give her as a great retirement gift from me on a personal level. I fell in love with this beautiful jewelry box and had to place my order which was quick and easy to accomplish. Thanks for this great online mall because now that I found it I will return!

As beautiful as the picture
By
Anne R.

(Vista, CA 92084, CA) - July 13, 2012 (
See all reviews by this customer
)
I sent this to my sister for her birthday. From the website, the picture looked like just the perfect gift for her. I loved the way the engraving was also shown. I couldn't wait to hear from her about how she liked it. She LOVED it and said it was "Just Perfect."
The website is very easy to use; the mailing time was very reasonable and it arrived on time; the personalized aspect of this gift made it really special.
Highly recommend.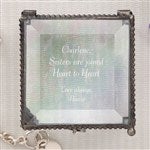 For My Best Friend
By
Shopper

(vacaville, CA) - July 11, 2012
I purchased this vintage jewelry box for my best friend who loves, loves, loves personalized items. I wanted her to know how special our friendship was to me and I feel that this was the perfect gift to honor this long standing relationship. I am very pleased with the quality and ease of ordering it. The need to edit my personal message before placing my order was a very simple, easy process.

Better than expected!
By
Lisa P.

(Chesapeake, VA) - July 3, 2012 (
See all reviews by this customer
)
Worth every penny! It came out better than I hoped. Engraving was perfect, shipping was very quick. Wish I got one for myself!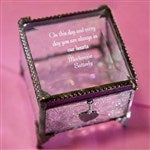 Truly a treasure!
By
Shopper

(East Chicago, IN) - June 25, 2012
I originally ordered three boxes for graduation gifts, and within a week, I ended up ordering four more! The boxes are a beautiful keepsake, and the recipients loved them. They are well worth the price. I recently looked at similar boxes at a local competitor, and the price of the engraving was outrageous, so I decided to shop online. The quality of this product far outweighs what I had looked at, and the price was much more reasonable. I'm so pleased that I found this website!

Great Gift
By
Shopper

(Waunakee, WI) - June 19, 2012
I gave this box to my maid of honor for my wedding. It was a little something extra for all the help she gave me. Design made it feel like it could be passed down to her kids some day, not just the same old personalized keepsake.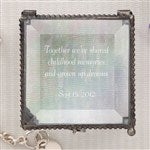 75th Birthday Gift.
By
Shopper

(Marlborough, CT) - June 15, 2012
I had such a hard time picking out a gift for mt cousin until I found this Jewelry box, great gift.

personalized jewelry box
By
Amanda G.

(Huntington, WV) - May 21, 2012 (
See all reviews by this customer
)
I got this for my daughter for Mother's Day and she just loves it!I was happy to find something so pretty that could be personalized just for her. Really love that was able to get it to her so fast! It made it too her personalized in 2 days, wow thank you! Will definatly be back to order again!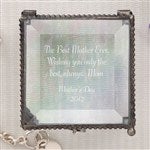 Unique Amazing Gift
By
Shopper

(Houston, TX) - May 20, 2012
This adorable keepsake box made a great Mother's Day Gift. My Mom loved it so much she cried when she opened it. High quality product with beautiful glass. Would highly recommend!!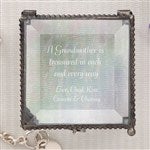 Great Mothers Day Gift
By
Shopper

(Glendive, MT) - May 20, 2012
my mom loved this gift. It was perfectvsize and just beautiful! And being able to give her a personalized message was wonderful.

Very Pleased With Order
By
Shopper

(Interlachen, FL) - May 18, 2012
Great item and the shipping was fast!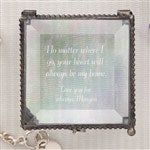 All went smoothly!
By
Rebecca H.

(Australia) - May 16, 2012 (
See all reviews by this customer
)
I loved how easy ordering was, especially being able to see what other personalised items looked like! Shipping was very quick. It was a great mother's day gift. She opened it while on the phone with me (I live in Australia, her in the U.S.) and it was well packed in multiple boxes. I haven't seen the finished result but according to her it was perfect. I am really pleased with the whole thing!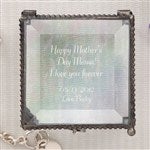 Perfect graduation keepsake
By
Judi W.

(Milwaukee, WI) - May 15, 2012 (
See all reviews by this customer
)
The trinket box is beautiful and, as always, the engraving is beautiful. I filled it with Hershey's kisses and I know that the graduate will love it. Thanks Personalization Mall for your help in getting the perfect gift and for your fast delivery - I know I can always count on you!!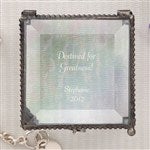 Beautiful!
By
Shopper

(Ridgefield, NJ) - May 14, 2012
Twins gave this to grandma on Mother's Day. She loved it! Putting it in her bathroom with little soaps.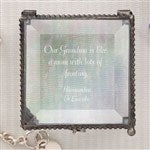 Great little gift.
By
Shopper

(Oklahoma City, OK) - May 13, 2012
I was told Mommy cried when she recieved it. It is very nice, personalizable, and inexpensive.

Beautiful little box
By
Shopper

(Bayside Hills, NY) - May 7, 2012
I bought this as a gift for my mother-in-law (from my son) for Mother's Day. The box is beautiful and much nicer then I expected. It is a perfect size, not huge but big enough to store small jewlery and other important small items. The personalization was done well and really made the gift even more special. I like this item enough that I would want one for myself. In addition, this box arrived very quickly after being ordered and it was in perfect condition. I would recommend this to anyone looking for a special gift.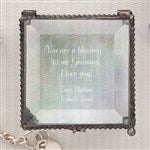 Very sentimental gift
By
Teresa E.

(Round Rock, TX) - May 5, 2012 (
See all reviews by this customer
)
The gift already has a charming quality to it but the personalization makes it extra special and something to cherish for a long time.