Great B-day gift
By
Tabatha W.

(Rowlett, TX) - February 24, 2014 (
See all reviews by this customer
)
Bought this gift for my sister's 40th birthday and what a HIT!!!!! She loved it and so did all the party goers. It is something she will cherish for a lifetime. Thanks for getting to us in a very prompt manner.

Satisfied customer
Tabatha

Loved it
By
Shopper

(San Francisco, CA) - January 28, 2014
This gift was a fantastic idea. I got it for my coworker's 40th birthday. He loved it. The bottled arrived 4 business days after I ordered it, significantly faster than the estimated time posted on the website. The bottle and artwork exceeded my expectation in every way. Highly recommended!!!

Beautiful Presentation
By
Jim P.

(Houston, TX) - November 19, 2013 (
See all reviews by this customer
)
We were looking for a unique and memorable gift for our Son's Birthday and found the Art Wine Bottle on line. It is expertly done and makes a wonderful gift. Our selection was the balloon design since it offered a place to put the age of the recipient. We added crystal red wine glasses to complete the presentation. I highly recommend this as a special gift to someone who enjoys wine and gifts showing thoughtfulness and uniqueness.

Awesome Remembrance
By
Shopper

(Kansas City, KS) - October 28, 2013
We ordered this bottle for my husband's brother 60th birthday. The customization on the bottle was BEAUTIFUL. It provided a lasting memory for his brother! Thank you for the unique and special gift we were able to give!

BIG HIT
By
Shopper

(San Mateo, CA) - September 23, 2013
Party hit...loved this.
Great detail and quality.

Haven't tasted the wine though.


Right On Time
By Shopper (Annandale, VA) - August 26, 2013
I ordered the personalized wine at the last minute as a gift for my mother's birthday and knew it would not arrive on time. The package arrived today, a week before the posted delivery date and on her 75th birthday! The bottle is gorgeous and I know she will love and cherish it forever. This will definitely be my go-to gift for everyone.

The personalized wine bottle is highly recommend to all.

Perfect Gift
By
Shopper

(Holbrook, MA) - July 20, 2013
A friend was turning 50, and I wanted to give him a special gift to commemorate his BIG day. The online ordering form was easy. One hint: Happy Birthday already is the first line of text in the center window, so don't repeat it as part of your message. The shipping was prompt, and the tracking feature was accurate. The wine bottle looks very elegant and most certainly is a keepsake. It was well-received. I definitely will give this Personalized Birthday Wine bottle again. Thanks!



Outstanding
By
Rainer V.

(RAINIER, WA) - June 7, 2013 (
See all reviews by this customer
)
The engraved bottle I bought for my mother's 90th birthday is gorgeous, she is going to love this so much. Thank you, well worth the price.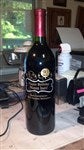 Lovely gift
By
Shopper

(Maynard, MA) - May 10, 2013
I purchased this bottle for a friend's birthday and weeks later, she is still raving to everyone about it!

Personalized 40th Birthday Wine Art - Baloons
By
Elaine C.

(Dartmouth, MA) - February 16, 2013 (
See all reviews by this customer
)
We wanted something special for our son's 40th b-day. This bottle of wine was scripted so awesome, it was more than we expected. We were so pleased! It is such a gorgeous gift. It was a bit pricy, but worth every cent. Thanks for a memorable keepsake!!!

Great keepsake
By
Tom L.

(Kirkland, WA) - November 19, 2012 (
See all reviews by this customer
)
Very nice and elegantly engraved bottle, haven't opened the bottle so not sure how the wine is, but the bottle is beautiful and the recipient loved it.

Well Done!
By
Kelly K B.

(Little Rock, AR) - November 16, 2012 (
See all reviews by this customer
)
The quality of the personalization is well done. Very elegant.

Awesome b-day gift for a 21 year old!
By
Shopper

(Walton, KY) - November 6, 2012
I had many compliments on my gift to my 21 year for her b-day! She loved it as well for a keepsake. Have others now interested in getting this for their children when their special day comes!

Wonderful and Unigue Gift
By
Virginia M.

(Brick, NJ) - October 28, 2012 (
See all reviews by this customer
)
This is the 2nd time I purchased this bottle of wine as a special birthday gift. Both times the recipients went wild over it. Main reason was it was personalized and not just with a label but actually etched into the glass. Price was a little high but no more then a nice size bouquet of flowers. This is something though that will last alot longer. I don't know how good the wine inside tastes because neither person wants to open it. When and if they do, I will add that onto this review, if not than when I order my next bottle hopefully. The only downside to this purchase was that they never enclosed the gift card I had written, so that my recipient took awhile to find out it was me who sent it. Hopefully it was just an oversight and at least for this instance, it worked out. Other than that, everyone involved was completely happy with this purchase. Thank You

Great Birthday Gift!
By Shopper (Rantoul, KS) - September 22, 2012
I have purchased 2 of the personalized wine bottles for 60th birthday gifts for girlfriends, and not only was the wine tasty, but the girls loved them! I was able to personalize them with very special messages. Love it!

Personalized Wine Bottle
By
Jenni W.

(Hatfield, MA) - September 9, 2012 (
See all reviews by this customer
)
I was so happy with this product. And my friend was absolutely speechless. I was so glad I ordered it.

Awesome
By
Sarah S.

(ALBUQUERQUE, NM) - September 3, 2012 (
See all reviews by this customer
)
My ordered was shipped quickly and turned out even better than expected.

Exceeded expectations
By
sean B.

(Owasso, OK) - September 3, 2012 (
See all reviews by this customer
)
This was better than expected. My wife loves it. The picture and text are actually engraved into the bottle and not just painted on. I would definitely recommend this to a friend!

Great gift for a special birthday!
By
Shopper

(Massapequa, NY) - August 17, 2012
Great gift for that special birthday. The recipient loved it! The only thing negative that I have to say is that the recipient did not know who it came from. I filled out a card but apparently it never made it in the package or was not very noticable. The recipient had to send out a massive message to find out who it was from and that spoiled the surprise.

Great gift idea
By
Shopper

(Camp Hill, PA) - August 13, 2012
Arrived quickly. The bottle was just as I had expected.

Unique and personal
By
Christian M.

(Cumming, GA) - August 9, 2012 (
See all reviews by this customer
)
Haven't tried the wine, but I'm sure it's fine. Nice idea for a special occassion. Satisfied with the product and the recipient was pleased as well.

Personalized Wine Bottle
By
Maria T.

(Boca Raton, FL) - May 19, 2012 (
See all reviews by this customer
)
Great product

Looks Good
By
Staci S.

(Lyons, KS) - April 24, 2012 (
See all reviews by this customer
)
I bought this for my sister in law for her birthday, I love the the look of the bottle, and cant wait to see the look on her face and hear what she thinks about it. If if its good then I will be back to buy more of these bottles.

Wine Art Balloons
By
Tracey R.

(Laurel Springs, NJ) - April 21, 2012 (
See all reviews by this customer
)
This was the third time I'd purchased this product and was still thrilled with it. The personalization makes it a great keepsake for a milestone birthday.

Love it BUT.........
By
JoAnn R.

(Pine Brook, NJ) - March 11, 2012 (
See all reviews by this customer
)
Love the engraving but, I wanted "Hope you have a great day" and it is engraved "Hope you have a great one!" Secondly I wanted Merlot and I received Cabernet Sauvignon!! No big deal but it wasn't what I ordered. Does it matter.....not really but, to some people it might have!!

Very Classy and Elegant
By
Shopper

(Brookeville, MD) - February 5, 2012
highly recommend this. It definitely surpassed my expectation.

a very special gift
By
Donna C.

(Springfield, MA) - January 29, 2012 (
See all reviews by this customer
)
I ordered after reading the reviews and I was not disappointed. This is a beautiful gift to give to comemmorate a special occasion.

wonderful alternative for something special
By
Shopper

(Chicago, IL) - January 26, 2012
I chose this for my best friend and loved how easy it was to purchase. I called her on her birthday and found that it had arrived the day before her birthday, and she was speechless. I asked her to send me a picture and I was very pleased with the finished product.

Elegant Wine Bottle
By
Ronda R.

(centreville, MD) - January 5, 2012 (
See all reviews by this customer
)
Also a great personalized birthday gift. And the letters ate etched into the bottle. All you need is a beautiful wine stopper (also personalize) to keep this bottle filled again with your favorite wine. Although the Merlot is delcious that came in it. Will definitely purchase again for the next celebration !

Happy Birthday Girl
By
Deidre M.

(Carrollton, TX) - December 28, 2011 (
See all reviews by this customer
)
I purchased one of these heistantly for my best friend's birthday. I was a little scared what it would look like and if it would be corny. But she LOVED it. And the product quality was wonderful! It's actually engraved into the bottle and was flawless. They did a great job!!

Classy Item
By
Shopper

(Duluth, GA) - December 25, 2011
No complaints here, unique and classy item. I'm not a mall shopper & luv the convenience of ordering something to be treasured for a long time! I'm hooked & look forward to my next order.

Absolutely wonderful gift
By
Kathy P.

(Powell, OH) - December 12, 2011 (
See all reviews by this customer
)
gift arrived as described, beautiful presentation.

50 birthday review
By
HERBERTA O.

(SAN BERNARDINO, CA) - August 6, 2011 (
See all reviews by this customer
)
The bottle was a big hit with the party goers. My son loved the bottle because the inscription was made into the glass on the bottle and not a tatoo. He refused to open the wine to share with others. He plans to keep the wine forever.

great birthday gift
By
Shopper

(Bogata, TX) - July 13, 2011
I got this for my dad for his 50th birthday because he loves wine. He absolutely loved it. I looked at it before I gave it to him to see how nice the bottle looked and it was great. He hasn't opened it yet to taste it because he wants to save it. It's a great gift for wine drinkers.

Top of the Line Product
By
Shopper

(San Jose, CA) - June 25, 2011
I got this gift for one of my coworker's birthday. I loved it when he showed it to me. The design was top-of-line. It was beautifully handcrafted; so professional! In addition, I was absolutely pleased with their delivery service. The item says it takes 7 days to deliver so I ordered it exactly a week before his birthday (I was having it shipped to his workplace), but I was bummed when, at check-out, it said to "allow an additional 3-5 days for shipping." Well, the wine bottle got to our workplace in 6 days, so it gave me time to wrap it up :) I highly recommend doing business with this website as I was absolutely pleased with the quality of the product and their service.

Great quality and Unique, just a bit pricey
By
Shopper

(Scottsdale, AZ) - June 18, 2011
The quality was great, it looks great and I'm sure will be appreciated when given as a gift. I think it's a bit pricey, but bought it anyway as I was looking for a gift for a hard to buy for family member's 60th birthday and wanted something unique. I wonder it they'll drink it or just save it??

A special different gift
By
Patricia P.

(Pawling, NY) - June 13, 2011 (
See all reviews by this customer
)
Quality etching makes this a great gift to give. I'm looking forward to giving this to my father for his birthday, a man that has everything and I struggle every year trying to find him something different. I can't say for certain on the quality of the wine itself, but the bottle with my own personalized message will be something he will cherish.
Thank you to this site for helping me find that something different I was looking for!

Unique and pleasing, with great service!
By
Ron A.

(Deptford, NJ) - June 6, 2011 (
See all reviews by this customer
)
I bought this for a female attorney friend of mine, who like many women is very hard to buy for. She loved it and gave it very high marks. Phew! I ordered a tad late, and not that I would expect it, they delivered prior to the 7 days they needed to produce.

Love the art work
By
Shopper

(Miramar, FL) - June 1, 2011
Had it for my niece's 21st birthday, everyone loved it, it was actually pass around for all the guests to see. Delivery was prompt

One of a kind
By
Shopper

(Jackson, MS) - May 28, 2011
I got this as a gift for a special Birthday. It was the perfect one of a kind gift to remember that special person.