LOVE THEM
By
Sachkia H.

(Colorado Springs, CO) - September 22, 2014 (
See all reviews by this customer
)
I order our Xmas cards from here every year fro the last 5 years and I will cont. I have yet to be dissapointed in the products. This one especially was great b/c you get to list all the special items. Love this idea and love all their xmas cards. Wish you could write more though.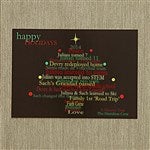 A FAMILY ATTENTION GETTER !!!!
By
Roseanne J.

(BURLINGTON, NC) - December 17, 2013 (
See all reviews by this customer
)
I have prided myself for years on having very unusual Christmas cards…..known for it ….in the family. They wait to see what I am going to do this year…well this year the phone has not stopped ringing …every family member had a comment…friends were amazed. It was a whole year in review, from car races to cancer, in very casual but in-depth way. Touching bases, keeping family informed is what this card is about. The card is slick in design, NOT CHEAP AT ALL…total QUALITY…TOTAL. This may be what the family will expect now every year…and I just might…….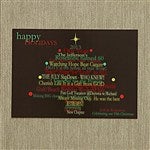 Awesome Personalization
By
jodie V.

(Australia) - October 11, 2013 (
See all reviews by this customer
)
So very happy with personalization of item. Thank you.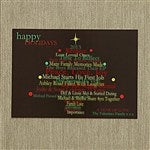 A Christmas letter people will LOVE!!!
By
Lisa K.

(San Diego, CA) - December 24, 2012 (
See all reviews by this customer
)
I had multiple people email to let me know how much they enjoyed the card!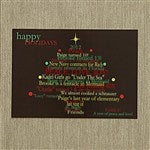 Very well made cards!
By
Michelle Z.

(Henderson, NV) - December 18, 2012 (
See all reviews by this customer
)
Everyone who got these so far has raved about how cute they these cards are! Personalization mall makes me look good again! They are thick card stock. I ordered glossy and came looking exactly as ordered. This is one of the few sites I review what I purchase because they have such quality items I order again and again. Very happy in Nevada!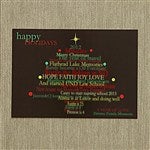 LOVED this card and so many people commented on on great it was!
By
Mary A W.

(Braintree, MA) - December 15, 2012 (
See all reviews by this customer
)
Loved this product and so did everyone who recieved it. The girls are to old for photo cards now and hard to get one of all of them together so this was a great option on updating friends and family on them - loved this card hope Personalization does a similar version next year. GREAT! Unique!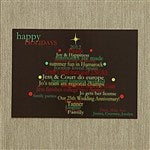 Milestones Xmas Card
By
Pamela C.

(Chicago, IL) - December 15, 2012 (
See all reviews by this customer
)
I ordered these cards and got them back the same week. They were beautiful. Much better than I expected.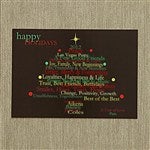 FABULOUS!
By
Shopper

(Clinton Township, MI) - September 4, 2012
Got these in the mail last week and LOVE them, they give just enough personalization and information on how the year has been and highlights some exciting moments. Love these cards and can't wait until the day after Thanksgiving to mail them! I am sure ours will be the first to be received this year!


Personalized card
By
Shopper

(Borger, TX) - December 24, 2011
We made the card with holiday sayings & thoughts. We really liked the final product. Nice quality & fast service!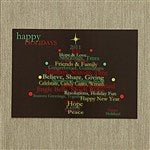 Out with the Old, In with the New!
By
Kimberly M.

(Lakewood, CA) - December 21, 2011 (
See all reviews by this customer
)
I have been writing Christmas letters and taking family pictures for the past 28 years. This year I decided to go out with the old and in with something new. I came across PersonalizationMall.com. I created my card, ordered it, received it and I LOVE IT! The quality of the paper was the highest. The card was perfect. The price was even better. They say less is more and I totally agree with my card. I have received many kudos for this "cleaver card" as one friend wrote. I will definitely use PersonalizationMall.com again not only for Christmas cards but for other products they offer. I can say preparing for Christmas this year was (almost) stress free! Thank you PersonalizationMall.com!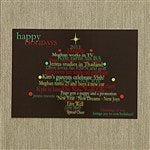 Perfect Christmas Card
By
Rhonda R.

(Apex, NC) - December 11, 2011 (
See all reviews by this customer
)
Just loved this card and design. Our family had so much fun creating it together. It is the perfect way to highlight the special memories of the year! The online ordering was very "user friendly" and fun. Loved the preview page too! You could see what you had created and could make changes to your design...
Just can't say enough great things about this card...it is one of my "all time" favorites!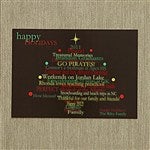 Family story Christmas
By
DIANA S.

(EAST AMHERST, NY) - December 11, 2011 (
See all reviews by this customer
)
A great way to spread the family news instead of a Christmas letter. The Christmas tree layout with words lets you send a personal message.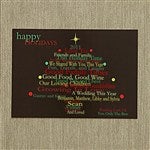 LOVE IT
By
jennifer D.

(Rockaway Beach, NY) - October 28, 2011 (
See all reviews by this customer
)
GREAT CARD, Different. LOVE IT> THANKS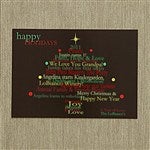 I loved them!
By
Laurel M.

(Sparks, OK) - December 19, 2010 (
See all reviews by this customer
)
Ordered pre-printed cards for the first time this year. I normally send out a Christmas letter, but just didn't have time this year, so this filled the void nicely. I was just able to highlight the highest points of the year and mention each of my 7 children's families. Thank you PM! P.S. If I ordered these again I would order glossy instead of the mat finish.

Great idea
By
Camille M.

(Howard Beach, NY) - November 28, 2010 (
See all reviews by this customer
)
I loved the family milestones message card. Great way to announce and update Christmas card recipients of family news. Quality great. Some message lines are harder to read than others...so definitely preview and make sure what you want to read clearly does! Otherwise a great idea!

Excellent Card
By
Peter U A.

(Long Beach, CA) - October 26, 2010 (
See all reviews by this customer
)
This card is great looking and everything I thought it would be. We are excited to send it out this year. It is quite personal and the warm chocolate main color is elegant and timeless. Great choice, really!

Great! Great! Great!
By
Sandy G.

(San Antonio, TX) - October 22, 2010 (
See all reviews by this customer
)
What fantastic christmas cards!! Special and personal! The card tells our family's special messages in a very unique way. The quick delivery eliminates stress and worry. Love, love, love our christmas cards!!!

Excellent
By
Monique C.

(New Orleans, LA) - September 6, 2010 (
See all reviews by this customer
)
My family loves the cards. They are simply beautiful and professional.

Love them!
By
Meghann D.

(brewer, ME) - September 2, 2010 (
See all reviews by this customer
)
We purchased these cards during a summer sale on Christmas cards and when they came they were incredible! Great quality! It's a personalized card, Christmas letter and family update all in one! What a great way to share all that we have to share with our family and friends! I love the way the words shape into a tree, very festive! We are super excited to mail these out! Too bad Christmas is so far away!

Personalized Christmas Card
By
Shopper

(Indianapolis, IN) - September 14, 2014
Over all, nice card. Did not like pre-program 'happy holiday' printed in upper left corner. Since the card is all about personal greeting, Let each of us print our own Christmas greeting. Also. Black is not a Christmas color. Let us choose the card color. Otherwise, printed as ordered.

Not Only For the Family
By
Shopper

(Charlotte, NC) - August 20, 2014
Every year for the past 5 years, I have used PMall for our business' holiday cards. It takes a little creativity but I just got our 2014 cards. The best part was that these were 25% off one day so I jumped on the offer. I used our business name in place of family events and they look great. I'm running out of options for next year so I hope PMall will come out with some new cards where the company name can be used on the front of the card. The best one so far has been the card with the message written in snow on the front. I put Seasons Greeting and our company name written in the snow. We got tons of positive comments on the card. Thanks, PMall.

Love these unique cards
By
Shopper

(River Falls, WI) - November 18, 2013
Happened onto these cards.....Love them! Only disappointment was that they are a dark brown, not black, as they appeared in photo. I'm hoping that next year there will be better editing options, as it was difficult to arrange my lines regarding size, color, etc.

Tree Christmas Card
By
Helen B.

(San Antonio, TX) - November 5, 2013 (
See all reviews by this customer
)
I am not satisfied with the clarity of the words printed. Some are so bright that they cover up those less vibrant. However, it will be a nice way to share our family news to our friends.