Great
By
Joellen C.

(Corning, NY) - November 21, 2011 (
See all reviews by this customer
)
Love the personalization!

Fun Ornament
By
Shopper

(Meridian, ID) - November 21, 2011
I have two boys and they both loved the look of their new ornament this year. This particular ornament was great because you can personalize with a name, number, and year. Most ornaments do not have that much room. I used my boys flag football numbers and they loved it!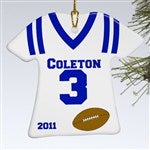 Sports Jersey T-Shirt Ornament
By
Shopper

(Mount Holly, NC) - November 20, 2011
Very nice and great quality. My daughter loved it!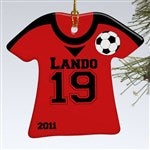 christmas ornament
By
judy S.

(annandale, MN) - November 20, 2011 (
See all reviews by this customer
)
Love the football jersey ornaments I ordered for my grandsons!! Very good quality and fast delivery!!

Really cute ornament
By
Shopper

(Salisbury, MD) - November 20, 2011
This is the cutest ornament, it is very personalized. My grandson will love this. I would certainly order from this company again.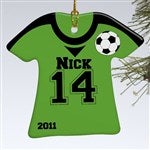 Sports Jersey
By
Carole M.

(San Jose, CA) - November 19, 2011 (
See all reviews by this customer
)
These are adorable. I bought one for each of my grandchildren. Lovely!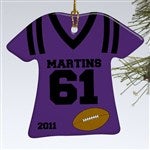 Beautiful
By
Shopper

(Canada) - November 16, 2011
Great for all soccer fans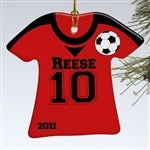 Perfect
By
Shopper

(Lexington, OK) - November 15, 2011
This ornament exceeded my expectations! SO very pleased with the quality!

Sports ornament
By
Shopper

(West Seneca, NY) - November 15, 2011
Great gift for the sports player or fan. After the holidays, this looks great hanging in your child's room all year round.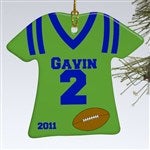 nice for price
By
Shopper

(Pelzer, SC) - November 15, 2011
very attractive with awesome details!

Excellent product
By
Shopper

(Saranac Lake, NY) - November 14, 2011
Very impressed with the quality of ornament and the prompt delivery. Would recommend to others.

High Quality Ornament
By
Sherie C.

(Irvine, CA) - November 13, 2011 (
See all reviews by this customer
)
I ordered this ornament for my son. It looks exactly like his football jersey. Very high quality. Very pleased with this product. I am going to order one every year.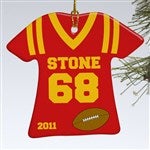 Quality
By
Shopper

(Tyrone, GA) - November 13, 2011
Very happy with final product! Ornament seems sturdy. Colors and information were perfect.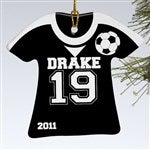 Soccer Shirt
By
Shopper

(Sparta, NJ) - November 12, 2011
Very satisfied with this ornament.

Score!
By
Shopper

(Tampa, FL) - November 12, 2011
Every year I get my son a special ornament, something personal that is just for him and this one is especially perfect. My son plays competitive soccer so with being able to put his real # and jersey color, it looks like a mini-version of his uniform. It came out great and I know he's going to love it.

Softball
By Shopper (Kennewick, WA) - November 9, 2011
Please think about adding an additional sport here - softball. My son plays baseball and I'd like to get him this ornament; however my daughter plays softball and that ornament is not available.

Thanks!

For the sports person
By
Shopper

(Dunellen, NJ) - November 8, 2011
This was a great ornament. You can personalize it to the color, name and number of the Jerzy that they had for the season. They will always beable to look back and remember. A great product.

Great Keepsake
By
Allison A.

(Omaha, NE) - November 8, 2011 (
See all reviews by this customer
)
I ordered this for my nephew who is a high school senior. His football team is still in the playoffs with an undefeated season!
The ornament was so much nicer than I thought it would be! It's made of glass and came in a nice black felt bag. I know he is going to love it and will help remind him of this fun football season!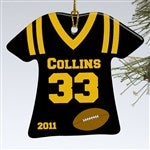 Sports jersey
By
Shopper

(Cincinnati, OH) - November 7, 2011
Great quality with deep color and nice printing of personalization.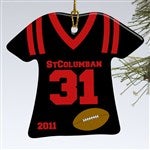 Very Nice!
By
Kim B.

(Danville, CA) - November 7, 2011 (
See all reviews by this customer
)
Very nice job. Came quickly too.

Christmas Ornaments
By
Karen H.

(Lima, OH) - November 7, 2011 (
See all reviews by this customer
)
I have shopped with personalization mall for years and will continue to shop. My children and grandchildren look forward to the unique personalized ornaments every Christmas. This particular ornament is awesome because it doesn't matter what team they follow, you can create an ornament for them. The quality is ALWAYS great.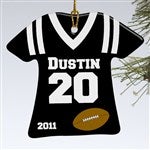 How do I use the product
By
Shopper

(Prairieville, LA) - October 23, 2011
I order Christmas ornaments for my girls every Christmas and I have to say this is the best ornament yet.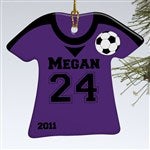 perfect
By
Shopper

(Caribou, ME) - October 26, 2013
Even cuter than the picture...but the gold string doesn't stay on.

Great quality - Ceramic ornament
By
Shopper

(Escondido, CA) - August 3, 2013
I had ordered these on clearance, a couple last-minute add-on items for my little nieces who are avid baseball fans, and was pleasantly surprised with the quality. I was expecting plastic, but the ceramic is nice and the printing looks great. The only downside is that the back is a plain, solid white. At least it's finished, glossy just like the front, but it would have been really great if the jersey design/color was continued on the back. But my nieces will still love the personalized ornaments!

Awesome
By
Shopper

(Hamilton, OH) - July 21, 2013
Very pleased with them. If u have a sport player they will enjoy this.

Well-made Ornament
By
Shopper

(Medford, MA) - July 13, 2013
I ordered four of these for gifts. The actual ornaments are well-made and beautiful. The reason I gave them 4 stars is the hanging string is too light for a heavy ornament. One already came apart from the ornament and was difficult to try to fix. I may end up purchasing my own ribbon and replacing all of the strings. If they had a better string, I would have given them 5 stars.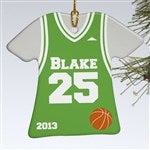 string
By
Shopper

(new hartford, CT) - January 25, 2013
Needs larger, stronger string for heavy item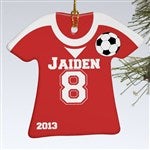 Came out great, wish there were more choices
By
Dawn B.

(Niverville, NY) - December 17, 2012 (
See all reviews by this customer
)
This ornament came out great, and I think my nephew will love it, but I wish there were more color choices. His colors were Maroon and Gold, but I had to settle with red and yellow.

Sure To Please
By
Shopper

(Joplin, MO) - December 12, 2012
Each Christman I try to give an ornament to my precious neice- this basketball t-shirt with her number on it is sure to please. It is really beautifully done.


Cute, Personalized Ornament
By
D C.

(Medford, NY) - December 6, 2012 (
See all reviews by this customer
)
Loved that this ornament could be personalized not just with name and sport, but color too - VERY nice, and great quality!

Wonderful
By
Kimberly P.

(Waldorf, MD) - December 4, 2012 (
See all reviews by this customer
)
I bought these for my boyfriends daughters that play basketball.. They loved them. I also bought another for my son that plays football. The only thing that would have made it better for my sons, would be that you include the color Navy Blue. But they came out looking very nice... :) Thank You!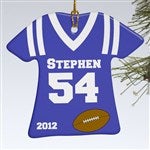 Acceptable
By
Shopper

(arlington, TX) - November 25, 2012
Received very timely. There is only coloring on one side. The back is white. Wish you could view the colors selected to know the true match. Overall good and my nephew wad excited about his new ornament.

So very cute
By
Shopper

(greensboro, NC) - November 6, 2012
Love, Love, love these ornamaents! can't wait to give them. The gift pouch they come in is also a really cool touch!!

Holiday Gift
By
Shopper

(Park City, UT) - January 3, 2012
I always purchase an ornament for each of my children each year. I like this one since 2 of my children play football, and I could personalize this with their name and jersey # from this season. It also had the year, so I had all the info I wanted for this keepsake! The price is ok - it's a keepsake. The only reason I didn't give it the 5th star is the string it comes with for hanging is cheap and needs to be replaced. Other than that, my boys really liked it.

Football Fan
By
Shopper

(Richmond, VA) - December 28, 2011
My "fan" enjoyed seeing his name on the jersey and was pleased. I felt the football was a bit low on the jersey, but didn't mention this to him. It looks like it's starting to roll around the bottom edge or it's too close to the bottom. He didn't notice or care, just liked his name up there on the tree, with his team colors!

great little gift
By
tara J.

(Canada) - December 15, 2011 (
See all reviews by this customer
)
my step son loved it! Got one in his team colors!

Sports jersey with personalization
By
Shopper

(Peru, IL) - December 4, 2011
Turned out quite nice. Will make a nice ornament gift..

MISSING OPTION
By
Shopper

(Florissant, MO) - November 26, 2011
IT IS WHAT I WAS LOOKING FOR, BUT THE YOUNG MAN IT WAS FOR DOESN'T HAVE STRIPES ON HIS JERSEY AND YOUR SITE WOULDN'T LET ME MAKE THE STRIPES THE SAME COLOR AS THE SHIRT.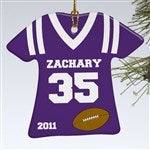 Personalization is usually a surprise gift
By
Shopper

(VANDERGRIFT, PA) - November 26, 2011
I received my order today from your company. I would like to say that the ornament itself was very nice everything I thought it would be and was liked by everyone who saw it. I am however very disappointed by your packaging of it. This ornament was supposed to be a surprise for my son and you have a label on the front of the package telling exactly what was inside. For a company making personalized products for years , I cant believe this is your practice.......or that you've never heard of this complaint before.


Perfect
By
Shopper

(dana point , CA) - November 24, 2011
packaged very well and feels very sturdy