Nice for the price
By
Shopper

(voorhees, NJ) - November 29, 2011
Loved them - should've purchased one for myself!

2011 Remembered
By
Sheila S.

(New Castle, DE) - November 28, 2011 (
See all reviews by this customer
)
I ordered 2 of these ornaments for 2 different families. They both turned out beautiful and I can't wait for Christmas to get here so that I can give these gifts. I captured events that occurred to truly personalize these items and believe they will be very well received.
Thank you for offering such a piece!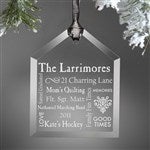 Ornament Use
By
Shopper

(Madill, OK) - November 27, 2011
I purchased this personalized ornament for a gift exchange at our annual Rose Garden Club social. I had all the members names, along with the date and our town engraved on the ornament. I was very pleased with the look and the size...can't wait to see which lucky member ends up with the ornament from our gift exchange game. They are going to be so surprised!!!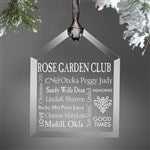 What a gift!
By
Connie S.

(Grand Forks, ND) - November 26, 2011 (
See all reviews by this customer
)
I am so pleased to be giving these ornaments as gifts this year. It is a wonderful way to give a gift that is sentimental and the black bag packaging makes it extra special.

Our Family
By
Eileen P.

(Yonkers, NY) - November 21, 2011 (
See all reviews by this customer
)
I had this ornament made for my granddaughter instead of for a "family". This is her 2nd Christmas and I made notations of her favorite words and that it's her 2nd Christmas. It turned out great!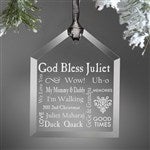 Wonderful Gift
By
Shopper

(Meridian, MS) - November 18, 2011
This is a wonderful keepsake ornament & makes a great gift! It looks even better in person than online - highly recommended!

family ornament
By
Shopper

(st charles, IL) - November 15, 2011
i just received this beautiful ornament. it is just perfect. i purchased it for a new couple. i know that they will love it. it certainly looks much more expensive than it was. you will not be disappointed / get one !!!!!!!!!!

happy customer
By
Regina K.

(Vallejo, CA) - November 13, 2011 (
See all reviews by this customer
)
ordered this item for my son and his family...in their first home, the
order came out perfect...I was so happy to receive it promptly. They
will be able to enjoy it all season long. Thank you for your service.
I am one happy customer. Ordering more items for friends and family.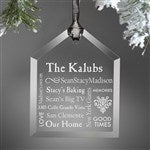 Great Reunion Award
By
Marilyn W.

(Wichita Falls, TX) - November 11, 2011 (
See all reviews by this customer
)
We personalized this ornament as an award for a joint class reunion with another high school. This is perfect for school names, award title, dates,and other appropriate words signifying your high school memories.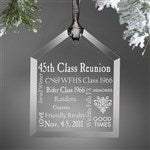 Great Ornament that can be personalized.
By
Shopper

(Hartford, WI) - November 9, 2011
This ornament was great to create and turned out so good. It looks of great quality and will be a great gift.

Great way to remember our time together!
By
Shopper

(Milford, OH) - October 28, 2011
The last few Falls we have taken a long weekend trip with our adult children and their families. As a memento of the trips I give each family a Christmas ornament to remember our time together. Last year, I gave them a family picture ornament from Personalization Mall and this year they're getting the Engraved Family Message ornament so they remember some of the crazy things we did while together. I make sure I get one for my home also. They are very affordable, very personal, great quality and definitely appreciated.

Engraved ornament
By
Shopper

(Phoenix, AZ) - December 2, 2013
The sentiment that this gift, because of the personalization, made the receiver of the gift cry, so it was the perfect gift! The only reason I gave it a 4 and not a 5 was because the ornament glass was very thin and fragile, not like the ones I have seen in the past. Never the less, I love Personalization Mall and I will continue to purchase products that never let me down!

classy glass
By
Shopper

(Durham, NC) - July 15, 2013
purchased this gift for my daughters family. I call it an inspirational ornament. My own sentiment could be added to the ornament. It is unique and recommend it.

what I like
By
Fernne G.

(Berkeley Heights, NJ) - December 31, 2012 (
See all reviews by this customer
)
It's a lovely gift to give to a friend to remember fun times together and shared experiences. Would like the glass to be a little thicker however. Fear of it breaking easily.

Very Pleased
By
Shopper

(Mechanicville, NY) - December 17, 2012
When designing this ornament I was able to change it as many times as I needed to to get it right. When I received it, the ornament was just what I expected actually better. I was very pleased. I am so happy that I discovered this site.

Nice Gift
By
Shopper

(Pocahontas, IL) - December 13, 2012
I gave this for a wedding gift. Cute easy to personilize.

Very nice for the $$$!
By
Barbara F.

(Orlando, FL) - December 11, 2012 (
See all reviews by this customer
)
If you want to get a gift for the entire family and don't want to spend too much go for this! I could even add their pet's and grandparent's names!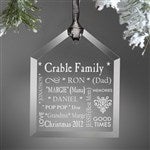 Mr Duane
Wish it was easier to review and order

Very Cute
By
Shopper

(Bensalem, PA) - December 10, 2012
This item is very cute, perfect for a tree, however, I would of liked it to be a little bigger. Maybe like another inch, that I had in mind. But it did come out nice and it serves its purpose.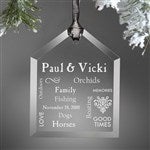 Nice gift
By
Shopper

(Sanford, FL) - August 2, 2012
I bought this for my husband and put all of our special dates & places on it. Cute personal gift.

For someone that has everything . . .
By
Tamara H.

(Roanoke, VA) - August 1, 2012 (
See all reviews by this customer
)
My mother-in-law changes out the color of her tree almost every year. For the past several years, I started getting the clear ornaments and have "family moments, events & people" engraved on it. Now she can use the ornaments every year no matter what color she decorates with. Another plus is knowing these will be passed down to my girls one day!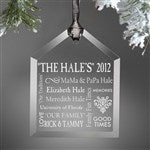 Perfect...
By
Shopper

(Monrovia, MD) - January 9, 2012
Came out perfect, though would have been nice if the bag didn't advertise the company I bought it from.


good!
By
Shopper

(Watkinsville, GA) - December 31, 2011
I only wish that all the spaces were available to engrave! "memories/good times/love" are not changeable! otherwise it was a great end of year recap and my husband loved it :)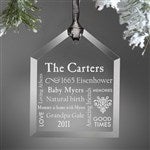 Love this ornament
By
Shopper

(Henrico, VA) - December 12, 2011
I am so excited to give this ornament to my grandmother. She will love it! It looks beautiful!

Engraved Ornament
By Shopper (Crete, IL) - December 7, 2011
I love this idea.

Engraved Ornament
By Shopper (Crete, IL) - December 7, 2011
I love this idea.

it was ok.....
By
Diana L.

(Blue Rapids, KS) - November 27, 2012 (
See all reviews by this customer
)
i have ordered many items from this company before, and have been 100% satisfied, and more than pleased. However the quality of these ornaments were ok & acceptable; however overall I was disappointed. The printing could have been better.

Blurry
By
Shopper

(Hattiesburg, MS) - December 23, 2012
I ordered several of this type of ornament for family members. All but one were fine. The names on one of the ornaments were blurry. I did not have time to return it and have it reengraved. This family member is having to get hers with blurry letters.

Not as good as picture
By
Faye B.

(Menomonee Falls, WI) - December 15, 2012 (
See all reviews by this customer
)
This ornament looked great in the picture, but the real item was not as good. The etched writing is very hard to read on the ornament - and it's kind of cheap looking.

Dissapointed
By
Sandra K.

(Rochester, NY) - November 25, 2012 (
See all reviews by this customer
)
The glass was pretty thin, seems chincy in person