Tradition year after year
By
Jo Ann W.

(Leesville, SC) - July 26, 2014 (
See all reviews by this customer
)
In the year 1996, I wanted to start a tradition for my two daughters from me.
So with each Christmas, I pick a Christmas ornament and have their named personalized along with the year date. It is getting hard to come up with something new for each year, but when I saw this ornament it was so beautiful. I love red birds, so I knew this is the one I wanted for this year. This is the first Christmas present that is opened by them on Christmas morning. I always purchase the ornaments in the summer, and secretly that puts me in the Christmas spirit. I hope, when I am no longer around, my daughters will always remember all the ornaments I had given them. Maybe it is a tradition for me, more than my daughters.

Lovely ornament
By
Sarah A.

(Tempe, AZ) - July 21, 2014 (
See all reviews by this customer
)
This ornament is precious, very high quality. I titled it 'Welcome baby to the (lastname) house' for my newborn grandson. I can't wait to send it to him this Christmas.

Awesome Gifts
By
Shopper

(Granbury, TX) - July 18, 2014
Thanks to you, I have almost finished my Christmas shopping! These ornaments are so beautiful and the personalization makes them the perfect gift for my family and friends. I am so happy that I signed up for your sale E-mail! Thank you for informing me of your great Christmas in July sale!! Melinda

Precious Little Ornament
By
Pamela C.

(Gloucester Point, VA) - July 14, 2014 (
See all reviews by this customer
)
I ordered three of these ornaments. They are so cute. Can't wait to give them as gifts for Christmas!

Great holiday ornament
By
Shopper

(Parker, CO) - April 13, 2014
I got this ornament for my parents. I know they will love it. My mom loves cardinals.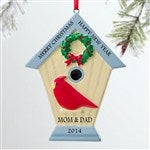 beautiful and different
By
Shopper

(Washougal, WA) - January 25, 2014
We always get an ornament for each of our daughters and their families from you for Christmas. They have all been outstanding. This one is different in the coloring, which will set it apart from the others. When I ordered and showed my husband, he insisted that we get one for ourselves also. They arrived fast, in less than a week. The look is different and special. We were glad we got one for ourselves and the kids will be thrilled.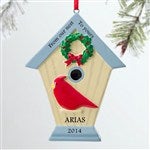 Beautiful ornament
By
Shopper

(Lancaster, NH) - December 18, 2013
I purchased this for family friends and they were very pleased with it, the detail was amazing.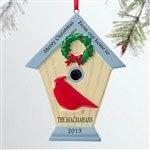 Sentimental and Cute
By
Robin L.

(Arlington, TX) - December 10, 2013 (
See all reviews by this customer
)
Sent it to a dear family who started as friends and have become like family to us. They loved it!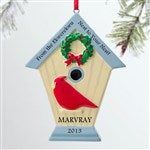 Perfect gift
By
Shopper

(Plano, TX) - November 15, 2013
My cousin and I always call our homes Our Nest, so this was the perfect little gift for her. I know she'll smile when she gets it and for years to come every Christmastime.

Perfect
By
Wendy C.

(Chicago, IL) - July 19, 2013 (
See all reviews by this customer
)
This ornament came out perfect! Can't wait to give it to my husband this Christmas.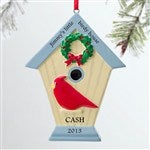 Beautiful
By
Shopper

(Coral Springs , FL) - January 23, 2013
My mom & sister will just love this ornament. My mom loves cardinals and this is done in brilliant color. It's just beautiful

Sharng Christmas
By
Ann R.

(Bear, DE) - February 22, 2014 (
See all reviews by this customer
)
Although my daughter and son-in-law are now divorced, his mother and I remain friends We try to exchange a small gift each year. She loves cardinals so I was happy when I found this ornament with her favorite bird. I added my name to it so she will always remember that it was from "my house to your house" She sent me a note about how much she loved. it. The material is not all that sturdy and if it were to be dropped on a hard surface, I am afraid that it would break.The colors were perfect.