Guest Towels
By
Shopper

(Arlington, VA) - December 7, 2012
very nice quality, price, and presentation -- ordered one for myself and another for a friend for Christmas.

christmas towels
By
Mary T.

(Katy, TX) - December 28, 2011 (
See all reviews by this customer
)
Really cute as hostess gifts!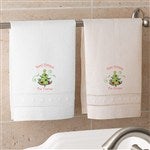 So cute!
By
Karen T.

(Harrisville, RI) - December 14, 2011 (
See all reviews by this customer
)
The towels are very nice quality material. They come ready to hang. I am using them for decoration purposes only. I love them!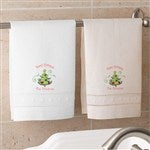 Image smaller than expected
By
Shopper

(Kansas City, MO) - December 27, 2012
The size of the picture on the towel was smaller than I expected. Otherwise the quality of the product was up to par with my expectations. I have not washed the towels yet, so I cannot attest to their durability or sustainability.

Personalized Christmas Decor
By
Mary Jane P.

(Springfield, VA) - October 11, 2011 (
See all reviews by this customer
)
I received a set of, Season's Greetings Linen Towels, from a friend as a holiday gift two years ago. I love the Personalized Linen Towels! I use them mostly for decor in my guest bathroom. I believe they are meant mostly for decor during the holidays, but they can be used too.
I find they make a perfect hostess gift. I like the quality and product very much. I ordered 10 sets for friends this year!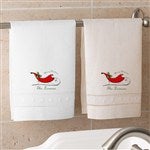 Christmas Tree too small
By
Shopper

(malverne , NY) - December 28, 2012
The quality to the fabric is very nice. However, I got the christmas tree and it was very small and so was the print. I wouldn't recommend it.

kind of cheap looking
By
Mike K.

(Odessa, TX) - December 23, 2010 (
See all reviews by this customer
)
The imprinting on these was kind of light in color and cheap looking. Wouldn't buy again.

Printing Offcenter
By
Theresa F.

(Palos Heights, IL) - October 7, 2009 (
See all reviews by this customer
)
I ordered these - luckily for our own bathroom. They arrived with the printing of our name offcenter. Additionally, the printing isn't as dominant in color as the rest of the decorations on the towel, and it looks on the cheap side. This was the only thing I have bought from this company that I am disappointed with. I am glad the towels were for us and not to be given as a gift - if they had been a gift, I would have been scrambling at the last minute to find a substitute gift.

Didn't like the quality
By
Patricia B.

(Sicklerville , NJ) - December 17, 2012 (
See all reviews by this customer
)
I have bought many things for Personalization Mall and I have always been really happy with my purchases. I did not like this one. The towels were cheap looking and really thin as others have mentioned. Not worth the price :(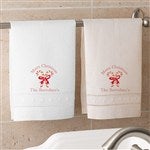 Don't Buy...
By
Amber F.

(Jonestown, PA) - November 30, 2010 (
See all reviews by this customer
)
I think these towels are inadequately priced. The material is not abosorbant and extremely thin. They have the texture and thickness of a cheap tablecloth. Definitely not worth what was spent on them.

Not at all what I was expecting
By
Amy B.

(Tamarac, FL) - November 16, 2010 (
See all reviews by this customer
)
These are still nice, and the stitching is certainly of quality, but the towel itself is very frail and thin and quite honestly looks very cheap. Not at all what I was expecting and most certainly not worth the price - and I even got them on sale. Would not recommend.