date
By
Danielle J.

(Xenia, OH) - November 11, 2009 (
See all reviews by this customer
)
I love this ornament.It looks great. I just wish there was a spot to put the date on all personalized items even if it was just on the back.

Great ornament!
By
E K.

(Hutto, TX) - November 10, 2009 (
See all reviews by this customer
)
My oldest daughter turned 18 during the summer. She loves stars, so I knew this would be the perfect ornament for her. The engraving turned out just beautiful! I think this ornament will be a treasured keepsake for my daughter in years to come. Thanks Personalization Mall!

Star review
By
Shopper

(Warwick, RI) - November 11, 2013
This star was very nice and everyone liked it. Theonly problem was the writing was hard to read because of the size.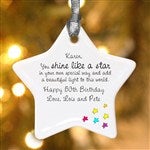 Gifts
By
Jennifer J.

(Kitty Hawk, NC) - August 12, 2013 (
See all reviews by this customer
)
LOVE this! Purchased three of these, all as gifts, and they were all very well received. They all loved them! Received very quickly. Thanks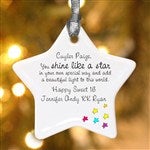 Lovely
By
Shopper

(Richmond, VA) - December 28, 2011
My daughter loved the poem and was very touched by the personalization. It made it very "special" for her.

Nice quality and very readable.

Shine like a Star
By
Shopper

(Wappingers Falls, NY) - January 21, 2011
This ornament is absolutely adorable ... I would of given it 5 stars but I just wished her name was bigger.. I would buy this for any new baby that comes into our blessed family..I have given this site to everyone in my family and friends...There isn't anything I have bought that wasn't above my expectations. Great job guys...keep up the wonderful shopping.

Nice Keepsake
By
Maryann O.

(Wyckoff, NJ) - May 21, 2010 (
See all reviews by this customer
)
I purchased this for my daughter's dance recital. Nice, but a little smaller than expected. Also had a small black mark near the personalization, but no big deal. Nice memento.

star ornament
By
Victoria M.

(Mequon, WI) - December 24, 2009 (
See all reviews by this customer
)
This was very nicely done. It was smaller than I thought it would be, but the personalization was great. It arrived very quickly as does everything I order from Personalization Mall. Thank you!!

Nice Item
By
Colleen C.

(Brooklyn, NY) - November 12, 2009 (
See all reviews by this customer
)
I was pleased when I saw the item. The personalization was done very well and the overall quality of the item is ideal. I have purchased Lenox ornaments as a collector and I would say that this ornament stands up well alongside one of my Lenox collectibles, plus, I was able to personalize it for a special occasion. I was only surprised that it looked a "little bit" smaller than it seemed to be on the screen, but it is still a very nice gift. I guess if it were too big, it would not look very nice on the tree!

I recommend this item to gift givers and think that they will be pleased with the quality of the porcelain and of the engravement/personalization that is done on the ornament. I believe my sister will be happy with this gift. At least I hope so!



Size
By
Eileen C.

(Punta Gorda, FL) - December 20, 2010 (
See all reviews by this customer
)
My only disappointment..the name was so small. I expected it to have prominence and it was smaller than the message.
"Payton" and "Love, Gramma" should have been larger.

BEAUTIFUL ITEM BUT SHIPPING/HANDLING FEE TOO HIGH
By
Nancy H.

(Burlington, NJ) - December 13, 2009 (
See all reviews by this customer
)
THE ITEM CAME AND IT IS BEAUTIFUL. iT IS VERY LIGHT AND WAS WRAPPED IN BUBBLE WRAP AND IN A SMALL BUBBLE ENVELOPE. cOST WAS NO MORE THEN 1.00 TO MAIL. i DONT UNDERSTAND WHY S/H WAS 6.95 FOR THIS PRODUCT. hOW MUCH DOES IT COST A COMPANY TO HAVE AN EMPLOYEE STICK SOMETHING IN AN ENVELOPE? I FEEL SHOPPING ON THE INTERNET IS A GREAT THING BUT i DONT THINK IT IS FAIR THAT A COMPANY TAKE ADVANTAGE ON S/H.

retirement gift
By
Linda G.

(Gainesville, VA) - October 8, 2009 (
See all reviews by this customer
)
The service was very fast and the idea was wonderful.
There was a black spot of the front and I could not get it off. Since I found the item so close to the party I could not return it.


Less impressed
By
Sheila M.

(Sioux Falls, SD) - November 17, 2010 (
See all reviews by this customer
)
My daughter and I have picked out ornaments for her friends for the past two years. We thought these were cute and she loved the verse on them. However, when the arrived the imprint of the verse (and the personalization) is quite fuzzy...not as crisp and sharp as we expected. Definitely not in line with the quality of the etched glass ornaments or the ceramic ones we've ordered in the past.