A beautiful gift!
By
Andrea C.

(Greer, SC) - December 2, 2009 (
See all reviews by this customer
)
I purchased this for a first time parent and I cannot wait to give it to him. It is absolutely beautiful and quite unique.

Wonderful ornament...
By
Crystal S.

(Bayville, NJ) - November 29, 2009 (
See all reviews by this customer
)
I order this in pink with a 4D picture of my "miracle in the making" niece. I gave it to my brother and sister in law and it was a wonderful hit. I also order 1 each for the grandparents too. The ornament came out better then I though it could. I always order from Personalizationmall.com when I need a "special" gift and because of this ornament all my friends are too.

Thank you,

Something to Treasure
By
Terra H.

(Auburn, IN) - November 15, 2009 (
See all reviews by this customer
)
I wanted to get something special & meaningful for the new "mom & dad to be." As soon as I saw the sonogram ornament I knew this would be the perfect gift. I can't wait to see their faces when they open this on Christmas Eve.
I have ordered many different items from Personalization Mall and have been very happy with the quality and the speedy delivery. I know I can count on this web-site when looking for that special gift - Thank you so much!

Love this ornament!!
By
Beth D.

(Opelika, AL) - November 7, 2009 (
See all reviews by this customer
)
I just received my ornament and it is precious! I absolutely love it! I can't wait to get my Christmas tree up so I can hang it. Thanks so much!!

Very Much Recommend
By
Shopper

(Susanville, CA) - January 2, 2012
This is the second year that I have purchased these. I ordered one for myself and also my cousin when we were both pregnant with our first child. This year, I came back specifically looking for this ornament so that I could order one for both of us again, as we are both pregnant with our 2nd child. It is such an amazing addition to our Christmas tree that my children will be able to have forever.

Bill
By
William W.

(Barboursville, WV) - January 3, 2011 (
See all reviews by this customer
)
Wow. I was really pleased with my ornament. This will be our first grandchild and I wanted to honor her even though she won't be here until February 2011. The ornament did a good job of that. I can't wait to share the story when she is old enough to understand.

Very Cute and Original
By
Carly Y.

(Carlstadt, NJ) - December 26, 2010 (
See all reviews by this customer
)
The gift was a big hit! Very creative and came out perfect.

Wouldn't suggest red.
By
Kristina T.

(Winston Salem, NC) - November 10, 2010 (
See all reviews by this customer
)
The ornament is really nice, but for one complaint. The writing is hard to read on the red one. The sonogram came out very clear and nice, but I'd just say maybe get one of the lighter colors for the ornament part. Very nice quality product, though.

Cool ornament
By
Karalyn B.

(Lansing, MI) - January 29, 2010 (
See all reviews by this customer
)
I ordered this ornament for one of my friends as a gift for her baby shower. I am very pleased with the uniqueness of the gift. It is very cute, but there's a little bubble on the ornament..it's small, but noticeable. I'm still going to give it her anyway - I'm sure she'll be pleased to get a picture of her first baby's ultrasound as an ornament, but I hope she doesn't notice the bubble!

Ornament itself is wonderful - the hanging string, not so much
By
Yesenia H.

(Rego Park, NY) - November 30, 2009 (
See all reviews by this customer
)
If it were not for the string that came with my ornament, I would have definitely given this 5 stars! I got the red ornament with a picture from my 12 week sonogram. My husband loved it when it arrived (it was a surprise). The hanging string is rigid and slips right off (it's not tied like the picture shows, it's just pulled through the hole). I will probably try to put my own ribbon on it, but otherwise, LOVE the ornament!

Great item
By
Jennifer H.

(Stanfield, NC) - November 28, 2009 (
See all reviews by this customer
)
Turned out just as I hoped! It made the perfect memory!

Cute but Small Photo
By
Shopper

(Conroe, TX) - December 15, 2013
The photo was smaller than appeared/ expected...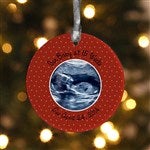 Cute but not centered at all
By
Shopper

(Bessemer, AL) - December 10, 2013
I bought this same ornament for my daughter a few years back and it is perfect...reason I ordered another one. This new one is off centered, it is a very cute idea, but I am unhappy with this one :(

Cute, but writing was mirrored
By
Shopper

(Cincinnati, OH) - January 24, 2012
The writing looked like it had been printed on twice, but in different spots. Didnt look as nice as I thought it would.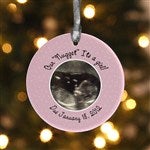 neat idea
By
AMBER H.

(DUBUQUE, IA) - January 6, 2010 (
See all reviews by this customer
)
I thought this ornament was a awesome Idea for my pregnant sister in law and brother! Loved everything about it except that when you edit your picture to put in the circle it is not accurate you couldnt really tell it was a baby and the whole bottom was a yellow faded color and it deffinatly was not in the ultrasound photo i have or in the preview!! Is it great Item YES! was I disappointed in the picture?? YES!