Personalized Dog Bowl
By
Julie D.

(Anchorage, AK) - December 1, 2009 (
See all reviews by this customer
)
Grea quality. The Speediest service ever!

Memories on Display
By
Joanne V.

(Australia) - November 27, 2009 (
See all reviews by this customer
)
These photoframes are absolutely beautiful - the colours are rich, the writing, clear and perfect. I am able to display photos of my current two puppies and I also have one for the darlings that have passed. Such a beautiful way to display memories. Thanks.

LOVE IT!!!
By
Kelly B.

(Austin, AR) - October 9, 2009 (
See all reviews by this customer
)
I ordered this for my two doggies! This is a high quality product and it is absolutely gorgeous! I love the font they used and I couldn't be happier! I highly recommend this to any pet lover! This is perfect for any occasion!

Adorable!
By
Meghan B.

(Los Angeles, CA) - October 8, 2009 (
See all reviews by this customer
)
My boyfriend was delighted with his personalized picture frame of his doggie! The final product looked exactly like the preview I viewed online.
Absolutely adorable! I would recommend this classy picture frame to anyone.

I'd give it 10 Stars if I could!
By
Mary H.

(Gilbert, AZ) - October 1, 2009 (
See all reviews by this customer
)
I'm always hesitant to order stuff online because you never know about the true quality. Well, since I found this site, I don't question quality anymore. This frame was WAY nicer than I expected. As a matter of fact, I like it so much, I ordered 3 more as gifts! Love the color options and also the option of either horizontal or vertical for that perfect photo. Thank you Personalization Mall!!!

Cute
By
Irene S.

(Oakwood Village, OH) - December 10, 2013 (
See all reviews by this customer
)
I love this picture frame.
However, the unfortunate part of it is, it's a different color brown.

I've purchased these frames in the past, in brown. In the meantime, we adopted another dog, and I wanted to have the same color picture frame. Unfortunately, it's a completely shade of brown. I still love the frame, quality is good, but now my husband doesn't have the same color frames in his office.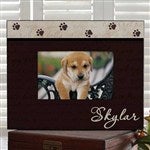 Doggie Picture Frame
By
James V.

(Homosassa, FL) - November 29, 2012 (
See all reviews by this customer
)
Very prompt service. Condition of merchandise excellent. I would not have ordered a gift box if I would have known the frame came in an attractive box.
With cost of product, cost of a nice box and shipping overall costs very a little high, but I am satisfied.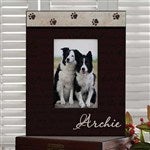 Great quality
By
Shopper

(Woodbridge, VA) - June 17, 2012
I ordered this for my husband for our new dog and it turned out to be amazing! My husband loves it and it looks great! Will purchase again!

More than I expected!
By
Shopper

(Salem, VA) - December 18, 2011
Color and finish of the frame is beautiful. This makes a wonderful
gift for pet lovers.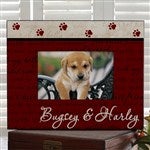 Perfect gift for my husband
By
Shopper

(Edgewood, WA) - December 17, 2011
i bought this frame as a gift for my husband so he could have a picture of his new puppy. It is very cute and just what I wanted. I just wish it held a 5x7 picture instead of just a 4x6. But other wise it is perfect

Great Product!
By
Shopper

(Liberty Hill, TX) - August 15, 2011
This frame turned out great! The only thing you cant tell from the picture is that the frame has a glossy finish instead of a matte looking finish. But, with that said it does not make the frame any less cute! You just cant tell that level of detail on the web picture. Love this product and would order more!

Nice Memento for Bereaved Pet Owner
By
Karin B.

(Memphis, TN) - July 5, 2011 (
See all reviews by this customer
)
I purchased this frame for my partner, who had lost her dog of 11 years. She has shown it to everyone, and it's obvious that she cherishes this reminder of her four legged friend. Shipping was very quick, and the product is nice quality. I would definitely recommend to others.

Nice Pet Frames
By
Beth T.

(Pflugerville, TX) - May 7, 2011 (
See all reviews by this customer
)
The frames are cute. One got one for our cat and another for our dogs.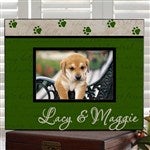 Bought for doggy birthday party!
By
Kimberly N.

(Simpsonville, SC) - January 25, 2011 (
See all reviews by this customer
)
The frame is adorable and I'm sure Sammie's owner will love it! Heavy frame and nice quality.

Cute
By
Christine H.

(Palm Coast, FL) - December 29, 2010 (
See all reviews by this customer
)
This frame is very cute, especially used for a photo of a family pet. The name inscribed is done in a little more ornate script than pictured.

Man's Best Freind
By
William L K.

(Williamsport, PA) - January 7, 2010 (
See all reviews by this customer
)
My wife loved it. I had a picture of my wife with her golden doodle which I put in the frame which I had engraved with my wife's and dog's names.

super cute
By
kiyana R.

(woodridge, IL) - January 7, 2010 (
See all reviews by this customer
)
i think these frames adorable! we got a red and a blue one, they are very cute...a little cheaply made but you get what you pay for. super fast delivery as well.

man's best friend frame color problem
By
Michelle B.

(North Andover, MA) - March 31, 2012 (
See all reviews by this customer
)
I bought the same frame a few months ago and liked it so much, that i wanted another one for another pet that recently passed away. I made sure to order the same color and size so that the 2 frames would match, but unfortunately when i recieved the second frame, I noticed that it is a different shade of brown than the first frame. I love the frames and how they say the dogs names, but i was very dissapointed that the color is not the same, so they can't be displayed together.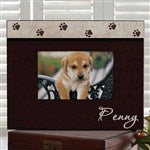 Frame is great quality, but names were not centered
By
Candace H.

(Rector, AR) - March 27, 2011 (
See all reviews by this customer
)
This frame is very high quality and the doggie quotes on it were very cute. I would've given the frame a higher rating except that whoever did the engraving of the two names did not center the names, so this kind of ruined the overall effect of the frame. When I saw the preview, I naturally assumed the names would be centered, but this was not corrected by the engraver...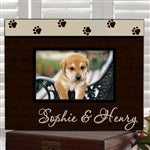 Not the color it was supposed to be
By
Holly L.

(Richardson, TX) - June 23, 2010 (
See all reviews by this customer
)
I ordered this frame in navy blue. When I got it the color was actually a bright purple. I called the company and they asked me to email them a digital photo of the frame. When I took the photo it actually looked blue. So looks like I am stuck with a purple frame unless I want to pay to ship it back.

pet frame
By
Julia F.

(Farmington Hills, MI) - May 10, 2010 (
See all reviews by this customer
)
It's beautiful but the bottom of the pets name falls off frame (the y).

Lettering
By
Shopper

(Grand Forks, ND) - May 17, 2011
Love the frame and the personalization. However, my dogs name begins with an "I" and the script made it look like an "O". Everyone thinks it's spelled wrong.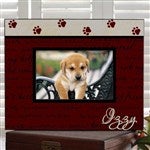 Second Review - still not pleased!
By
Shopper

(Viera, FL) - April 18, 2011
I received this frame a month or so ago. I ordered the landscape vs. portrait style. I stated in my first review that the front of the frame was very nice and I was impressed with the personalization. However, the cardboard backing and easle are junk! The black cardboard actually bends and comes out when you prop up the easle. The company must really read these reviews - they quickly removed my less than flattering review and sent me two more black cardboard easles for my frame - duh, they are just like the original one. What someone there should do is actually go get a frame off the shelf and TRY SITTING IT UP - the entire back comes out because there is no little metal tab to hold it in. I mean, the photo actually moves down in the front of the frame because nothing holds it in from the back. Wish I were more satisfied with the overall product as I would love to give these to many friends and family with four-legged friends. I've ordered several personalized items from PM but this one is the first one I actually have written a "chinese junk" review.