Rosewood Pen
By
Delphine B.

(Baltimore, MD) - February 20, 2012 (
See all reviews by this customer
)
Simply beautiful, I love this and without a doubt he will too. Thanks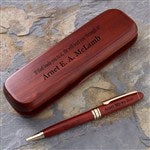 Very Satisfied-Again!
By
Mark S.

(Springfield, MA) - February 20, 2012 (
See all reviews by this customer
)
Wanted something for my recent college graduate nephew who is starting his career as a financial analyst at Monster.com. As a previous customer who was 100% satisfied with my purchase I knew you'd have the perfect item. This pen set is beautiful and I loved the personalization and the saying I chose. The price was very reasonable. What's more amazing is the quick turnaround-I received the pen set in less than 72 hours. My nephew loved his gift. I would highly recommend Personalization Mall and will definetly purchase from you again.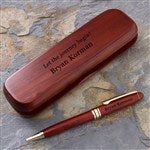 Aweseom
By
Shopper

(Thornton, CO) - February 7, 2012
Very nice pen box and pen.

Impressed
By
Shopper

(Rochester, NY) - January 28, 2012
I was very impressed with the quality of the product and the turn around time. I could not believe the price that I had paid for the pens. The price was excellent and within my budget. I will order from here again.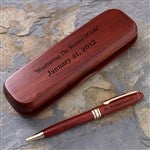 Pen
By
shirley J.

(hialeah, FL) - January 24, 2012 (
See all reviews by this customer
)
Elegant, engraving looked great!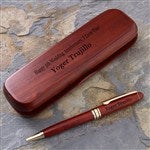 Beautiful gift
By
Shopper

(Mount Prospect, IL) - January 23, 2012
The recipient was very pleased with the pen and its beautiful wooden box. The personalization was appreciated. He knew thought went into the gift.

very nice
By
amneh A.

(enola, PA) - January 23, 2012 (
See all reviews by this customer
)
its agood gift my hasband likes it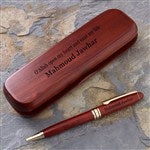 Perfect gift
By
Teresa H.

(Bemidji, MN) - January 17, 2012 (
See all reviews by this customer
)
While buying Christmas ornaments, I came across the pen set. It's the perfect gift for my husband's birthday coming up in March! The set is very beautiful - he will love it!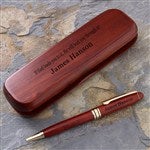 Elegant and Practical
By
Elaine A.

(Warwick, RI) - January 15, 2012 (
See all reviews by this customer
)
This pen set is very elegant to look at and extremely functional as well. The wood casing and pen itself are professional in appearance, and give the impression that they are a great deal more expensive. The ability to have an appropriate engraving is truly an added plus. This is a winner.

Sooooo professional:)
By
Ann C.

(Huntington Beach, CA) - January 9, 2012 (
See all reviews by this customer
)
I got this for my boyfriend as a college graduation gift and he LOVED it!!! It is so clean and professional looking that he just wants to leave it pretty and untouched :). Thank you guys so much!!

Great gift
By
stephanie R.

(Bossier City, LA) - January 3, 2012 (
See all reviews by this customer
)
Got this for my dad, who I can never decide what to buy for. The simple engraving was such a great touch. Looked very nice and the packaging also. Did not use pen so can't comment on how well it writes but I don't think Dad will be using it :) Thx for great service and shipping!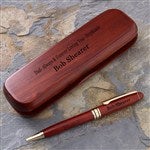 Very nice
By
Christine O.

(Winter Park, FL) - January 3, 2012 (
See all reviews by this customer
)
This pen and case are so well done - very professional and yet unique and a great gift for someone who has just graduated or gotten a first job or promotion. It is a great bargain too. So much quality for the money! I highly recommend it.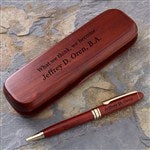 perfect
By
Shopper

(abilene, TX) - January 2, 2012
exactly as i had hoped. great quality. my husband loved it!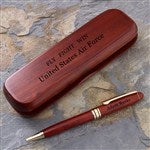 Perfect Gift
By
Satish K.

(Roswell, GA) - December 30, 2011 (
See all reviews by this customer
)
I sent this gift(personalized rosewood pen set) to one my business colleague and friend and she loved the gift. She initially thought only the pen case has her name, but when she saw her name of the pen, she was blown away. I am happy I selected this product as gift.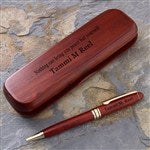 Excellent Quality
By
Shopper

(Gainesville, FL) - December 28, 2011
Beautiful wood grain box and pen writes so nicely.
My son loved this gift!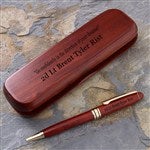 What a wonderful gift!
By
Shopper

(Doral, FL) - December 28, 2011
I gave my boyfriend this for Xmas and he absolutely LOVED it! he said it was so special and it was a memento of our love! thank you so much for the speedy delivery.. will definitely shop here again!!

Pleased with purchase
By
Shopper

(Memphis, TN) - December 27, 2011
It was very professional looking. I watched the person as they opened it and they were excited. I'm glad I made the purchase.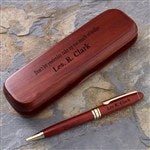 More than Expected
By
Shopper

(Lutherville, MD) - December 26, 2011
The pen and its personalization was much more than I expected for the price. The only thing I would have changed would have been the darkest of the quote; however it is not diminish the beautiful and craftmanship of the present. Thank you so much.

Classy Gift
By
Shopper

(Lafayette, CO) - December 25, 2011
This is a rose wood pen with matching case. My elderly uncle loved it. He said he has never had a pen with his name on it before and it made him feel important. You can't ask for much more than that in a present.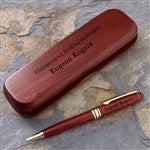 great
By
Shopper

(valparaiso, IN) - December 20, 2011
Turned out lovely! Its a gift so I haven't written with it yet, but it's perfect.

great quality
By
Shopper

(Manchester, NH) - December 16, 2011
item was perfect.spelling was perfect.couln't ask for a better personalized gift/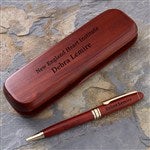 Nice office gift!
By
Kathy T.

(Pleasant Valley, NY) - December 15, 2011 (
See all reviews by this customer
)
It took 3 pens to finally get one that wasn't cracked. Customer service is GREAT at PM. They delivered on their promise - customer satisfaction. You never have enough pens at the office and this will definately stand out.

Sophisticated
By
naomi B.

(claremont, NH) - December 13, 2011 (
See all reviews by this customer
)
Bought this Rosewood Pen Set for my son for Christmas....received it in a very short amount of time and I absolutely loved it! I am sure he will feel the same.

Customized pen
By
Shopper

(Brooklyn, NY) - December 12, 2011
Item showed up exactly as I would have expected. The wood smells great and is unique because of the wood grain. Great quality for a great price.

excellent
By
Shopper

(Lewisburg, PA) - December 7, 2011
It arrived quickly and is well done. Very pleased.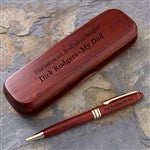 Perfect for an office gift
By
Kaitlyn P.

(Canada) - December 2, 2011 (
See all reviews by this customer
)
Great quality. Affordable

Personal Rosewood Pen
By
Shopper

(zephyrhills, FL) - November 27, 2011
I purchased three different pens with the box, I believe they will love them. Very different gift for boss, husband, son. They look very nice and I like the idea you can choose a quote and make it even more personal.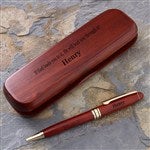 Simply Beautiful
By
Beth G.

(Phoenix, AZ) - November 26, 2011 (
See all reviews by this customer
)
I ordered this as a gift for my 10th wedding anniversary. My husband loved it! The wood is so beautiful, and the pen writes well. He took it in to his office and it now has a permanent place on his desk. I highly recommend this gift to anyone.

NICE
By Shopper (Canada) - November 13, 2011
NICE GIFT

Daughter's Surprise
By
Shopper

(Seattle, WA) - November 7, 2011
My daughter was so pleased with her personal pen and special engraved case!
She got promoted to Director and the cup personalized sits on her desk.

We had excellent customer service with getting it to my daughter, early.

Thank you and we will be shopping again for Christmas personalized presents.

Impressive Gift Impressive Price
By
Karla R.

(Tupelo, MS) - November 4, 2011 (
See all reviews by this customer
)
I purchased 3 of these sets for Christmas Gifts. I am so thrilled with the quality and value. Instead of sending a cake or candy or a ham, this Christmas my Brother and Brother-in-Law will have something they may enjoy for a lifetime. I also bought one for my son who is becoming an executive and deserves such a prestigious gift. Thank you PersonalationMall.com for the opportunity to give a gift such as this.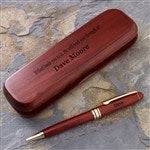 Nice Quality
By
NICOLE S.

(WEST HAVEN, CT) - October 31, 2011 (
See all reviews by this customer
)
Another great idea for Christmas, he will love it.

Personal Gift
By
Shopper

(North Providence, RI) - October 29, 2011
This is an absolutely beautiful item.Purchased this for my daughter who started a new office job and she just loved it. Very classic, beautifully inscribed and a gorgeous wooden box with a personal message inscribed. I am sure I will be purchasing more of these for the holidays. Thank-you

Very classy!
By
Gloria L.

(Riverside, CA) - October 29, 2011 (
See all reviews by this customer
)
This is a graduation gift for my nephew. The quality is fantastic. It's a very nice weight, has good balance and writes well. I'm sure he'll like it.

lovely gift
By
Shopper

(whittier, CA) - October 25, 2011
I bought this as a gift for my hubby to congratulate him on his promotion...he loved it. Super fast delivery.

Personalized Rosewood Pen
By
Shopper

(Miami, FL) - October 22, 2011
Beautiful pen set and the engraving is perfect. Great deal for the price.
Would definitely buy from again.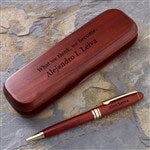 very impressive gift
By
yvette K.

(silver spring, MD) - October 5, 2011 (
See all reviews by this customer
)
i ordered this gift and i was convinced that i was going to love it... i received it very fast and i really loved it... my family also liked it and the receiver was amazed. this is a lifetime gift... i recommend it to anybody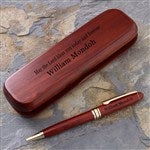 Gift recipient loved it!
By
Shopper

(Watervliet, NY) - October 4, 2011
This was purchased as one of several retirment gifts for a co-worker and friend. It was personalized to commemorate the event and she loved it. The rosewood case and pen are beautiful as is the engraving on both. The quality is exceptional for such a reasonably priced product and the presentation, with the rosewood case made it a perfect gift for the occasion. I was impressed with the order process, being able to see the personalization I created right on the product - no worries about how it would look. The finished product looked exactly as shown online. Order processing and shipping were exactly as quoted (until USPS got ahold of it and delayed delivery by 2 days). I'm extremely pleased with PersonalizationMall's products and service.

Personalized pen
By
Delia A.

(columbus, OH) - August 21, 2011 (
See all reviews by this customer
)
the quality is amazing.. I love the way the wood looks and feels.. I have purchased more than 5 sets appropriate for many occasions .. And people tend to love seeing their own name written .. I have been a customer since 07 and I order everything for everyone from this site.. Great products always :-)





I have now bought 3 of these pens :)
By
ani B.

(los angeles, CA) - August 15, 2011 (
See all reviews by this customer
)
This is the third pen that I am purchasing. It is just a very great gift to give any party. It can be personal or business. Its just very convenient and very memorable.