Simply Beautiful
By
Beth G.

(Phoenix, AZ) - November 26, 2011 (
See all reviews by this customer
)
I ordered this as a gift for my 10th wedding anniversary. My husband loved it! The wood is so beautiful, and the pen writes well. He took it in to his office and it now has a permanent place on his desk. I highly recommend this gift to anyone.

NICE
By Shopper (Canada) - November 13, 2011
NICE GIFT

Daughter's Surprise
By
Shopper

(Seattle, WA) - November 7, 2011
My daughter was so pleased with her personal pen and special engraved case!
She got promoted to Director and the cup personalized sits on her desk.

We had excellent customer service with getting it to my daughter, early.

Thank you and we will be shopping again for Christmas personalized presents.

Impressive Gift Impressive Price
By
Karla R.

(Tupelo, MS) - November 4, 2011 (
See all reviews by this customer
)
I purchased 3 of these sets for Christmas Gifts. I am so thrilled with the quality and value. Instead of sending a cake or candy or a ham, this Christmas my Brother and Brother-in-Law will have something they may enjoy for a lifetime. I also bought one for my son who is becoming an executive and deserves such a prestigious gift. Thank you PersonalationMall.com for the opportunity to give a gift such as this.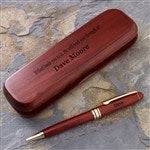 Nice Quality
By
NICOLE S.

(WEST HAVEN, CT) - October 31, 2011 (
See all reviews by this customer
)
Another great idea for Christmas, he will love it.

Personal Gift
By
Shopper

(North Providence, RI) - October 29, 2011
This is an absolutely beautiful item.Purchased this for my daughter who started a new office job and she just loved it. Very classic, beautifully inscribed and a gorgeous wooden box with a personal message inscribed. I am sure I will be purchasing more of these for the holidays. Thank-you

Very classy!
By
Gloria L.

(Riverside, CA) - October 29, 2011 (
See all reviews by this customer
)
This is a graduation gift for my nephew. The quality is fantastic. It's a very nice weight, has good balance and writes well. I'm sure he'll like it.

lovely gift
By
Shopper

(whittier, CA) - October 25, 2011
I bought this as a gift for my hubby to congratulate him on his promotion...he loved it. Super fast delivery.

Personalized Rosewood Pen
By
Shopper

(Miami, FL) - October 22, 2011
Beautiful pen set and the engraving is perfect. Great deal for the price.
Would definitely buy from again.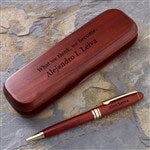 very impressive gift
By
yvette K.

(silver spring, MD) - October 5, 2011 (
See all reviews by this customer
)
i ordered this gift and i was convinced that i was going to love it... i received it very fast and i really loved it... my family also liked it and the receiver was amazed. this is a lifetime gift... i recommend it to anybody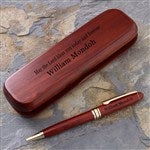 Gift recipient loved it!
By
Shopper

(Watervliet, NY) - October 4, 2011
This was purchased as one of several retirment gifts for a co-worker and friend. It was personalized to commemorate the event and she loved it. The rosewood case and pen are beautiful as is the engraving on both. The quality is exceptional for such a reasonably priced product and the presentation, with the rosewood case made it a perfect gift for the occasion. I was impressed with the order process, being able to see the personalization I created right on the product - no worries about how it would look. The finished product looked exactly as shown online. Order processing and shipping were exactly as quoted (until USPS got ahold of it and delayed delivery by 2 days). I'm extremely pleased with PersonalizationMall's products and service.

Personalized pen
By
Delia A.

(columbus, OH) - August 21, 2011 (
See all reviews by this customer
)
the quality is amazing.. I love the way the wood looks and feels.. I have purchased more than 5 sets appropriate for many occasions .. And people tend to love seeing their own name written .. I have been a customer since 07 and I order everything for everyone from this site.. Great products always :-)





I have now bought 3 of these pens :)
By
ani B.

(los angeles, CA) - August 15, 2011 (
See all reviews by this customer
)
This is the third pen that I am purchasing. It is just a very great gift to give any party. It can be personal or business. Its just very convenient and very memorable.

Unique !
By
Shopper

(Dover, NH) - July 17, 2011
I read many, if not all of the reviews in May before purchasing - so I know that others; beside my family, were also impressed. When I was ordering; I did appreciate the "mock" picture - showing "my text" on the product - It was the next best thing to having the finished work in my hands :) After my Dad unwrapped the box and pen; others also enjoyed viewing it. It is quality wood and work. Someone even mentioned they liked the smell of the wood. I also appreciated being able to totally customize the text.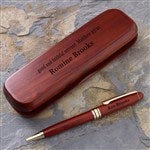 My husband loved it!
By
Santa G.

(Temple Hills, MD) - June 24, 2011 (
See all reviews by this customer
)
I purchased this product for Father's Day for my husband. I picked out Rosewood because it closely matched with the furniture/decor he has in his home office and when I received it, it was perfect! I also love that it allowed me to write my own message on it (based on his favorite biblical scripture). When he received it, he was so elated! He said he's been wanting a pen like it and said he loved it! Plus I ordered kind of last minute and I'm glad that I got it in time! So I'm one happy customer and I'll be ordering again!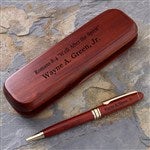 Awesome Product
By
Regina M.

(Sparks, NV) - June 17, 2011 (
See all reviews by this customer
)
I was pleased to see how this penset would turn out. Bought my grandfather and dad one and both came out terrific. I will defiantly order from this place again.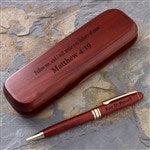 Again and Again
By
Shopper

(Windsor, CA) - June 13, 2011
Again and Again I have ordered this pen and case for special occasions. I am never disappointed. Keep up the good work Personalization Mall. Thanks.

You get what you paid for
By
Shopper

(Carmel, CA) - June 6, 2011
Not a whole lot to say about it. It looks good, works and is appropriate. Only thing I would request is a font option.

graduation gift
By
Shopper

(Manassas, VA) - May 28, 2011
Another fine product from personalization mall. I've been pleased with everything I've ordered and this is no exception. Good quality merchandise.

Wonderful Graduation Gift
By
Pamela D.

(Pinson, AL) - May 27, 2011 (
See all reviews by this customer
)
I purchased 4 pen sets for friends of my son and also purchased 1 for him. I couldn't have been more pleased with the quality and outcome. The wood box is elegant, yet manly, and the personalization to the pen was just the extra that made the gift special. I definitely recommend this item for any special occasion.

Best graduation present
By
Shopper

(Orlando, FL) - May 24, 2011
Love it! It's so sleek and elegant. My friend LOVED it

Beautiful gift
By
Shopper

(Stone Mountain, GA) - May 21, 2011
I purchased this for a friends graduation and she absolutely loved it!

Excellent gift idea
By
Shopper

(Canada) - May 16, 2011
This is a wonderful gift for teachers, co-workers and even your own child. We bought 2 of them one for the principal and one as a grad gift for my son. They loved it and the personalized saying and name made it even more meaningful.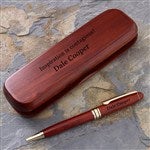 Made an impression
By
Randi H.

(Sagamore Hills, OH) - May 16, 2011 (
See all reviews by this customer
)
I actually ordered nine of these in two separate orders. They were gifts for volunteers who went above and beyond. They looked and felt like high-quality writing instruments and were very much appreciated by the recipients. I would definitely order again. Thanks.

Great Gift!
By
Shopper

(Lauderdale, MN) - May 9, 2011
I got this for my brother for his graduation from undergrad. It is so professional and I was able to make it a heartwarming gift at the same time! It shipped quickly and my brother was able to enjoy it a few days before graduation. Really great product!

I'm impressed!
By
Cherre S.

(Nuevo, CA) - May 4, 2011 (
See all reviews by this customer
)
I am definitely impressed with it's beauty and quality. It will make a wonderful gift for my brother-in-law. I havn't given it yet, so I don't know how he will like it, but I'm sure he will be impressed. Inscription is easy to read. Very beautiful!

My friend in Africa will love this for his Music studies!
By
Shopper

(Fountain Valley, CA) - April 22, 2011
I know my friend will love the gift...he is a Choir Director and lives in Africa...a very poor area....so it should be a fitting gift and luxurious with all the books I've sent.

Very Nice Gift
By
Shopper

(Eagar, AZ) - April 8, 2011
Very fast at getting it done and shipped. Also, pen is very nice and the matching gift box is awesome!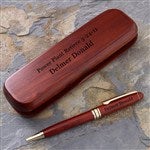 Great Present
By
Shopper

(Long Beach , CA) - March 8, 2011
Got this as going away gift for a staff member, it looks great and is a great deal! Plus the expedited shipping was a real life saver.

Great for the price
By
Trina T.

(Freeport, NY) - March 6, 2011 (
See all reviews by this customer
)
This pen set is just perfect. I thought for the price the material wasn't going to be good, but it was actually better than I thought.

absolutely beautiful
By
Philip L.

(Canada) - January 3, 2011 (
See all reviews by this customer
)
This was more than I expected...wonderful!

Very nice pen!
By
Lynda W.

(Port Washington, WI) - December 31, 2010 (
See all reviews by this customer
)
Very nice pen. My only small complaint is that I wish the engraving would be darker against the dark wood. Kind of hard to see.

A GREAT GIFT FOR ANYONE!!
By
Lynn A.

(Trinity, NC) - December 30, 2010 (
See all reviews by this customer
)
I purchased this pen for my sister and she loved it. As all of the products are at Personalized Mall this was good quality and being able to make it specific to the person receiving the gift makes it all the more special. I have told everyone about this site and use them again and again!

Pen Set for my son
By
Martha L. M.

(Streamwood, IL) - December 25, 2010 (
See all reviews by this customer
)
I will shop here from now on and will praise your company forever. This pen was way above and beyond what I expected.
I'm so glad I found your company! Your products are top quality and your prices make shopping for multiple people very stress-free. Your website is very user friendly and highlights all the detail in a professional manner. Good quality for a reasonable price is very hard to find. Add to that quick and efficient service - very rare. I wrote two testimonials which I never do to hopefully help your organization. I also shared your company name with my family, friends and coworkers.


I love this Pen Set
By
Maggie E.

(Santa Clara, CA) - December 21, 2010 (
See all reviews by this customer
)
I bought it for my friend who is leaving to study in France!! She loved it... the quality is very good and the personalization is very nice...

This is a great gift --- especially for the money
By
Roy R.

(Orlando, FL) - December 17, 2010 (
See all reviews by this customer
)
This is a wonderful gift to personalize for both business and personal items. It is very impressive and the quick turnaround time is amazing.

beautiful!
By
karen A.

(catskill, NY) - December 14, 2010 (
See all reviews by this customer
)
this pen is for a stocking stuffer for my husband for Christmas and it is absolutely gorgeous! Who would ever say a pen is gorgeous!! Well I just did!!! LOL. I can't wait to see his face when he gets it for Christmas!!! You did an absolutely beautiful job. If anyone wants a very nice gift for someone this is definitely a great gift.

WOW!!!!
By
Diane W.

(Midvale, UT) - December 13, 2010 (
See all reviews by this customer
)
This is absolutely beautiful and the price was wonderful as well. I recommened this site to everyone!

Forever
By
Lorrina H.

(Alliance, OH) - November 30, 2010 (
See all reviews by this customer
)
I am so pleased with this item, it is so nice, thanks. I am sure my son will love this for Christmas.

Great gift
By
Jingyi C.

(Stanford, CA) - October 19, 2010 (
See all reviews by this customer
)
My friend loves it.