nice gift
By
Shopper

(Clearwater, MN) - April 9, 2012
engraving is nice and the pen even works!

Very Nice
By
Shopper

(Morrisville, PA) - February 17, 2012
I ordered this for a friend. I expected a little better quality; I thought it would have been a little more heavier. However, it looks just like the picture. It's makes a very good gift. The engraving was very well done. All and all it wasn't too bad for the price.



Pen and Case
By
Murray F.

(Canada) - February 13, 2012 (
See all reviews by this customer
)
Pen writing quality is OK but the case and engraving is great.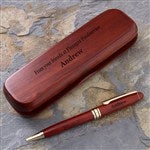 personalized pen
By
jef B.

(portage , MI) - December 16, 2011 (
See all reviews by this customer
)
Very pleased except for the highlighting of the engraving. The lettering is a bit hard to read and I am having a local engraver highlight with gold leaf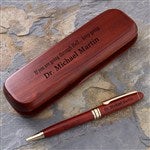 Wedding gift
By
Shopper

(Renton, WA) - November 19, 2011
This was a personalized gift for the bride and groom and used for signing the marriage license. They loved it!

Great Gift
By
Shopper

(Burkesville, KY) - October 31, 2011
The pen and case are perfect, a wonderful personal gift. Only problem I have with it is I can't find the refill that is listed, tried the Parker Pen website and they don't have it either.

amazing
By
Clare N.

(panorama city, CA) - July 5, 2011 (
See all reviews by this customer
)
my boyfriend loves this pen and only uses it to sign checks... amazing gift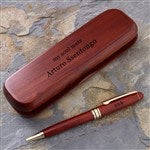 Very nice quality
By
Shopper

(New York, NY) - June 6, 2011
I purchased this as a graduation gift. My friend loved it. I was surprised at the high quality of the item and its weight. My only complaint is that the inspiration wording was a little slanted. It was hardly noticeable though. I was still pleased and would recommend this product and this website.

Pen set
By
Shopper

(Powder Springs , GA) - May 22, 2011
Loved this pen set. Great gift !

Nice gift, fast service
By
Timothy L.

(Vestal, NY) - May 21, 2011 (
See all reviews by this customer
)
Overall a good product for a good price with fast service. The pen was not the best quality in the world but was suitable for my purposes and was appropriate given the price. I think in the end it was a very nice gift and well received. I liked adding my own quote and putting a name on the box and pen. The order was processed very quickly. I have no complaints. I will probably order from these folks again.

Nice gifts
By
Shopper

(Los Angeles, CA) - May 11, 2011
I bought these as gifts for co-workers. One of the pen sets came out very nicely. The lettering was a little smudged on the second one, but not badly. These pen sets make nice presentations. The box and the quotes make the gifts quite memorable. The pen is a little light for me. Overall, I would order again.

Personalized pen & box set
By
Charles M.

(Kingstree, SC) - March 11, 2011 (
See all reviews by this customer
)
The ability to have the box, as well as the pen, personalized for display was an ideal gift. The professional in your life can have a utilitarian gift, as well as, a nice display piece to share with others. It also allows you to mark special moments and achievements. Great gift opportunity.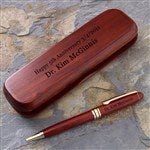 Nice gift
By
Angela C.

(Billings, MT) - March 7, 2011 (
See all reviews by this customer
)
I recently bought this gift for someone as a birthday present and to ensure of its quality, I then purchased one for myself as well a couple of weeks later. I love the set and would recommend it to anyone who is looking for a special gift (especially for those who are avid readers or letter writers!).

Love It!
By
Gerda C.

(Davie, FL) - January 1, 2011 (
See all reviews by this customer
)
I brought this for my husband for Christmas! He loves it, stating that it was the best gift he has ever received.

Quality and Product Expectation
By
Julie J.

(Owensboro, KY) - September 24, 2010 (
See all reviews by this customer
)
The craftsmanship of the product is very good. However, I was disappointed in the dark filling used to make the carved wording stand out; this was very faint. On my product, the wording does not stand out like what you see on the website. Had my wording on my product stood out more, I would have rated this product a five.

Very sharp indeed!
By
Andrea F.

(middletown, NY) - April 5, 2010 (
See all reviews by this customer
)
I was quite pleased with the personalized rosewood pen and the case that it came in too. My only suggestions is for the lettering to be just a bit larger.

Perfect!!!
By
Fe D G.

(Milwaukee, WI) - January 10, 2010 (
See all reviews by this customer
)
This was for a special man in my life. It's a prefect match for his desk..

just ok
By
venus M.

(uvalde, TX) - May 31, 2014 (
See all reviews by this customer
)
Very nice looking pen set. But the inscription is so light you have to angel it to see it. The name part is nice and bold.

Personalization
By
Shopper

(ORLANDO, FL) - July 30, 2013
The quality of the Rosewood is beautiful. The personalization on the box also great. However, the personalization on the pen not quite what I expected. The letters seemed very cramped on long names. This pen really should only allow 10-15 letters.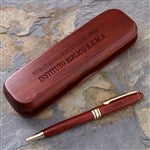 Rosewood Pen Set
By
Shopper

(Suisun City, CA) - February 10, 2012
It was nice and he really likes it.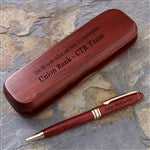 Pen
Happy Happy happy

Pesonalization
By
Shopper

(Brea, CA) - March 24, 2014
The quality of the case and pen is good; however, the personalization on the case is hardly legible - too light.

the engraving was too faded out
By
tracy a T.

(wilton, NY) - December 11, 2013 (
See all reviews by this customer
)
the wood is nice and the pen was great but the engraving wasnt deep enough and didnt show up, it looked faded. i was disappointed. this was a gift for my son but looked too bad to give

Disappointed
By
Shopper

(Phoenix, AZ) - November 25, 2013
I am disappointed in the quality of the engraving on the 20+ pens I ordered as corporate holiday gifts. The pens and the cases are satisfactory. The engraving, unfortunately, looks shoddy. I will be a little bit embarrassed to give them to my Board members. I hope they know the adage, "It's the thought that counts."

not too happy
By
Shopper

(Edinburg, TX) - March 18, 2013
i got this as a gift for my husband...it was not what i expected....looks 'cheap' and you can hear the pen 'rattling' around in the case...poor quality...expected better.

Great quality-Problem engraving
By
Shopper

(Berkeley, CA) - August 6, 2012
Ordered 10 sets. Website 1 night on daily deal for $17.49, next a.m. they were off sale. Customer svc helped me get sale price. Order came fast. Pens & box quality were great. Name engraving on 9 pens was so light-almost unreadable. 1 pen was excellent. See sample Pic of problem. 1 name quote was crooked on the box also. They said email photos, I did. No response so I called back. They said they'd replace the box with the crooked engraving but the pens were as they should be. They don't place anything in the engraved section to make it darker. Just depends on the wood. I said photo on the website didn't reflect the pen's name as light. There was nothing they could do. I took dark furniture polish with a cotton ball and made sure it got inside the inscription, then cleaned off smell with Murphy's oil soap and water and now they're all dark. Everyone needs to know you may have to do some extra work to get them up to prime quality. So glad I had a solution to salvage this project.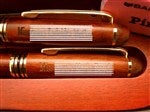 Poor quality - gold dust everywhere!!
By
Cindy P.

(East Greenwich, RI) - January 4, 2014 (
See all reviews by this customer
)
I had purchased 2 of these pens in Christmas 2012 and found them to be great quality, with engraving on both the box and the pen. This year, I purchased the exact same pen set as a gift for my child's teacher, and found the quality to be very poor. There is no longer engraving on the pen; instead there is gold embossing of the name. The big problem for me, aside from the fact that the pen is not engraved, is the fact that there was gold dust all over the pen AND the wooden pen box. After much scraping and rubbing, I managed to get most of the gold dust off, however it did not all come off. I received the pen on the last school day before Christmas, so despite my embarrassment, I had no choice but to give the gift as it was. Let's just say that I will not be purchasing this item in the future.

Would not order again
By
Nancy B.

(Hagerstown, MD) - October 27, 2013 (
See all reviews by this customer
)
I ordered this pen set as a speaker gift for a convention. It was not at all what I have received in the past and I have returned it. In May of 2013 I received 9 sets as speaker gifts and they were exactly what I ordered and viewed online. The set I just received in October 2013 was definitely inferior. The engraving on the case was not deep like the last sets and did not look like the example viewed online. It was almost a mere scratch on the surface. The pen was the same inferior engraving and the letters had been filled in with what appeared to be gold paint. Customer service told me that production had changed their process and any subsequent orders would look the same. I will definitely not order any of these pen sets again. Very disappointing since the previous process was much more attractive and higher quality work.

Poor Quality Engraving
By
Shopper

(corona, CA) - December 30, 2012
I was very disappointed in the quality of the engraving on the pen box. Some of the lettering in the top message had a small line at the top of the letter. This made the item look cheap and unprofessional. I received this item on Christmas Eve a few hours before the family party so I had no time to get a new gift let alone replace the set. I had to give the gift as is and hope the recipient would see that the thought of the gift would count since it was personalized and hope he would just overlook the poor quality engraving. If I had time I would have sent it back and asked for a new one.

Looks cheap
By
Shopper

(bronx, NY) - April 29, 2012
Was not worth the price looks so mucher cheaper than shown in the picture. Wood rough and dull