just like the picture
By
Shopper

(South Lebanon, OH) - December 19, 2012
The mugs are super cute, just like the picture, they are a good size...Everyone I have shown them to loves them. The only possible downfall is that online it states that they are microwave safe but on the mug it does not say that...?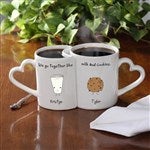 Gift
By
Shopper

(Miami, FL) - December 17, 2012
I love the mug set! Geat quality, quick delivery. I also bought ornaments and they are very well made, personalization is very good. Very happy with my shopping experience. I will buy from you again!

Nice Mugs
By
Shopper

(Williston, SC) - December 15, 2012
They were sent as a gift, no complaints.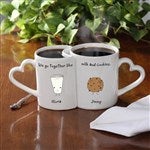 Great service
By
Shopper

(Lumberton, NJ) - December 15, 2012
I am always satisfied with anything that I order from Pmall. I ordered these coffee mugs and it got delivered very fast and they were very cute.

Milk and cookie mugs
By
Rae S.

(Connellsville, PA) - December 14, 2012 (
See all reviews by this customer
)
Very, very pleased with the mugs, they will have a special meaning to the couple that I am sending then to as a Christmas Gift. I am so happy that I have found you sight, knowing that when i need something special, I know the place to look first.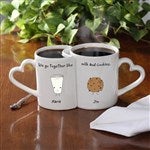 Beautiful but broken.
By
Karen M.

(Fairfield, CT) - December 11, 2012 (
See all reviews by this customer
)
The Cups are small and so cute. My boyfriend Loved them, But the handle was broken when we opened the box, when i contacted customer service they responded promptly and they are sending me a replacement without asking for the old ones returned.

I did notice that the product was sent in a huge blank box. when I opened the first box the second one was marked fragile which the post office people probably didn't see.

I can't wait to get our cups!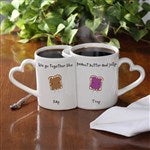 Cute!
By
Shopper

(Pollock Pines, CA) - December 10, 2012
When I received these cups one of the handles was broken off, I called customer service and they sent me out a new one FAST! I would definetly use them again and I have been happy with everything I have purchased.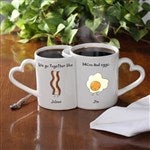 Super Cute!
By
Alexis L.

(Bellaire, TX) - December 4, 2012 (
See all reviews by this customer
)
I got this for my boyfriend's 21st birthday. He loved it! <3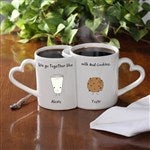 Coffee cups
By
Shopper

(Lorain, OH) - November 28, 2012
Very nice product.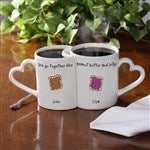 Perfect Couples Mug
By
Shopper

(Camarillo, CA) - November 19, 2012
I bought this mug as a gift and can't wait to give it to the recipients, it's adorable.

They loved it~!!
By
Shopper

(Eureka, IL) - October 28, 2012
This was a gift to signify a little joke we shared with this couple and they loved the mug! They loved the way the smaller mug fit into the big mug. I know from experience in ordering from Personalization mall that the quality was top notch. I have always had a wonderful experience with you. The communication is excellent, delivery prompt and never a problem with the order!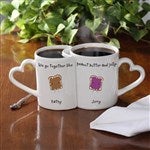 Great present
By
Shopper

(Tucson, AZ) - October 21, 2012
Me and my hubby have a night ritual when all kids in beds around 8 pm, we have ourcoffee and dessert together, he loved the gift.

"Like milk and cookies"
By
Shopper

(Anchorage , AK) - October 21, 2012
That was the phrase I chose for a 'just because' gift to my wife of ten years. She liked it so much that it was posted on Facebook and is now on display for her friends to see. Thanks PersonalizationMall.com

Really cute
By
Nancy D.

(Highland, IN) - October 21, 2012 (
See all reviews by this customer
)
This was very nice ~~ personalized with my favorite name for my husband ~~ gave it to him for sweetest day and he loved it. Another really nice gift from personalizaton.com. Thank you

Great wedding gift
By
Shopper

(North Tonawanda, NY) - September 15, 2012
Great gift idea

bridal shower gift
By
Sherida C.

(Bolingbrook, IL) - September 13, 2012 (
See all reviews by this customer
)
The bride and groom were very pleased with these cups. I LOVE PMALL!!!

Wonderful Customer Service
By
Dianne N.

(Saint John, IN) - August 28, 2012 (
See all reviews by this customer
)
The item is beautiful! When they arrived, and there was a glob of shellac dried on one of the handles, the customer service dept. told me to email a photo of the problem, and then they quickly mailed another.
i highly recommend this company, and the quality of this product.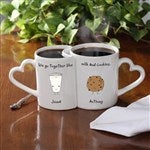 Terrific gift
By
Barbara A.

(Baltimore, MD) - August 20, 2012 (
See all reviews by this customer
)
Thanks so much for a terrific gift. This is the second set I have
ordered for two different bridal showers. Both times it was a big
hit. The quality is excellent and your service can't be beat. I
will continue to shop from Personalization Mall. Thanks so much.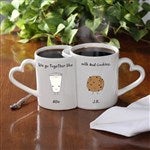 Mug broken on delivery =( Continued...
By
Shopper

(Fuquay Varina, NC) - August 13, 2012
I got on the live chat to ask what the company would do about this and, after giving them the order number and waiting a few moments, they wrote back that they sent out a replacement order. Best customer service ever!!! I was so amazed!!!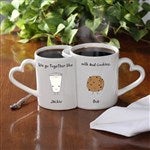 We go Together Mugs
By
Shopper

(Comstock Park, MI) - July 23, 2012
Very cute cups. Incredibly fast shipping. Highly recommend.

Love this Item
By
Shopper

(mount orab, OH) - June 15, 2012
This item was a great gift for a bridal shower and my sister loved it. I would def recommend this item!

cute cups
By
Natalie H.

(san antonio, TX) - May 21, 2012 (
See all reviews by this customer
)
Its very creative and worth sharing with everyone.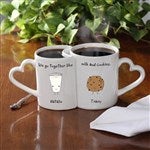 Perfect match
By
Jennifer M.

(Topeka, KS) - May 14, 2012 (
See all reviews by this customer
)
Goes with our PBJ theme!!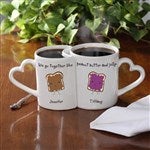 Products ordered
By
Tamara P.

(Sugar Grove, IL) - May 7, 2012 (
See all reviews by this customer
)
Gave them at a wedding shower along with the x-mas ornament they where loved by all

happy customer!
By
Sara B.

(High point, NC) - May 7, 2012 (
See all reviews by this customer
)
I loved the mug set it turned out perfect and it is SO cute, it arrived in a timely fashion also.

Great Bridal Shower Gift
By
Leslie C.

(Jericho, NY) - May 4, 2012 (
See all reviews by this customer
)
Someone bought this for my neices bridal shower - I loved it so I decided to buy this for a friends daughters bridal shower. It was a big hit - bride loved it & so did everyone at the shower - gave out your website address & hope you get more orders! Thanks so much! Leslie C.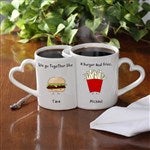 Very cute mugs!
By
Shopper

(Mamaroneck, NY) - May 4, 2012
One of my concerns was the picture of these mugs. Although, quite cute looking, the handles looked very awkward to hold. When I received them, that was not the case at all. I was in fact, very pleased with them. The milk & cookies one, I thought had the best pictures. I got them for my sister's anniversary. I love how the names came out too. A really clever and fun idea. A great gift too!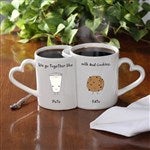 Adorable
By
Shopper

(Bartlett, IL) - April 29, 2012
The perfect anniversary gift! As an aunt, I am proud to give this gift to my nephews and their wives. A great "LOVE" gift and made beautifully.

Love it
Me and my partner love this cup set so much! Recommend for every loving couple ~

Too cute, I couldn't resist...
By
Dana N.

(Maplewood, MN) - April 23, 2012 (
See all reviews by this customer
)
This is the type of cute humor that I knew my future sister in law would like. :) She loved it and it shipped to Florida without a problem. :)I want one for me now.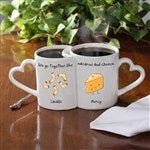 awesome
By
Shopper

(apopka, FL) - April 2, 2012
awesome gift also got it faster than I thought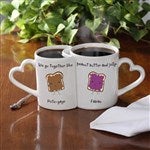 Nice
By
Shopper

(Nashville, TN) - April 2, 2012
nie cups. i like them.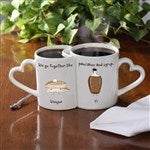 policies
By
Gail C.

(Mission Viejo, CA) - March 23, 2012 (
See all reviews by this customer
)
doing gusiness with this company great...the first item we ordered arrived broken...in a moment they sent us a new item and did not require that we send the broken item back...they reacted wonderfully

Great gift
By
Shopper

(Kirkland, WA) - March 10, 2012
Cups came great and personalized with the nick names I wanted, properly spelled. They were a great Valentine's day gift.

Simply the best
By
Shopper

(Houston, TX) - March 6, 2012
This product makes me fall deeply inlove with my partner... Its just too simple and yet it shows how important that thing is because of the personalized names witten on it.. Its soo good...

Cute mugs
By
Shopper

(Mesa, AZ) - March 4, 2012
My boyfriend loved them:) very happy and content with my purchase!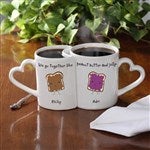 Creative way to say God put us together for a reason
By
Kyle G.

(ewa beach, HI) - March 4, 2012 (
See all reviews by this customer
)
The "We Go Together Like..." mug plays perfectly into the loving analogies. The mugs are a unique shape and a creative idea that should be a sweet reminder of my wife and me to her each time they are used. Another bonus is the quick delivery as I received them within one week and I am in Afghanistan.

Thanks for the great gift,
Kyle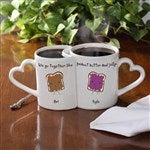 Excellent
By
Anna R.

(Magnolia, DE) - February 29, 2012 (
See all reviews by this customer
)
It was just like as expected. Thank you very much. My husband loved the gift.
Thank you.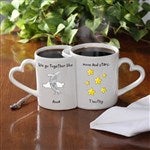 Adorable
By
Andrea A.

(College Point, NY) - February 28, 2012 (
See all reviews by this customer
)
Came out so cute. Boyfriend loved it but now he doesn't want to drink from them so we kept them on display.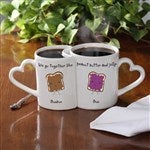 Amazing!
By
Jinal P.

(Fullerton, CA) - February 26, 2012 (
See all reviews by this customer
)
I bought this for my husband for our Anniversary. we both loved this amazingly designed interlocking mugs... :) The quality is outstanding!