Quality
By
Shopper

(albuquerque, NM) - November 3, 2012
I was afraid this ornament would lack quality but it is very beautiful and detailed. It's a simple yet elegant gift.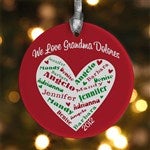 Beautiful!
By
Shopper

(Canada) - September 20, 2012
Very well made, and personalized. It was a nice glass ornament and I was expecting a cheap plastic so I was pleasanly surprised. I am very happy with this purchase.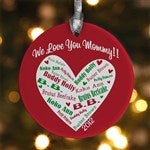 Great ornament!
By
Shopper

(Abington, MA) - August 4, 2012
Took a chance and ordered 8 of these ornaments for multiple families. With your personalization preview ability at order placement, I was able to try different names in different order so it was easy to find the combinations I wanted and view how each would look. Each family ornament turned out great and I am confident they will be well received this Christmas!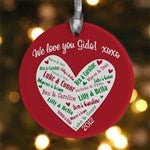 REALLY SWEET!
By
Johanna B.

(Jewett City, CT) - August 2, 2012 (
See all reviews by this customer
)
I ordered this item for my parents and put all of their grandchildren's names. I actually thought this item was plastic, but it is ceramic and made it even better! I am so happy my folks will have this ornament for their Christmas tree, as this will be our first Christmas apart from them.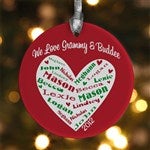 Is you are sentimental . . .
By
Tamara H.

(Roanoke, VA) - August 1, 2012 (
See all reviews by this customer
)
This turned out AMAZING! I always purchase a special ornament for my mother with all the grandchildren's name on it. This is by far my favorite!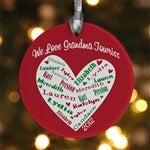 Great
By
Shopper

(Chester, VA) - July 14, 2012
I love this beautifully made ornament! I am very pleased with how it looks.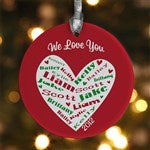 Wonderful family ornament!
By
Leah W.

(Oklahoma City, OK) - July 14, 2012 (
See all reviews by this customer
)
This looks even better in person! very Christmasy - I had five names on it and they all looked great.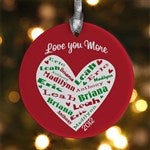 Heart Ornament
By
Shopper

(Round Lake Beach, IL) - July 14, 2012
Very cute heart ornament. Well done!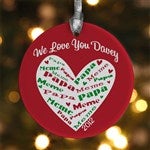 Nicer than On-line Picture
By
Shopper

(Milan, IL) - July 10, 2012
I ordered two of these to put away until Christmas for our grandchildren. The quality was even better than pictured. I'm not sure if they are, but they feel and look like glass ornaments. The price was great, and delivery time was exceptional! Once again, totally impressed by the product and Personalizationmall.com!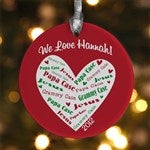 heart love ornament
By
Leslee M.

(Vista, CA) - March 8, 2012 (
See all reviews by this customer
)
Bought as part as my moms christmas gift for this year. I am able to put the names of all her grand children and her two great-grand children. Thank you again!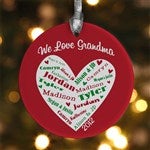 Great-Grandkids
By
Valerie W.

(Corry, PA) - January 18, 2012 (
See all reviews by this customer
)
Attempting to be proactive for next Christmas, I ordered this ornament for my grandmother as a gift from my two daughters on January 1. The title was "Great-Grandkids" and it featured the names of all eight great-grandkids. Grandma had a stroke on January 3, and passed away on January 10. The ornament arrived the same day as the first day of calling hours so I took it to the church, and attempted to explain to my grandfather why I had Gram's 2012 Christmas present already. Of course, I was crying like a baby:) He decided it was a good idea to give it to her so we put it in the casket, and there it stayed after all services. My grangmother was a firm believer in Jesus Christ so we all pray that we will be reuinted with her some day, in the meantime, I hope that my small act helped everyone who came to the services know how much she was truly loved by all her family, including all the littlest members.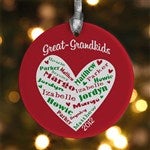 Beautiful
By
Shopper

(Pine Plains, NY) - January 15, 2012
Ornament a bit smaller than I had invisioned. But it is a nice piece.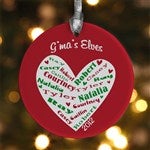 Cute
By
Shopper

(Peoria, AZ) - January 6, 2013
It turned out cute, but could have looked a little nicer or "clearer". Basically the quality of image could have been better. I have bought 1 each year. I feel like last years' turned out better.

Love these ornaments
By
Shopper

(Chesterfield , MI) - December 25, 2012
Loved these ornaments. Will be ordering more. Well made.

l LUV IT
By
Shopper

(Bayonne, NJ) - December 13, 2012
ALL WORTH THE PRICE

Beautiful and Fun Ornament
By
Krista F.

(Tampa , FL) - November 12, 2013 (
See all reviews by this customer
)
We are very happy with our purchase. We are having a family reunion of 26 this Christmas and this was the only place I could personalize an ornament (just manipulated with some nicknames) to
get all the names on it. We wanted a special treasure/takeaway for all the family to take home this year. Very personal and the quality was beautiful. Price was very reasonable. Only recommendation is to maybe offer more selections for large families and fields for multiple names. That would be wonderful! Nonetheless, it worked for us this year and can't wait to give to the families as they arrive.
Thx!

Beautiful
By
Sharon L.

(New Britain, CT) - January 14, 2013 (
See all reviews by this customer
)
This ornament is fun and creative! I personalized it with 7 names to include my family and pets. It looks great!

not as pretty as pic
By
Shopper

(Daphne, AL) - December 6, 2013
This ornament didn't seem to be as pretty as it looked in the picture; however I know more than likely the person receiving the gift qill love it if they have never ordered from personalization mall.

Perfect teacher gift
By
Shopper

(Waxhaw, NC) - May 28, 2013
Great way for a teacher of a small class to remember the year - the ornament has each student's name on it (7). This wouldn't work for a larger class.

LOVE IT
By Shopper (Waterford, MI) - November 10, 2013
I bought this, along with a mug with the same heart on it, for my parents last year. They loved it. it turned out so pretty with mine and my 3 siblings sales on it. But to this day im shocked with the mug! We have use it so many times and washed it in the dish washer, and it looks brand new! The writing hasn't chipped or anything! The only thing was it didn't come in till the day after Christmas, but it was ok. I will DEFINITLY be getting something again this year for them (I'm 12)


Gift for Grandparents
By
Shopper

(Taunton, MA) - April 30, 2012
Very cute ornament, just make sure you check the dimensions because it is small. I knew this when ordering so I wasn't surprised.

ornament
By
Shopper

(Bismarck, AR) - April 16, 2012
I love this ornament. The only complaint I have is the size. I thought it would have been bigger than it actually is. Beautiful though....

Girlfriend ornament
By
Shopper

(Garden Grove, CA) - November 9, 2013
The Heart of Love is beautiful, perfect for 4 sets of sisters who are the best of friends! Great way to celebrate/remeber our friendship.

Great idea, smaller than I thought
By
Shopper

(Seaford, NY) - December 9, 2012
This comes as you see it. Some of the words are too small and a little blurry. This ornament is smaller than I expected.

Pretty
By
Shopper

(Columbus, OH) - December 2, 2012
Pretty and unusual, not anything like my family ornaments in the past. Like it but don't love it. It's smaller than I thought. My fault though... I didn't read the dimensions...

What a Great Gift!
By
Robbie W.

(Fairbanks, AK) - November 4, 2013 (
See all reviews by this customer
)
Easy to personalize and I have no doubt that it's going to be enjoyed for many years to come. Thank you

Beautiful Ornament
By
Shopper

(Oceanside, NY) - December 31, 2012
We bought 2 of these, one for my dad and one for my mother-in-law with all of the grandchildren's names for Christmas. Both loved them! They are beautiful & a great value for the price.

Personalized ornament
By
Angela W.

(Hoffman Estates, IL) - December 31, 2012 (
See all reviews by this customer
)
This was a perfect gift! Love how it included all of our names!!

love it
By
Shopper

(Traverse City, MI) - November 16, 2011
exactly what I wanted! It is perfect.

An Ornament to Include Everyone
By
Shopper

(Mount Carmel, PA) - November 20, 2011
I LOVE this ornament, I was able to include everyone's name on it for my daughter's family, even their pets. It is colorful and festive and as always, includes a quality hanging ribbon and velvet pouch to keep it in for years to come. You cannot go wrong ordering from PersonalizationMall.com.

Nice Ornament
By
Rebecca P.

(Charleston, WV) - December 29, 2012 (
See all reviews by this customer
)
We bought this ornament for our babysitter with the names of all the kids that she babysits for everyday. She loved it! It was smaller than I thought it would be but it was still a nice gift.

Keepsake Ornament
By
Shopper

(Marietta, GA) - December 30, 2012
I purchased 3 of these ornaments. Two as gifts and one for my family. The families I gifted them to loved them! It is a quality stone ornament and all the names were spelled correctly and the script was very legible. This ornament will be on the Christmas tree EVERY year.

just as pictured
By
Shopper

(kansas city, MO) - December 30, 2012
This ornament is just as it is pictured. I love that you can view your item before you purchase it.
great item at a great price point

Great gift!
By
Shopper

(Oconomowoc, WI) - December 31, 2012
Gave this to two sets of grandparents and they loved it!! The turnaround time on this site is what keeps me coming back. I had these ornaments in 3-4 days! That's amazing!!!

Makes An Excellent Gift
By
Maria B.

(Miami, FL) - December 31, 2012 (
See all reviews by this customer
)
This items is well made and an excellent gift. I gave this to my daugher and she absolutely loved it. As all items that I have purchased from Personalization Mall.com, it is made very well and monogramed beautifully. So happy to be a returning customer.

Great gift idea
By
Shopper

(Kingsland, GA) - December 23, 2013
Great gift idea. I purchased this ornament for a friend who absolutely loved it.

A new spin on personalized!
By
Shopper

(Williamsburg, VA) - November 6, 2011
When I saw this ornament offered I fell in love! I ordered one for my family and one for my best friend and her family. Usually we get character ornaments that have names written on them in Sharpie, but this one puts the names into the heart of the ornament. I love the silver hanging bow and the velvet presentation case also. I would highly recommend this ornament to anyone.

beautiful ornament
By
Patricia P.

(columbia, MD) - November 13, 2011 (
See all reviews by this customer
)
my family loved it, it looks so pretty, I'm always happy with my purchases at personalization mall

So cute!
By
Shopper

(Lisle, IL) - November 11, 2011
Order this ornament and the quality is great! The procelin is heavy enough as to not look cheap but light enough so that it doesn't pull down the branch of a tree. The colors and personalization looks beautiful! Beautiful custom ornament and so fun!

Unique Ornament
By
Janet B.

(Phoenix , AZ) - November 8, 2011 (
See all reviews by this customer
)
I was pleased with the results of the 2 ornaments I ordered. It is a unique ornament & I am excited to give them as gifts this year. I saw reviews that said the ornament was smaller than expected but I think it's a perfect size. Way cool!